OUT NOW: Autumn issue!
Subscribe
Page 32 from: OUT NOW: Autumn issue!
32 The reliable brand! untha.com/products/zr-mobile Find out more TOUGH in performing, SMART in saving The new ZR class is the most economical 2-shaft shredder with the lowest life cycle costing (LCC) in his class. The high-performanc...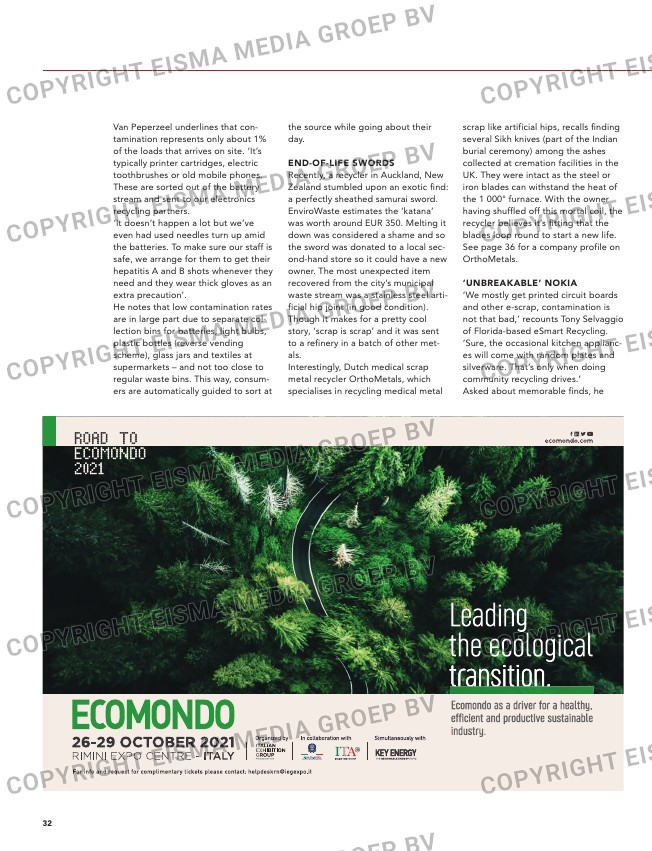 32
The reliable brand!
untha.com/products/zr-mobile
Find out more
TOUGH in performing,
SMART in saving

The new ZR class is the most economical 2-shaft shredder with the lowest life cycle costing (LCC) in his class.
The high-performance pre-shredder is used for high throughputs as well as for the rough shredding of bulky
waste and recyclables.
says: 'We've seen very old IBM video
display terminals, super old Apple
Quantum hard drives, analogue reel-
to-reel recorders… you name it. It's
always fun to encounter the electron-
ics my generation grew up with like a
Walkman, Discman, floppy discs, digi-
tal cameras or my first mobile phone,
the unbreakable Nokia 3310. It's
impossible not to grab it and play a
game of Snake before putting it
through the production line.'
When products still function and there
is a market for them, eSmart Recycling
tries to resell them as working vintage
units, either via eBay or its own e-com-
merce platform. Cathode ray tube mon-
itors, like the colourful ones produced
by Apple in the 90s, can fetch a couple
of hundred dollars from collectors.
Non-electronic household clutter is
donated to charities. 'For the most
part we might get scrap metal but, as
Van Peperzeel underlines that con-
tamination represents only about 1%
of the loads that arrives on site. 'It's
typically printer cartridges, electric
toothbrushes or old mobile phones.
These are sorted out of the battery
stream and sent to our electronics
recycling partners.
'It doesn't happen a lot but we've
even had used needles turn up amid
the batteries. To make sure our staff is
safe, we arrange for them to get their
hepatitis A and B shots whenever they
need and they wear thick gloves as an
extra precaution'.
He notes that low contamination rates
are in large part due to separate col-
lection bins for batteries, light bulbs,
plastic bottles (reverse vending
scheme), glass jars and textiles at
supermarkets – and not too close to
regular waste bins. This way, consum-
ers are automatically guided to sort at
the source while going about their
day.
end-of-Life swords
Recently, a recycler in Auckland, New
Zealand stumbled upon an exotic find:
a perfectly sheathed samurai sword.
EnviroWaste estimates the 'katana'
was worth around EUR 350. Melting it
down was considered a shame and so
the sword was donated to a local sec-
ond-hand store so it could have a new
owner. The most unexpected item
recovered from the city's municipal
waste stream was a stainless steel arti-
ficial hip joint (in good condition).
Though it makes for a pretty cool
story, 'scrap is scrap' and it was sent
to a refinery in a batch of other met-
als.
Interestingly, Dutch medical scrap
metal recycler OrthoMetals, which
specialises in recycling medical metal
scrap like artificial hips, recalls finding
several Sikh knives (part of the Indian
burial ceremony) among the ashes
collected at cremation facilities in the
UK. They were intact as the steel or
iron blades can withstand the heat of
the 1 000° furnace. With the owner
having shuffled off this mortal coil, the
recycler believes it's fitting that the
blades loop round to start a new life.
See page 36 for a company profile on
OrthoMetals.
'unbreaKabLe' noKia
'We mostly get printed circuit boards
and other e-scrap, contamination is
not that bad,' recounts Tony Selvaggio
of Florida-based eSmart Recycling.
'Sure, the occasional kitchen applianc-
es will come with random plates and
silverware. That's only when doing
community recycling drives.'
Asked about memorable finds, he
30-31-32-33-34_recycledornot.indd 32 15-09-21 11:50