OUT NOW: Autumn issue!
Subscribe
Page 28 from: OUT NOW: Autumn issue!
Ready for the next level of power? With their robust design and intelligent throughput-optimised control, Barradas Rotary Shears (BRS) are suitable for continuous operation even with the most difficult materials. Machine-speci...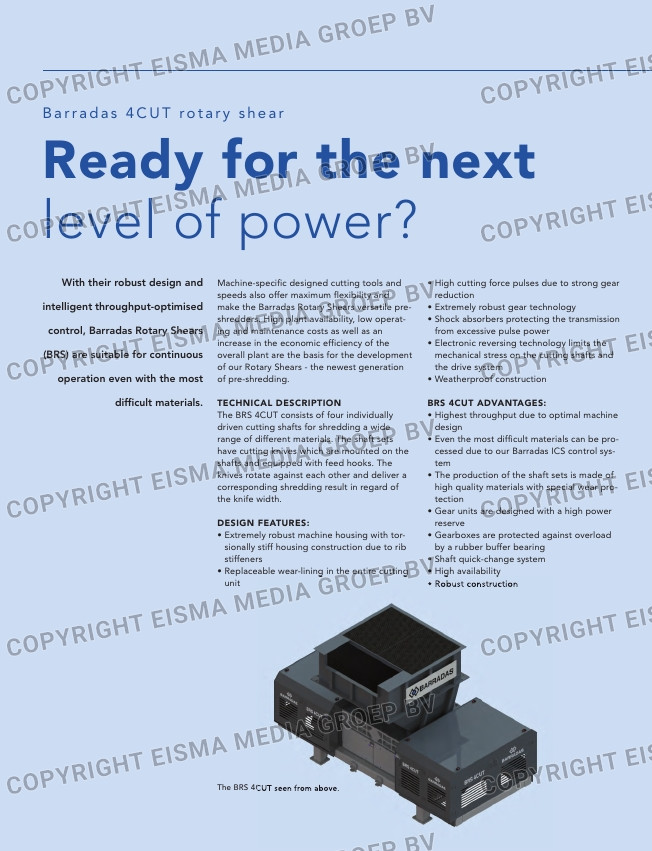 Ready for the next
level of power?
With their robust design and
intelligent throughput-optimised
control, Barradas Rotary Shears
(BRS) are suitable for continuous
operation even with the most
difficult materials.
Machine-specific designed cutting tools and
speeds also offer maximum flexibility and
make the Barradas Rotary Shears versatile pre-
shredders. High plant availability, low operat-
ing and maintenance costs as well as an
increase in the economic efficiency of the
overall plant are the basis for the development
of our Rotary Shears – the newest generation
of pre-shredding.
TECHNICAL DESCRIPTION
The BRS 4CUT consists of four individually
driven cutting shafts for shredding a wide
range of different materials. The shaft sets
have cutting knives which are mounted on the
shafts and equipped with feed hooks. The
knives rotate against each other and deliver a
corresponding shredding result in regard of
the knife width.
DESIGN FEATURES:
• Extremely robust machine housing with tor-
sionally stiff housing construction due to rib
stiffeners
• Replaceable wear-lining in the entire cutting
unit
• High cutting force pulses due to strong gear
reduction
• Extremely robust gear technology
• Shock absorbers protecting the transmission
from excessive pulse power
• Electronic reversing technology limits the
mechanical stress on the cutting shafts and
the drive system
• Weatherproof construction
BRS 4CUT ADVANTAGES:
• Highest throughput due to optimal machine
design
• Even the most difficult materials can be pro-
cessed due to our Barradas ICS control sys-
tem
• The production of the shaft sets is made of
high quality materials with special wear pro-
tection
• Gear units are designed with a high power
reserve
• Gearboxes are protected against overload
by a rubber buffer bearing
• Shaft quick-change system
• High availability
• Robust construction
Visit us on www.barradas.de to see the BRS
4CUT in action.
POWER SERVICE
Internationally, customers trust in our constant-
ly growing know-how, our committed service
and our innovative thinking.
THE BEST TEAM
From responses to a customer survey on the
Barradas brand in 2020, the following attri-
butes were confirmed by our customers:
– Ready for action
– Realistic
– Flexible
– Performance-oriented
– Responsive
– Adaptable
– Experienced
– Curious
– Dynamic
– Innovative
WHO WE ARE? BARRADAS STANDS
FOR INNOVATIVE RECYCLING PERFOR-
MANCE
Barradas, based in Dortmund, Germany has
many years of experience in the refurbishing
and production of new recycling machines,
plants, and parts subject to wear and tear. Our
main focuses are: machine building and plant
construction and realisation; consulting for the
optimisation of existing machines and recy-
cling lines; concepts for new plants as well as
service and wear parts for recycling machines
and installations.
OUR BRAND PROMISE
POWER, SPEED AND PRECISION
Behind this are innovative, customised plant
solutions and concepts, along with massive
and robust machines, a ready-to-go, compe-
tent and goal-oriented team as well as precise
work in every process step. We accept all chal-
lenges in the market.
The BRS 4CUT seen from above.
Follow us on
Linkedin and
Instagram:
@barradasgmbh
www.barradas.de
Contact us:
[email protected]
B a r r a d a s 4 C U T ro t a r y s h e a r
28-29_barradas.indd 28 15-09-21 11:49