OUT NOW: Autumn issue!
Subscribe
Page 18 from: OUT NOW: Autumn issue!
18 'Dad still opens the gates every morning' E l l e - E l l e k n o w s h o w t o h a n d l e e l e c t r i c m o t o r s Elle-Elle is a good example of an Italian recycling company built on solid family entrepreneurship. B...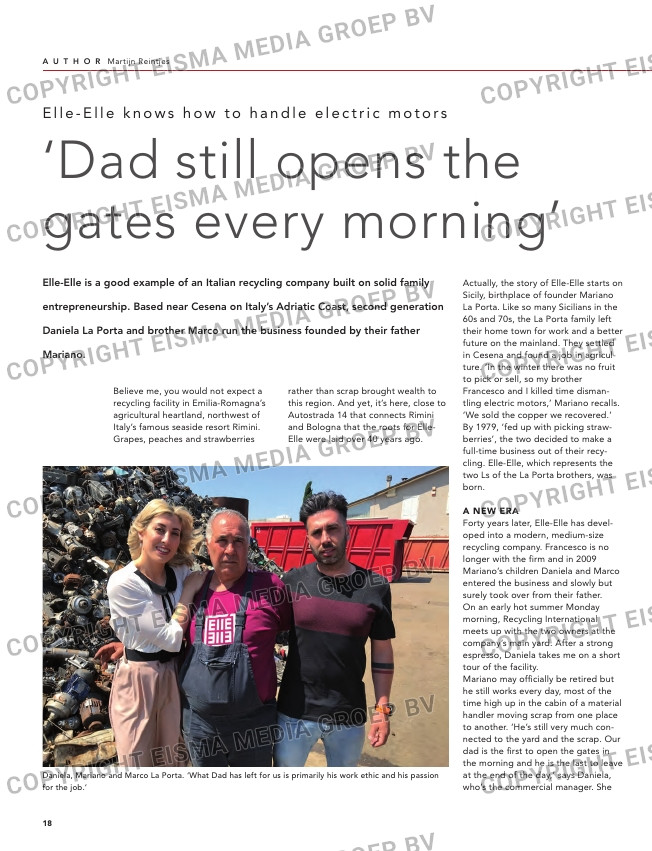 18
'Dad still opens the
gates every morning'
E l l e – E l l e k n o w s h o w t o h a n d l e e l e c t r i c m o t o r s
Elle-Elle is a good example of an Italian recycling company built on solid family
entrepreneurship. Based near Cesena on Italy's Adriatic Coast, second generation
Daniela La Porta and brother Marco run the business founded by their father
Mariano.
lives with her husband and two small
daughters (aged one and three) next
to the plant.
FUTURE PROOF OPERATION
Elle-Elle has grown into three sites.
The main facility handles electric
motors, copper and aluminium.
Equipment on site includes a shred-
der, a 800 tonne cutting force shear,
one forklift and one material handler.
The second plant, close to the com-
pany headquarters, is dedicated to
hazardous waste treatment. The
third, 10 minutes by car from the
main yard, is a brand new Panizzolo
refining plant for electric motors. This
facility recently began production
'after some delay with permits and
installation due to the Covid pan-
demic,' says Daniela.
The EUR 3 million invested in the new
plant is seen as a necessary step.
'When China announced it would stop
importing mixed metal scrap a couple
of years ago, we had no other choice
than to modernise our operations and
secure the business for years to
come,' Daniela says. 'So we decided
to get the best technology enabling
us to make cleaner scrap materials
with less impurities and thus better
serve local end users.'
Previously, most of Elle-Elle's processed
materials were sent to non-EU markets,
mainly in Asia, but now metals go to
foundries in Brescia and Padova in
northern Italy. 'There is high demand
and the prices are good. Why ship it all
over the world to faraway places when
there's a good market closer to home?'
Believe me, you would not expect a
recycling facility in Emilia-Romagna's
agricultural heartland, northwest of
Italy's famous seaside resort Rimini.
Grapes, peaches and strawberries
rather than scrap brought wealth to
this region. And yet, it's here, close to
Autostrada 14 that connects Rimini
and Bologna that the roots for Elle-
Elle were laid over 40 years ago.
Actually, the story of Elle-Elle starts on
Sicily, birthplace of founder Mariano
La Porta. Like so many Sicilians in the
60s and 70s, the La Porta family left
their home town for work and a better
future on the mainland. They settled
in Cesena and found a job in agricul-
ture. 'In the winter there was no fruit
to pick or sell, so my brother
Francesco and I killed time disman-
tling electric motors,' Mariano recalls.
'We sold the copper we recovered.'
By 1979, 'fed up with picking straw-
berries', the two decided to make a
full-time business out of their recy-
cling. Elle-Elle, which represents the
two Ls of the La Porta brothers, was
born.
A NEW ERA
Forty years later, Elle-Elle has devel-
oped into a modern, medium-size
recycling company. Francesco is no
longer with the firm and in 2009
Mariano's children Daniela and Marco
entered the business and slowly but
surely took over from their father.
On an early hot summer Monday
morning, Recycling International
meets up with the two owners at the
company's main yard. After a strong
espresso, Daniela takes me on a short
tour of the facility.
Mariano may officially be retired but
he still works every day, most of the
time high up in the cabin of a material
handler moving scrap from one place
to another. 'He's still very much con-
nected to the yard and the scrap. Our
dad is the first to open the gates in
the morning and he is the last to leave
at the end of the day,' says Daniela,
who's the commercial manager. She
A u t h o r Martijn Reintjes
Daniela, Mariano and Marco La Porta. 'What Dad has left for us is primarily his work ethic and his passion
for the job.'
Elle-Elle handles some 20 000 tonnes of metals per year, mostly
electric motors.
18-19_coutryreport-italy-2.indd 18 16-09-21 08:47