OUT NOW: Autumn issue!
Subscribe
Page 15 from: OUT NOW: Autumn issue!
Trends & uPdaTes 15recyclinginternational.com | September/October | 2021 'recycling carBon fiBre not imPoSSiBle' the Uk's national composites centre (ncc) is conducting 'ground-breaking' research to prove that composi...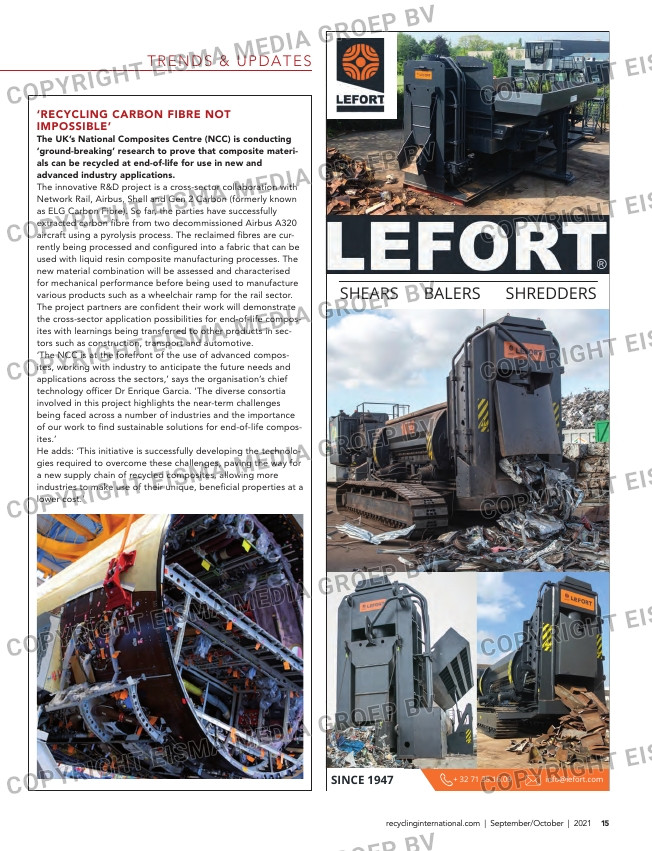 Trends & uPdaTes
15recyclinginternational.com | September/October | 2021
'recycling carBon fiBre not
imPoSSiBle'
the Uk's national composites centre (ncc) is conducting
'ground-breaking' research to prove that composite materi-
als can be recycled at end-of-life for use in new and
advanced industry applications.
The innovative R&D project is a cross-sector collaboration with
Network Rail, Airbus, Shell and Gen 2 Carbon (formerly known
as ELG Carbon Fibre). So far, the parties have successfully
extracted carbon fibre from two decommissioned Airbus A320
aircraft using a pyrolysis process. The reclaimed fibres are cur-
rently being processed and configured into a fabric that can be
used with liquid resin composite manufacturing processes. The
new material combination will be assessed and characterised
for mechanical performance before being used to manufacture
various products such as a wheelchair ramp for the rail sector.
The project partners are confident their work will demonstrate
the cross-sector application possibilities for end-of-life compos-
ites with learnings being transferred to other products in sec-
tors such as construction, transport and automotive.
'The NCC is at the forefront of the use of advanced compos-
ites, working with industry to anticipate the future needs and
applications across the sectors,' says the organisation's chief
technology officer Dr Enrique Garcia. 'The diverse consortia
involved in this project highlights the near-term challenges
being faced across a number of industries and the importance
of our work to find sustainable solutions for end-of-life compos-
ites.'
He adds: 'This initiative is successfully developing the technolo-
gies required to overcome these challenges, paving the way for
a new supply chain of recycled composites, allowing more
industries to make use of their unique, beneficial properties at a
lower cost.'
BaSf exPandS Battery recycling in germany and tHe US
BaSf is building a battery recycling
prototype facility in Schwarzheide,
germany, at the site of its cathode
active materials plant to optimise fur-
ther the technology to deliver 'superior
returns' of lithium, nickel, cobalt and
manganese from discarded lithium-ion
batteries.
The extracted metals will be used to pro-
duce new cathode active materials, there-
by strengthening the battery value chain.
This project, which is mostly funded by the Federal Ministry of Economics and Energy,
will create about 35 production jobs and is due to start operations in early 2023.
BASF says battery recycling is an important long-term market requirement in the elec-
tric vehicle market to reduce its CO2 footprint as well as to meet stricter policy mea-
sures under the proposed EU Battery Regulation. These include recycling efficiencies
and material recovery targets for nickel, cobalt and lithium.
'With this investment in battery recycling, plus leading process technology for manufac-
turing of cathode active materials, we aim to close the loop while reducing the CO2
footprint of our cathode active materials by up to 60% in total compared to industry
standards,' says Dr. Matthias Dohrn, senior vice president, precious and base metal ser-
vices at BASF. 'This will enable us to meet the needs of our automotive customers –
including original equipment manufacturers – and helps ensure a more sustainable
future for us all.'
Meanwhile, the BASF Catalysts division, headquartered in Iselin, New Jersey, has
acquired Zodiac Enterprises in Caldwell, Texas, which recycles precious metals from
industrial scrap, primarily chemical catalysts. This deal will complement the company's
existing precious metal recycling operations in Seneca, South Carolina. It will also pro-
vide increased smelting capacity in North America. Additional personnel will be hired
to expand the production capacity of the Texas site.
See page 38 for our update on battery recycling.

Pandemic and diSrUPted collectionS drive indian ScraP
PaPer Price SUrge
the second wave of the pandemic in india and intermittent lockdown since last march
have triggered a doubling of waste paper prices and acute shortage of the feedstock
for domestic mills.
According to trade sources and the Indian Agro & Recycled Paper Mills Association
(IARPMA), prices have surged to INR 22-26 per kg (EUR 0.25-0.29 per kg), compared to
pre-Covid levels of INR 10-13 per kg (EUR 0.11-0.14 per kg ). Scrap paper mills account for
17 million tonnes out of the 25 million tonne domestic annual paper production.
IARPMA called on the Government to intervene, accusing suppliers were taking advantage
to push up prices. On the contrary, trade circles attribute the surge in prices to disruptions
of the supply chain.
Geeta Trading Company, a leading paper recycler and trader based in western state of
Gujarat, said that the supply chain disruption creating shortage and rise price had been
aggravated by the unorganised nature of Indian waste paper collection.
The informal waste paper sector or 'post -consumer paper' collection is dominated by rag-
pickers and vendors/collectors who move door-to-door buying waste paper. Their activity
accounts for over 95% of total recyclable waste.
However, with most of such collectors being migrant labourers from rural areas, pandemic
and lockdown restrictions forced such labour to return home. Since they account for the
bulk of collections, their absence from the supply chain has created acute disruptions in
supplies, one trader said.
SHEARS BALERS SHREDDERS
[email protected]SINCE 1947 + 32 71 35.16.09
10-11-12-13-14-15_trendsupdates.indd 15 15-09-21 09:40