OUT NOW: Autumn issue!
Subscribe
Page 13 from: OUT NOW: Autumn issue!
trends & updates 13recyclinginternational.com | September/October | 2021 Second deeP Sea Port for Uk metal recycler Uk-based metal recycler Ward has expanded with a second deep sea port at its redcar Bulk terminal near middlesb...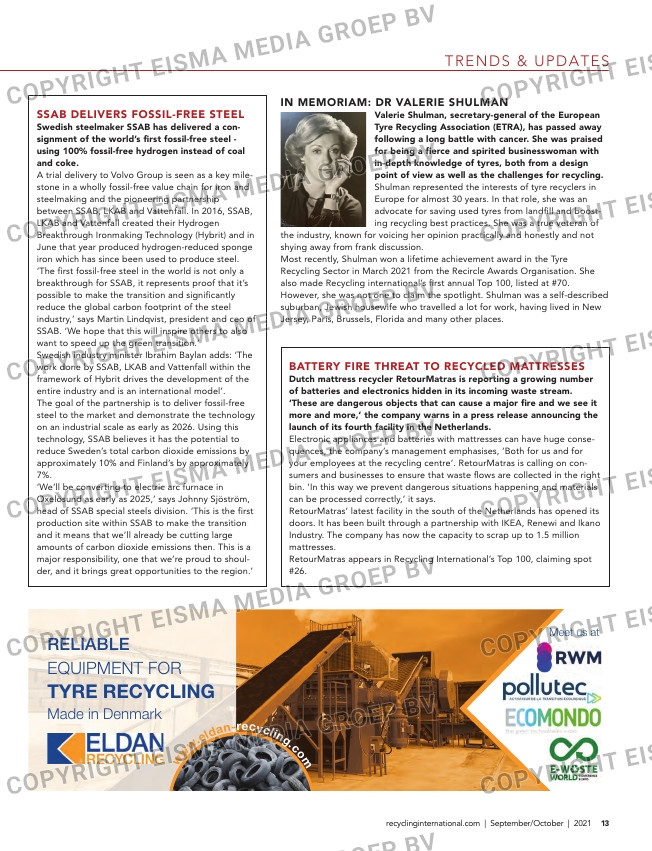 trends & updates
13recyclinginternational.com | September/October | 2021
Second deeP Sea Port for Uk metal
recycler
Uk-based metal recycler Ward has expanded with a second
deep sea port at its redcar Bulk terminal near
middlesbrough. the new facility enables the shipping of
scrap to turkey, italy and the rest of the world from what is
said to be the deepest terminal on the country's east coast.
'This is another significant development for our ferrous opera-
tions,' the company's commercial director Thomas Ward told
local media. 'Following the opening of Ward's Immingham dock
facility in 2018, this will further expand our capabilities to buy,
process and export ferrous metals.'
It also gives the company better access to new customers fur-
ther away for buying and selling scrap metal, as well as expand-
ing the services available to existing customers in Turkey, India,
Pakistan, Bangladesh and China.
SWeden UnveilS PlanS for HUge PlaSticS
recycling HUB
Swedish Plastic
recycling (Svensk
Plaståtervinning) says
it is 'investing heavily
in building the world's
largest and most mod-
ern facility for plastic
recycling'. the new
facility, known as Site
Zero, will recycle all plastic packaging from Swedish households
with no co2 emissions.
The state-of-the-art recycling plant, to be built in the city of Motala,
will cost around SEK 1 billion (EUR 97.5 million) and is scheduled to
open its doors in 2023. It complements an existing facility in Motala
and includes a fully automated process with 60 near-infrared (NIR)
sensors, a 5 km long conveyor belt and washing and granulation
units. The total site will cover 60 000 square metres.
'We are doubling our capacity and will be able to handle 200 000
tonnes of plastic packaging per year,' says Mattias Philipsson, ceo
of Swedish Plastic Recycling. He points out that the company
already handles four types of plastic scrap and Site Zero will enable
the sorting and recycling of 12 types.
No packaging will be incinerated, Philipsson insists. 'Any small parts
of plastic that remain after the sorting process are separated to be
sent to chemical recycling, or to become new composite products.'
Site Zero will be powered by renewable energy and be 'completely
climate neutral' owing to its carbon capture storage system. There
are also plans to produce renewable energy by covering the build-
ing's large flat roof with solar panels.
'This major investment creates the prerequisites needed for making
Sweden a world leader in plastic recycling,' Philipsson adds. 'Being
able to do it together with our producer customers and owners,
who consist of large parts of the Swedish business community, is
very inspiring.'
The Swedish Environmental Protection Agency is contributing
around SEK 180 million to the ambitious recycling project.
Battery fire tHreat to recycled mattreSSeS
dutch mattress recycler retourmatras is reporting a growing number
of batteries and electronics hidden in its incoming waste stream.
'these are dangerous objects that can cause a major fire and we see it
more and more,' the company warns in a press release announcing the
launch of its fourth facility in the netherlands.
Electronic appliances and batteries with mattresses can have huge conse-
quences, the company's management emphasises, 'Both for us and for
your employees at the recycling centre'. RetourMatras is calling on con-
sumers and businesses to ensure that waste flows are collected in the right
bin. 'In this way we prevent dangerous situations happening and materials
can be processed correctly,' it says.
RetourMatras' latest facility in the south of the Netherlands has opened its
doors. It has been built through a partnership with IKEA, Renewi and Ikano
Industry. The company has now the capacity to scrap up to 1.5 million
mattresses.
RetourMatras appears in Recycling International's Top 100, claiming spot
#26.
SSaB deliverS foSSil-free Steel
Swedish steelmaker SSaB has delivered a con-
signment of the world's first fossil-free steel –
using 100% fossil-free hydrogen instead of coal
and coke.
A trial delivery to Volvo Group is seen as a key mile-
stone in a wholly fossil-free value chain for iron and
steelmaking and the pioneering partnership
between SSAB, LKAB and Vattenfall. In 2016, SSAB,
LKAB and Vattenfall created their Hydrogen
Breakthrough Ironmaking Technology (Hybrit) and in
June that year produced hydrogen-reduced sponge
iron which has since been used to produce steel.
'The first fossil-free steel in the world is not only a
breakthrough for SSAB, it represents proof that it's
possible to make the transition and significantly
reduce the global carbon footprint of the steel
industry,' says Martin Lindqvist, president and ceo of
SSAB. 'We hope that this will inspire others to also
want to speed up the green transition.'
Swedish industry minister Ibrahim Baylan adds: 'The
work done by SSAB, LKAB and Vattenfall within the
framework of Hybrit drives the development of the
entire industry and is an international model'.
The goal of the partnership is to deliver fossil-free
steel to the market and demonstrate the technology
on an industrial scale as early as 2026. Using this
technology, SSAB believes it has the potential to
reduce Sweden's total carbon dioxide emissions by
approximately 10% and Finland's by approximately
7%.
'We'll be converting to electric arc furnace in
Oxelösund as early as 2025,' says Johnny Sjöström,
head of SSAB special steels division. 'This is the first
production site within SSAB to make the transition
and it means that we'll already be cutting large
amounts of carbon dioxide emissions then. This is a
major responsibility, one that we're proud to shoul-
der, and it brings great opportunities to the region.'
in memoriam: dr valerie SHUlman
valerie Shulman, secretary-general of the european
tyre recycling association (etra), has passed away
following a long battle with cancer. She was praised
for being a fierce and spirited businesswoman with
in-depth knowledge of tyres, both from a design
point of view as well as the challenges for recycling.
Shulman represented the interests of tyre recyclers in
Europe for almost 30 years. In that role, she was an
advocate for saving used tyres from landfill and boost-
ing recycling best practices. She was a true veteran of
the industry, known for voicing her opinion practically and honestly and not
shying away from frank discussion.
Most recently, Shulman won a lifetime achievement award in the Tyre
Recycling Sector in March 2021 from the Recircle Awards Organisation. She
also made Recycling international's first annual Top 100, listed at #70.
However, she was not one to claim the spotlight. Shulman was a self-described
suburban, Jewish housewife who travelled a lot for work, having lived in New
Jersey, Paris, Brussels, Florida and many other places.
w
w
w.
eld
an-recycling.com
Meet us at
RELIABLE
EQUIPMENT FOR
TYRE RECYCLING
Made in Denmark
RecyclingInternational_TyreRecycling_205x64_210819.indd 1 19-08-2021 13:16:32
10-11-12-13-14-15_trendsupdates.indd 13 15-09-21 09:40