OUT NOW: Autumn issue!
Subscribe
Page 11 from: OUT NOW: Autumn issue!
Trends & uPdaTes 11recyclinginternational.com | September/October | 2021 Fotobijschrift new dimensions of wear protection we understand we produce we advise we are SWB billions in valuable materials are lost to wear each yea...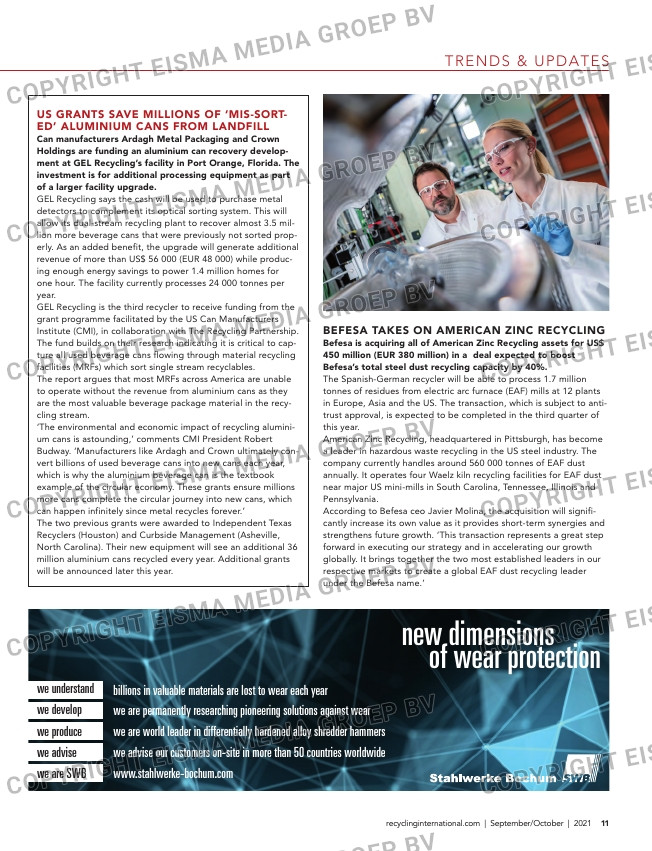 Trends & uPdaTes
11recyclinginternational.com | September/October | 2021
Fotobijschrift
new dimensions
of wear protection
we understand
we produce
we advise
we are SWB
billions in valuable materials are lost to wear each year
we advise our customers on-site in more than 50 countries worldwide
we are world leader in differentially hardened alloy shredder hammers
we are permanently researching pioneering solutions against wear
www.stahlwerke-bochum.com
we develop
US grantS Save millionS of 'miS-Sort-
ed' alUminiUm canS from landfill
can manufacturers ardagh metal Packaging and crown
Holdings are funding an aluminium can recovery develop-
ment at gel recycling's facility in Port orange, florida. the
investment is for additional processing equipment as part
of a larger facility upgrade.
GEL Recycling says the cash will be used to purchase metal
detectors to complement its optical sorting system. This will
allow its dual-stream recycling plant to recover almost 3.5 mil-
lion more beverage cans that were previously not sorted prop-
erly. As an added benefit, the upgrade will generate additional
revenue of more than US$ 56 000 (EUR 48 000) while produc-
ing enough energy savings to power 1.4 million homes for
one hour. The facility currently processes 24 000 tonnes per
year.
GEL Recycling is the third recycler to receive funding from the
grant programme facilitated by the US Can Manufacturers
Institute (CMI), in collaboration with The Recycling Partnership.
The fund builds on their research indicating it is critical to cap-
ture all used beverage cans flowing through material recycling
facilities (MRFs) which sort single stream recyclables.
The report argues that most MRFs across America are unable
to operate without the revenue from aluminium cans as they
are the most valuable beverage package material in the recy-
cling stream.
'The environmental and economic impact of recycling alumini-
um cans is astounding,' comments CMI President Robert
Budway. 'Manufacturers like Ardagh and Crown ultimately con-
vert billions of used beverage cans into new cans each year,
which is why the aluminium beverage can is the textbook
example of the circular economy. These grants ensure millions
more cans complete the circular journey into new cans, which
can happen infinitely since metal recycles forever.'
The two previous grants were awarded to Independent Texas
Recyclers (Houston) and Curbside Management (Asheville,
North Carolina). Their new equipment will see an additional 36
million aluminium cans recycled every year. Additional grants
will be announced later this year.
BefeSa takeS on american Zinc recycling
Befesa is acquiring all of american Zinc recycling assets for US$
450 million (eUr 380 million) in a deal expected to boost
Befesa's total steel dust recycling capacity by 40%.
The Spanish-German recycler will be able to process 1.7 million
tonnes of residues from electric arc furnace (EAF) mills at 12 plants
in Europe, Asia and the US. The transaction, which is subject to anti-
trust approval, is expected to be completed in the third quarter of
this year.
American Zinc Recycling, headquartered in Pittsburgh, has become
a leader in hazardous waste recycling in the US steel industry. The
company currently handles around 560 000 tonnes of EAF dust
annually. It operates four Waelz kiln recycling facilities for EAF dust
near major US mini-mills in South Carolina, Tennessee, Illinois and
Pennsylvania.
According to Befesa ceo Javier Molina, the acquisition will signifi-
cantly increase its own value as it provides short-term synergies and
strengthens future growth. 'This transaction represents a great step
forward in executing our strategy and in accelerating our growth
globally. It brings together the two most established leaders in our
respective markets to create a global EAF dust recycling leader
under the Befesa name.'
10-11-12-13-14-15_trendsupdates.indd 11 15-09-21 09:40