Our summer issue is out now!
Subscribe
Page 94 from: Our summer issue is out now!
MARKET ANALYSIS Scrap prices rise in uncertain times Russia's invasion of Ukraine and Covid infec- tions cloud future prospects of strong second- ary material markets. European imports on the XSI rose by 7.7% in March, representing...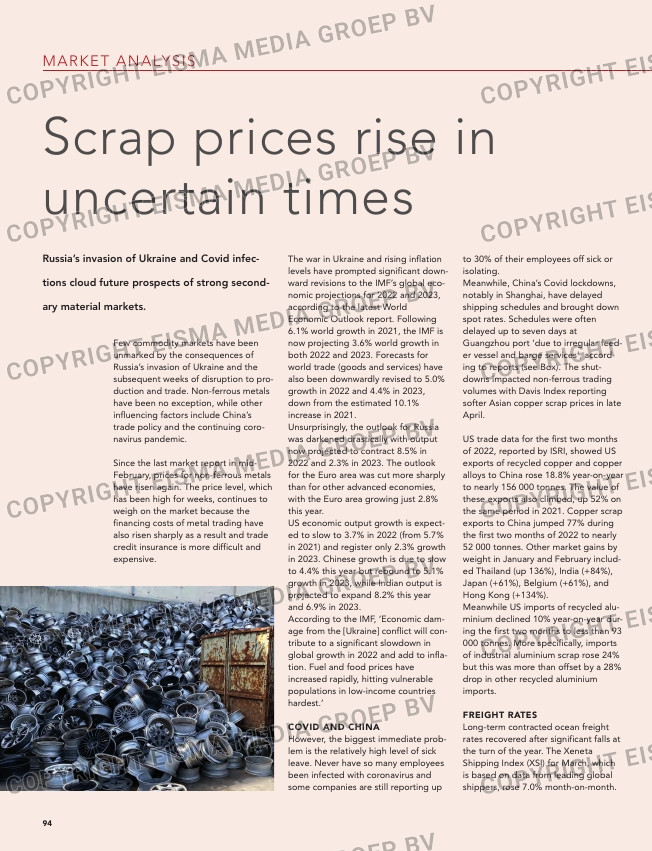 MARKET ANALYSIS
Scrap prices rise in
uncertain times
Russia's invasion of Ukraine and Covid infec-
tions cloud future prospects of strong second-
ary material markets.
European imports on the XSI rose by
7.7% in March, representing an all-time
high. Year-on-year, the benchmark is up
by 87.1%, and it is 7.5% higher than in
December 2021.
US imports on the XSI rose by 6.9% in
March, an increase more than offset-
ting the decline reported in February.
The index is now 99.3% higher than
the equivalent period of 2021 and has
risen by 8.9% since the end of last year.
In a positive sign for US shippers, aver-
age waiting times at Los Angeles and
Long Beach improved after carriers
decided to shift some operations to US
east coast ports.
BUSINESS NEWS
Rio Tinto has added 22 000 tonnes of
recycling capacity to its aluminium
operations in Canada by commission-
ing a new remelt furnace at its
Laterrière plant in the Saguenay Lac-
Saint Jean region of Quebec. The two-
94
The war in Ukraine and rising inflation
levels have prompted significant down-
ward revisions to the IMF's global eco-
nomic projections for 2022 and 2023,
according to the latest World
Economic Outlook report. Following
6.1% world growth in 2021, the IMF is
now projecting 3.6% world growth in
both 2022 and 2023. Forecasts for
world trade (goods and services) have
also been downwardly revised to 5.0%
growth in 2022 and 4.4% in 2023,
down from the estimated 10.1%
increase in 2021.
Unsurprisingly, the outlook for Russia
was darkened drastically with output
now projected to contract 8.5% in
2022 and 2.3% in 2023. The outlook
for the Euro area was cut more sharply
than for other advanced economies,
with the Euro area growing just 2.8%
this year.
US economic output growth is expect-
ed to slow to 3.7% in 2022 (from 5.7%
in 2021) and register only 2.3% growth
in 2023. Chinese growth is due to slow
to 4.4% this year but rebound to 5.1%
growth in 2023, while Indian output is
projected to expand 8.2% this year
and 6.9% in 2023.
According to the IMF, 'Economic dam-
age from the [Ukraine] conflict will con-
tribute to a significant slowdown in
global growth in 2022 and add to infla-
tion. Fuel and food prices have
increased rapidly, hitting vulnerable
populations in low-income countries
hardest.'
COVID AND CHINA
However, the biggest immediate prob-
lem is the relatively high level of sick
leave. Never have so many employees
been infected with coronavirus and
some companies are still reporting up
to 30% of their employees off sick or
isolating.
Meanwhile, China's Covid lockdowns,
notably in Shanghai, have delayed
shipping schedules and brought down
spot rates. Schedules were often
delayed up to seven days at
Guangzhou port 'due to irregular feed-
er vessel and barge services', accord-
ing to reports (see Box). The shut-
downs impacted non-ferrous trading
volumes with Davis Index reporting
softer Asian copper scrap prices in late
April.
US trade data for the first two months
of 2022, reported by ISRI, showed US
exports of recycled copper and copper
alloys to China rose 18.8% year-on-year
to nearly 156 000 tonnes. The value of
these exports also climbed, up 52% on
the same period in 2021. Copper scrap
exports to China jumped 77% during
the first two months of 2022 to nearly
52 000 tonnes. Other market gains by
weight in January and February includ-
ed Thailand (up 136%), India (+84%),
Japan (+61%), Belgium (+61%), and
Hong Kong (+134%).
Meanwhile US imports of recycled alu-
minium declined 10% year-on-year dur-
ing the first two months to less than 93
000 tonnes. More specifically, imports
of industrial aluminium scrap rose 24%
but this was more than offset by a 28%
drop in other recycled aluminium
imports.
FREIGHT RATES
Long-term contracted ocean freight
rates recovered after significant falls at
the turn of the year. The Xeneta
Shipping Index (XSI) for March, which
is based on data from leading global
shippers, rose 7.0% month-on-month.
FROM WASTE DISPOSER
TO WASTE TRANSFORMER

BE A WASTE
TRANSFORMER
IFAT 2022
HALL B6
BOOTH 251/350
ONLY LINDNER CLIENTS CAN TRULY SAY:

WITH LINDNER'S SMART SYSTEM SOLUTIONS.

Axel Möhring
CEO
Energenta Ersatzbrennstoffe GmbH
Germany
#WASTETRANSFORMER

Few commodity markets have been
unmarked by the consequences of
Russia's invasion of Ukraine and the
subsequent weeks of disruption to pro-
duction and trade. Non-ferrous metals
have been no exception, while other
influencing factors include China's
trade policy and the continuing coro-
navirus pandemic.
Since the last market report in mid-
February, prices for non-ferrous metals
have risen again. The price level, which
has been high for weeks, continues to
weigh on the market because the
financing costs of metal trading have
also risen sharply as a result and trade
credit insurance is more difficult and
expensive.
94-95-96-97_manon-ferrous.indd 94 02-05-2022 16:35