Our summer issue is out now!
Subscribe
Page 92 from: Our summer issue is out now!
MARKET ANALYSIS LME chaos adds to recyclers' challenges Disruption to trading in March continues to dog the market, on top of a range of other dif- ficulties. supporting the long-term health and efficiency of the market,' Bloom...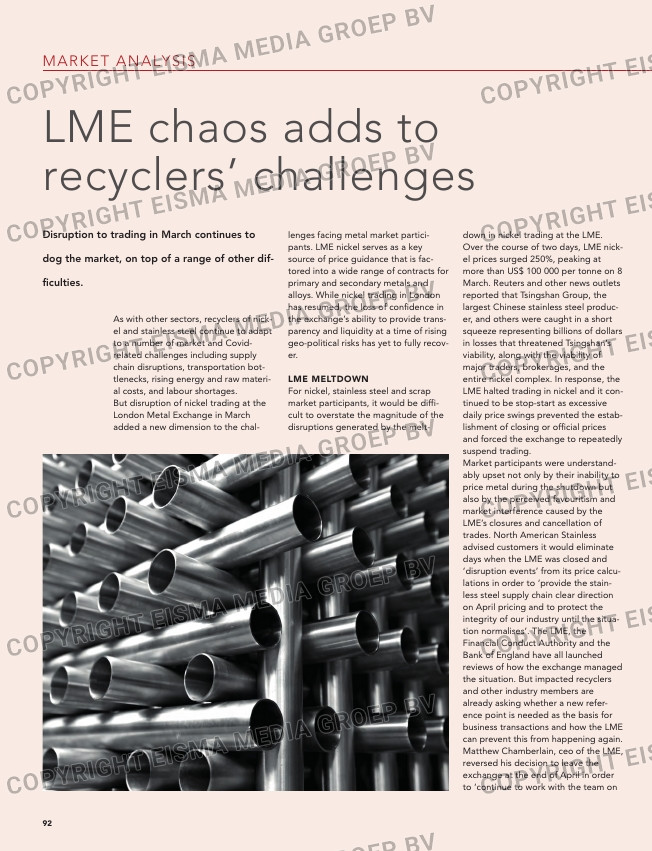 MARKET ANALYSIS
LME chaos adds to
recyclers' challenges
Disruption to trading in March continues to
dog the market, on top of a range of other dif-
ficulties.
supporting the long-term health and
efficiency of the market,' Bloomberg
reports.
HEALTHY MARKETS?
Prior to the LME meltdown, there were
already significant sources of concern
surrounding the health of nickel and
stainless steel markets, most notably
the potential for sanctions against
Russian nickel producers following the
invasion of Ukraine, China's wobbly
property market, Covid shutdowns and
how central banks would combat ele-
vated inflation levels. Russian giant
Nornickel, the largest producer of
refined nickel in the world, indicated it
will redirect metal for Europe or the US
to China and other countries that have
not sanctioned Russia. For the first
quarter of 2022, Nornickel reports its
nickel production actually rose 10%
year-on-year to nearly 52 000 tonnes.
Through the end of last year, global
stainless steel production was also on
the rise. The International Stainless
Steel Forum reports world stainless
melt shop production rose 10.6% in
2021 to 56.3 million tonnes, including a
13.6% increase in European stainless
production and a 10.4% increase in the
United States. As Indonesian produc-
tion continues to ramp up, Macquarie
is forecasting a rebalancing of the
global nickel market but subdued
down in nickel trading at the LME.
Over the course of two days, LME nick-
el prices surged 250%, peaking at
more than US$ 100 000 per tonne on 8
March. Reuters and other news outlets
reported that Tsingshan Group, the
largest Chinese stainless steel produc-
er, and others were caught in a short
squeeze representing billions of dollars
in losses that threatened Tsingshan's
viability, along with the viability of
major traders, brokerages, and the
entire nickel complex. In response, the
LME halted trading in nickel and it con-
tinued to be stop-start as excessive
daily price swings prevented the estab-
lishment of closing or official prices
and forced the exchange to repeatedly
suspend trading.
Market participants were understand-
ably upset not only by their inability to
price metal during the shutdown but
also by the perceived favouritism and
market interference caused by the
LME's closures and cancellation of
trades. North American Stainless
advised customers it would eliminate
days when the LME was closed and
'disruption events' from its price calcu-
lations in order to 'provide the stain-
less steel supply chain clear direction
on April pricing and to protect the
integrity of our industry until the situa-
tion normalises'. The LME, the
Financial Conduct Authority and the
Bank of England have all launched
reviews of how the exchange managed
the situation. But impacted recyclers
and other industry members are
already asking whether a new refer-
ence point is needed as the basis for
business transactions and how the LME
can prevent this from happening again.
Matthew Chamberlain, ceo of the LME,
reversed his decision to leave the
exchange at the end of April in order
to 'continue to work with the team on
92
As with other sectors, recyclers of nick-
el and stainless steel continue to adapt
to a number of market and Covid-
related challenges including supply
chain disruptions, transportation bot-
tlenecks, rising energy and raw materi-
al costs, and labour shortages.
But disruption of nickel trading at the
London Metal Exchange in March
added a new dimension to the chal-
lenges facing metal market partici-
pants. LME nickel serves as a key
source of price guidance that is fac-
tored into a wide range of contracts for
primary and secondary metals and
alloys. While nickel trading in London
has resumed, the loss of confidence in
the exchange's ability to provide trans-
parency and liquidity at a time of rising
geo-political risks has yet to fully recov-
er.
LME MELTDOWN
For nickel, stainless steel and scrap
market participants, it would be diffi-
cult to overstate the magnitude of the
disruptions generated by the melt-
92-93_manickelstainless.indd 92 02-05-2022 16:35