Our summer issue is out now!
Subscribe
Page 76 from: Our summer issue is out now!
76 motor', arguing: 'They don't just save energy, they also make a valuable con- tribution to reducing operating costs, reducing CO2, and promoting a world with lower emissions.' Lindner's innovative E-model shred- ders, avail...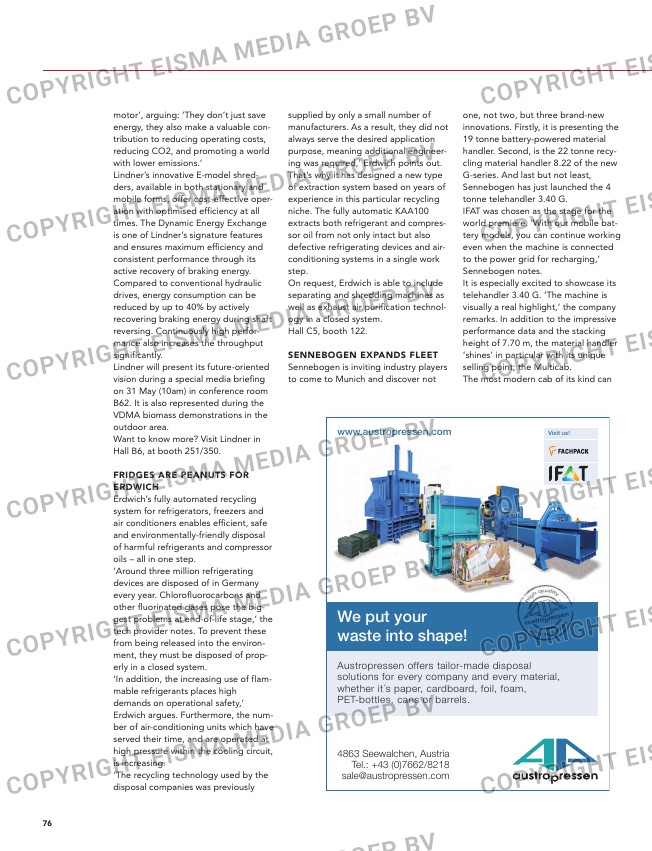 76
motor', arguing: 'They don't just save
energy, they also make a valuable con-
tribution to reducing operating costs,
reducing CO2, and promoting a world
with lower emissions.'
Lindner's innovative E-model shred-
ders, available in both stationary and
mobile forms, offer cost-effective oper-
ation with optimised efficiency at all
times. The Dynamic Energy Exchange
is one of Lindner's signature features
and ensures maximum efficiency and
consistent performance through its
active recovery of braking energy.
Compared to conventional hydraulic
drives, energy consumption can be
reduced by up to 40% by actively
recovering braking energy during shaft
reversing. Continuously high perfor-
mance also increases the throughput
significantly.
Lindner will present its future-oriented
vision during a special media briefing
on 31 May (10am) in conference room
B62. It is also represented during the
VDMA biomass demonstrations in the
outdoor area.
Want to know more? Visit Lindner in
Hall B6, at booth 251/350.
FRIDGES ARE PEANUTS FOR
ERDWICH
Erdwich's fully automated recycling
system for refrigerators, freezers and
air conditioners enables efficient, safe
and environmentally-friendly disposal
of harmful refrigerants and compressor
oils – all in one step.
'Around three million refrigerating
devices are disposed of in Germany
every year. Chlorofluorocarbons and
other fluorinated gases pose the big-
gest problems at end-of-life stage,' the
tech provider notes. To prevent these
from being released into the environ-
ment, they must be disposed of prop-
erly in a closed system.
'In addition, the increasing use of flam-
mable refrigerants places high
demands on operational safety,'
Erdwich argues. Furthermore, the num-
ber of air-conditioning units which have
served their time, and are operated at
high pressure within the cooling circuit,
is increasing.
'The recycling technology used by the
disposal companies was previously
supplied by only a small number of
manufacturers. As a result, they did not
always serve the desired application
purpose, meaning additional engineer-
ing was required,' Erdwich points out.
That's why it has designed a new type
of extraction system based on years of
experience in this particular recycling
niche. The fully automatic KAA100
extracts both refrigerant and compres-
sor oil from not only intact but also
defective refrigerating devices and air-
conditioning systems in a single work
step.
On request, Erdwich is able to include
separating and shredding machines as
well as exhaust air purification technol-
ogy in a closed system.
Hall C5, booth 122.
SENNEBOGEN EXPANDS FLEET
Sennebogen is inviting industry players
to come to Munich and discover not
one, not two, but three brand-new
innovations. Firstly, it is presenting the
19 tonne battery-powered material
handler. Second, is the 22 tonne recy-
cling material handler 8.22 of the new
G-series. And last but not least,
Sennebogen has just launched the 4
tonne telehandler 3.40 G.
IFAT was chosen as the stage for the
world premiere. 'With our mobile bat-
tery models, you can continue working
even when the machine is connected
to the power grid for recharging,'
Sennebogen notes.
It is especially excited to showcase its
telehandler 3.40 G. 'The machine is
visually a real highlight,' the company
remarks. In addition to the impressive
performance data and the stacking
height of 7.70 m, the material handler
'shines' in particular with its unique
selling point; the Multicab.
The most modern cab of its kind can
be raised infinitely to an eye level of
4.10m. 'This guarantees the best all-
round visibility in recycling operations.'
Do you want to know more? Visit
Sennebogen in Hall C5, booth 241 /
340
TOMRA: 50 YEARS IN BUSINESS
Material separation specialist Tomra
Sorting has reached a milestone this
year, its 50th anniversary. It is eager to
present its vision for the coming years
at IFAT during a special news confer-
ence at the press centre on 31 May
(12.30pm). The theme of the talk is:
'Whatever it takes to close the loop'.
In recent years, the company has done
what it can to help 'break the bottle-
necks of recycled plastic content'. It
has supplied various reverse vending
systems for plastic bottles – with the
most recent installations in Scandinavia
and Singapore.
Austropressen offers tailor-made disposal
solutions for every company and every material,
whether it´s paper, cardboard, foil, foam,
PET-bottles, cans or barrels.
4863 Seewalchen, Austria
Tel.: +43 (0)7662/8218
www.austropressen.com
We put your
waste into shape!
Visit us!
Austropressen_Recycling_int_100x132_EN.indd 1 21.03.22 11:05
STADLER®
E n g i n e e r i n g a t i t s b e s t
STADLER Anlagenbau GmbH
+49 7584 9226-0
[email protected]
www.w-stadler.de
S
TA
D
L
E
R
:
fo
r
a
c
le
a
n
w
o
rl
d
!
A CIRCULAR ECONOMY DONE RIGHT
Environmental
technologies
for the future.

May 30 – June 3, 2022
Messe München
Hall B6, Booth 351/450

Visit us!
Recycling is essential for our lives. It is at the heart of a circular economy and
will be crucial for the next generations. Effective recycling needs high purity
and recovery rates in the sorted material. A functioning circular economy can
only be achieved with high-quality and efficient sorting.
STADLER´s core competence is to offer state-of-the-art turnkey waste sorting
plants with the guarantee of high purity and efficiency rates of the end fractions.
You can count on us. Let´s create a circular economy together!
74-75-76-77_ifatpreview.indd 76 02-05-2022 15:45