Our summer issue is out now!
Subscribe
Page 72 from: Our summer issue is out now!
72 Flexibility opens the door to RDF growth German family company Helmut Westarp has become one of the country's leaders in producing refuse-derived fuel (RDF). It witnessed different qualities of material coming in for processing a...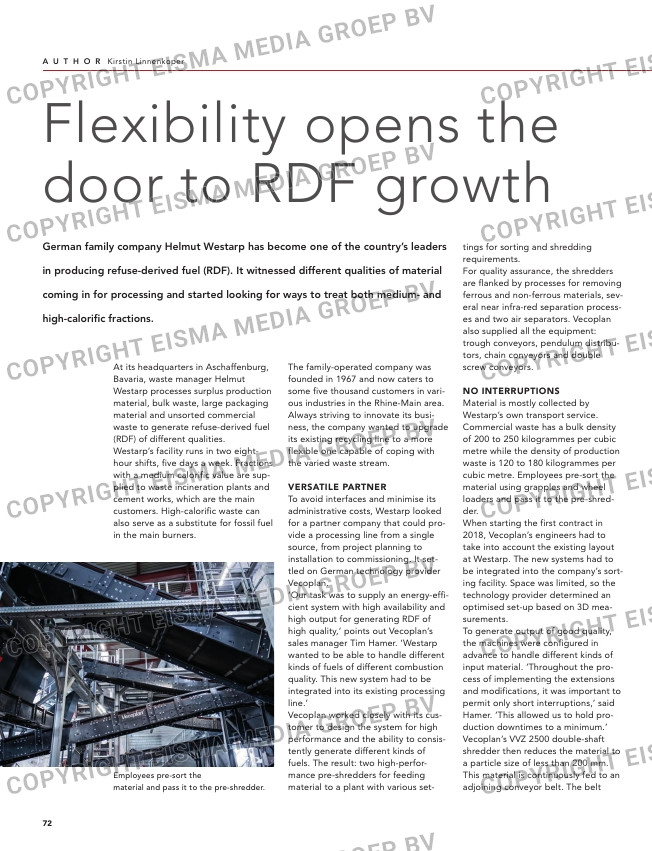 72
Flexibility opens the
door to RDF growth
German family company Helmut Westarp has become one of the country's leaders
in producing refuse-derived fuel (RDF). It witnessed different qualities of material
coming in for processing and started looking for ways to treat both medium- and
high-calorific fractions.
passes an overbelt magnet which
removes ferrous material. A three-
fraction air separator then divides the
material into heavy, medium and light
fractions.
ADJUSTING THE FRACTIONS
The light fraction can additionally be
separated into high-calorific and
medium-calorific fractions depending
on the setting. 'The fractions can be
adjusted by the company according to
market requirements and combined
operation is also possible,' Hamer
explains.
Another overbelt magnetic separator
removes ferrous materials from the
heavy fraction. The heavy material is
then conveyed to a non-ferrous metal
separator. Non-ferrous metals are
removed by the eddy-current method
and collected in a separate container.
The medium fraction generated by
the air separator is also freed of fer-
rous metals, after which it is passed to
a screen that removes pieces larger
than 200 millimetres. Large material is
collected in a bin and delivered to the
pre-shredder as needed.
Residues from the sorting facility are
also collected in the bin. Material
smaller than 200 millimetres is depos-
ited in a bin below it. Westarp sup-
plies these medium-calorific RDF to
customers for thermal utilisation.
The light fraction is likewise conveyed
to an overbelt magnetic separator
At its headquarters in Aschaffenburg,
Bavaria, waste manager Helmut
Westarp processes surplus production
material, bulk waste, large packaging
material and unsorted commercial
waste to generate refuse-derived fuel
(RDF) of different qualities.
Westarp's facility runs in two eight-
hour shifts, five days a week. Fractions
with a medium calorific value are sup-
plied to waste incineration plants and
cement works, which are the main
customers. High-calorific waste can
also serve as a substitute for fossil fuel
in the main burners.
The family-operated company was
founded in 1967 and now caters to
some five thousand customers in vari-
ous industries in the Rhine-Main area.
Always striving to innovate its busi-
ness, the company wanted to upgrade
its existing recycling line to a more
flexible one capable of coping with
the varied waste stream.
VERSATILE PARTNER
To avoid interfaces and minimise its
administrative costs, Westarp looked
for a partner company that could pro-
vide a processing line from a single
source, from project planning to
installation to commissioning. It set-
tled on German technology provider
Vecoplan.
'Our task was to supply an energy-effi-
cient system with high availability and
high output for generating RDF of
high quality,' points out Vecoplan's
sales manager Tim Hamer. 'Westarp
wanted to be able to handle different
kinds of fuels of different combustion
quality. This new system had to be
integrated into its existing processing
line.'
Vecoplan worked closely with its cus-
tomer to design the system for high
performance and the ability to consis-
tently generate different kinds of
fuels. The result: two high-perfor-
mance pre-shredders for feeding
material to a plant with various set-
tings for sorting and shredding
requirements.
For quality assurance, the shredders
are flanked by processes for removing
ferrous and non-ferrous materials, sev-
eral near infra-red separation process-
es and two air separators. Vecoplan
also supplied all the equipment:
trough conveyors, pendulum distribu-
tors, chain conveyors and double
screw conveyors.
NO INTERRUPTIONS
Material is mostly collected by
Westarp's own transport service.
Commercial waste has a bulk density
of 200 to 250 kilogrammes per cubic
metre while the density of production
waste is 120 to 180 kilogrammes per
cubic metre. Employees pre-sort the
material using grapples and wheel
loaders and pass it to the pre-shred-
der.
When starting the first contract in
2018, Vecoplan's engineers had to
take into account the existing layout
at Westarp. The new systems had to
be integrated into the company's sort-
ing facility. Space was limited, so the
technology provider determined an
optimised set-up based on 3D mea-
surements.
To generate output of good quality,
the machines were configured in
advance to handle different kinds of
input material. 'Throughout the pro-
cess of implementing the extensions
and modifications, it was important to
permit only short interruptions,' said
Hamer. 'This allowed us to hold pro-
duction downtimes to a minimum.'
Vecoplan's VVZ 2500 double-shaft
shredder then reduces the material to
a particle size of less than 200 mm.
This material is continuously fed to an
adjoining conveyor belt. The belt
The recycler significantly increased throughput to 50 tonnes per hour.
A U T H O R Kirstin Linnenkoper
Employees pre-sort the
material and pass it to the pre-shredder.
72-73_wastetoenergyupdate.indd 72 02-05-2022 15:43