Our summer issue is out now!
Subscribe
Page 71 from: Our summer issue is out now!
TECHNOLOGY EXPERT Panizzolo is ready for the future of scrap Solutions designed by Italian firm Panizzolo are known to increase the quality of recovered metal scrap and efficiently close the materials loop. Owner Mauro Panizzo...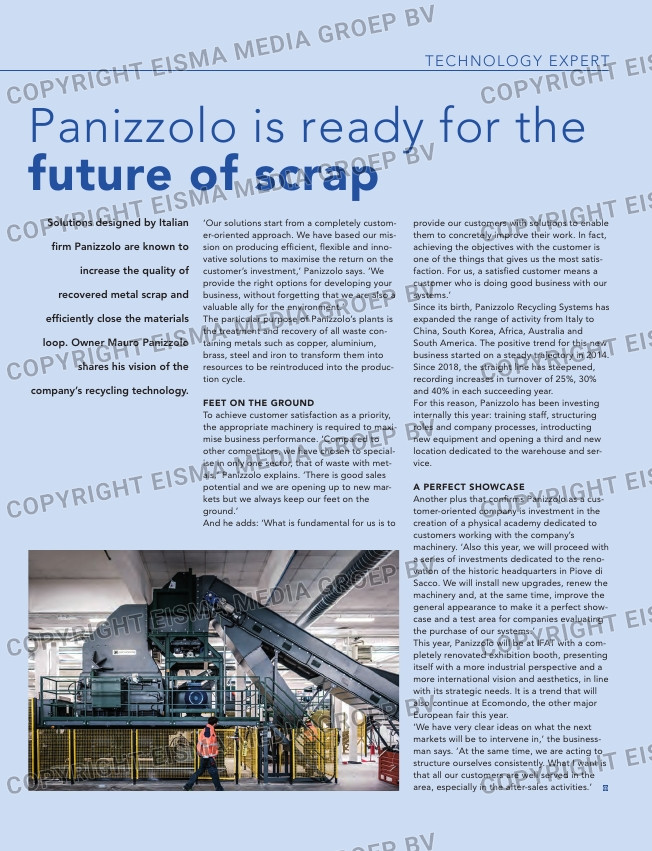 TECHNOLOGY EXPERT
Panizzolo is ready for the
future of scrap
Solutions designed by Italian
firm Panizzolo are known to
increase the quality of
recovered metal scrap and
efficiently close the materials
loop. Owner Mauro Panizzolo
shares his vision of the
company's recycling technology.
'Our solutions start from a completely custom-
er-oriented approach. We have based our mis-
sion on producing efficient, flexible and inno-
vative solutions to maximise the return on the
customer's investment,' Panizzolo says. 'We
provide the right options for developing your
business, without forgetting that we are also a
valuable ally for the environment.'
The particular purpose of Panizzolo's plants is
the treatment and recovery of all waste con-
taining metals such as copper, aluminium,
brass, steel and iron to transform them into
resources to be reintroduced into the produc-
tion cycle.
FEET ON THE GROUND
To achieve customer satisfaction as a priority,
the appropriate machinery is required to maxi-
mise business performance. 'Compared to
other competitors, we have chosen to special-
ise in only one sector, that of waste with met-
als,' Panizzolo explains. 'There is good sales
potential and we are opening up to new mar-
kets but we always keep our feet on the
ground.'
And he adds: 'What is fundamental for us is to
provide our customers with solutions to enable
them to concretely improve their work. In fact,
achieving the objectives with the customer is
one of the things that gives us the most satis-
faction. For us, a satisfied customer means a
customer who is doing good business with our
systems.'
Since its birth, Panizzolo Recycling Systems has
expanded the range of activity from Italy to
China, South Korea, Africa, Australia and
South America. The positive trend for this new
business started on a steady trajectory in 2014.
Since 2018, the straight line has steepened,
recording increases in turnover of 25%, 30%
and 40% in each succeeding year.
For this reason, Panizzolo has been investing
internally this year: training staff, structuring
roles and company processes, introducting
new equipment and opening a third and new
location dedicated to the warehouse and ser-
vice.
A PERFECT SHOWCASE
Another plus that confirms Panizzolo as a cus-
tomer-oriented company is investment in the
creation of a physical academy dedicated to
customers working with the company's
machinery. 'Also this year, we will proceed with
a series of investments dedicated to the reno-
vation of the historic headquarters in Piove di
Sacco. We will install new upgrades, renew the
machinery and, at the same time, improve the
general appearance to make it a perfect show-
case and a test area for companies evaluating
the purchase of our systems.'
This year, Panizzolo will be at IFAT with a com-
pletely renovated exhibition booth, presenting
itself with a more industrial perspective and a
more international vision and aesthetics, in line
with its strategic needs. It is a trend that will
also continue at Ecomondo, the other major
European fair this year.
'We have very clear ideas on what the next
markets will be to intervene in,' the business-
man says. 'At the same time, we are acting to
structure ourselves consistently. What I want is
that all our customers are well served in the
area, especially in the after-sales activities.'
71_panizzolo.indd 41 02-05-2022 15:42