Our summer issue is out now!
Subscribe
Page 66 from: Our summer issue is out now!
66 Plastics recycling not a genie in a bottle Bottle-to-bottle recycling has spawned much best practice in recent years and a good example is Austrian firm PET to PET Recycling, which processed more than 27 300 tonnes of polyethylene ...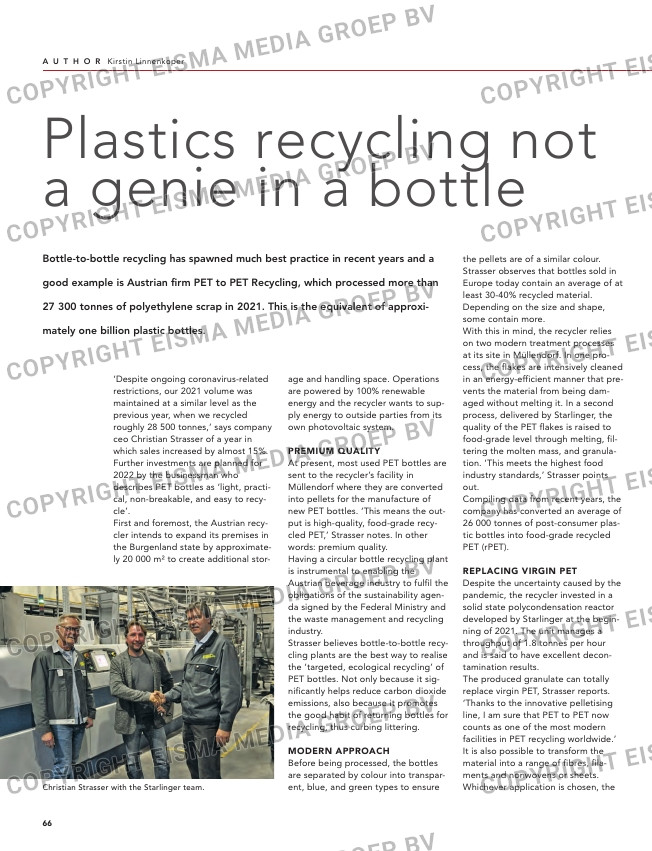 66
Plastics recycling not
a genie in a bottle
Bottle-to-bottle recycling has spawned much best practice in recent years and a
good example is Austrian firm PET to PET Recycling, which processed more than
27 300 tonnes of polyethylene scrap in 2021. This is the equivalent of approxi-
mately one billion plastic bottles.
recycling partners argue that it is time
to be 'part of the solution'. They cite
market figures indicating global con-
sumption of PET bottles will double in
the next ten years.
In fact, Statista data suggests sales of
bottled water in Austria alone will hit
EUR 1 billion by the end of this year.
This figure is overshadowed by the US
market of almost EUR 14 billion, and it
remains a rapidly growing sector
worldwide.
DOING BETTER
Austria currently has 35 recycling com-
panies dedicated to recycling plastic
packaging. Around 77% of the materi-
al they handle (upwards of 815 000
tonnes per annum) is mixed plastic
scrap, of which 80% is post-consumer
'Despite ongoing coronavirus-related
restrictions, our 2021 volume was
maintained at a similar level as the
previous year, when we recycled
roughly 28 500 tonnes,' says company
ceo Christian Strasser of a year in
which sales increased by almost 15%.
Further investments are planned for
2022 by the businessman who
describes PET bottles as 'light, practi-
cal, non-breakable, and easy to recy-
cle'.
First and foremost, the Austrian recy-
cler intends to expand its premises in
the Burgenland state by approximate-
ly 20 000 m² to create additional stor-
age and handling space. Operations
are powered by 100% renewable
energy and the recycler wants to sup-
ply energy to outside parties from its
own photovoltaic system.
PREMIUM QUALITY
At present, most used PET bottles are
sent to the recycler's facility in
Müllendorf where they are converted
into pellets for the manufacture of
new PET bottles. 'This means the out-
put is high-quality, food-grade recy-
cled PET,' Strasser notes. In other
words: premium quality.
Having a circular bottle recycling plant
is instrumental to enabling the
Austrian beverage industry to fulfil the
obligations of the sustainability agen-
da signed by the Federal Ministry and
the waste management and recycling
industry.
Strasser believes bottle-to-bottle recy-
cling plants are the best way to realise
the 'targeted, ecological recycling' of
PET bottles. Not only because it sig-
nificantly helps reduce carbon dioxide
emissions, also because it promotes
the good habit of returning bottles for
recycling, thus curbing littering.
MODERN APPROACH
Before being processed, the bottles
are separated by colour into transpar-
ent, blue, and green types to ensure
the pellets are of a similar colour.
Strasser observes that bottles sold in
Europe today contain an average of at
least 30-40% recycled material.
Depending on the size and shape,
some contain more.
With this in mind, the recycler relies
on two modern treatment processes
at its site in Müllendorf. In one pro-
cess, the flakes are intensively cleaned
in an energy-efficient manner that pre-
vents the material from being dam-
aged without melting it. In a second
process, delivered by Starlinger, the
quality of the PET flakes is raised to
food-grade level through melting, fil-
tering the molten mass, and granula-
tion. 'This meets the highest food
industry standards,' Strasser points
out.
Compiling data from recent years, the
company has converted an average of
26 000 tonnes of post-consumer plas-
tic bottles into food-grade recycled
PET (rPET).
REPLACING VIRGIN PET
Despite the uncertainty caused by the
pandemic, the recycler invested in a
solid state polycondensation reactor
developed by Starlinger at the begin-
ning of 2021. The unit manages a
throughput of 1.8 tonnes per hour
and is said to have excellent decon-
tamination results.
The produced granulate can totally
replace virgin PET, Strasser reports.
'Thanks to the innovative pelletising
line, I am sure that PET to PET now
counts as one of the most modern
facilities in PET recycling worldwide.'
It is also possible to transform the
material into a range of fibres, fila-
ments and nonwovens or sheets.
Whichever application is chosen, the
A U T H O R Kirstin Linnenkoper
Christian Strasser with the Starlinger team.
66-67-68_austria.indd 66 02-05-2022 15:42