Our summer issue is out now!
Subscribe
Page 65 from: Our summer issue is out now!
65recyclinginternational.com | May/June | 2022 COUNTRY REPORT Capturing batteries the right way 2020, for example) as they are an ideal way to get around Swiss moun- tain villages. This e-mobility niche is expected to keep recycler...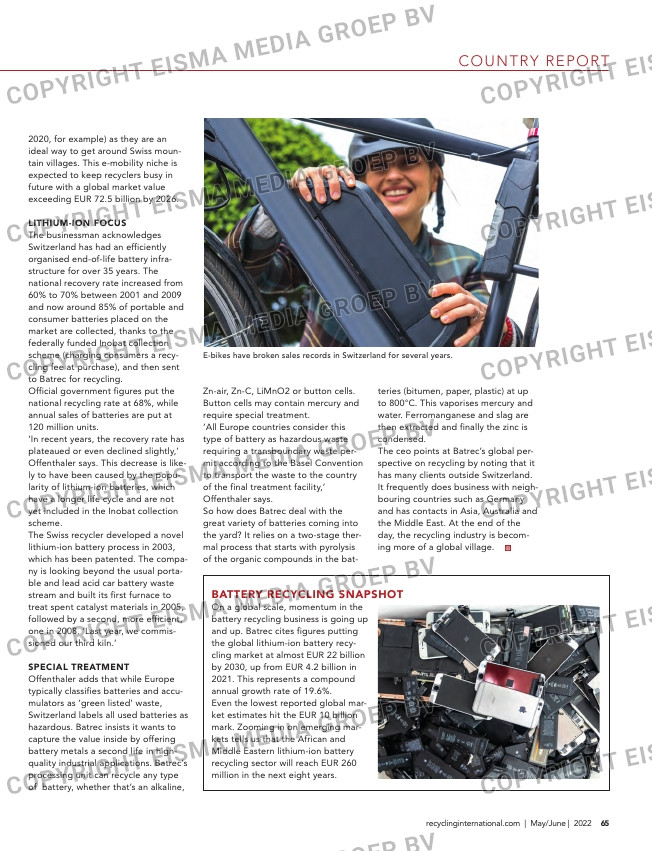 65recyclinginternational.com | May/June | 2022
COUNTRY REPORT
Capturing batteries
the right way
2020, for example) as they are an
ideal way to get around Swiss moun-
tain villages. This e-mobility niche is
expected to keep recyclers busy in
future with a global market value
exceeding EUR 72.5 billion by 2026.
LITHIUM-ION FOCUS
The businessman acknowledges
Switzerland has had an efficiently
organised end-of-life battery infra-
structure for over 35 years. The
national recovery rate increased from
60% to 70% between 2001 and 2009
and now around 85% of portable and
consumer batteries placed on the
market are collected, thanks to the
federally funded Inobat collection
scheme (charging consumers a recy-
cling fee at purchase), and then sent
to Batrec for recycling.
Official government figures put the
national recycling rate at 68%, while
annual sales of batteries are put at
120 million units.
'In recent years, the recovery rate has
plateaued or even declined slightly,'
Offenthaler says. This decrease is like-
ly to have been caused by the popu-
larity of lithium-ion batteries, which
have a longer life cycle and are not
yet included in the Inobat collection
scheme.
The Swiss recycler developed a novel
lithium-ion battery process in 2003,
which has been patented. The compa-
ny is looking beyond the usual porta-
ble and lead acid car battery waste
stream and built its first furnace to
treat spent catalyst materials in 2005,
followed by a second, more efficient,
one in 2008. 'Last year, we commis-
sioned our third kiln.'
SPECIAL TREATMENT
Offenthaler adds that while Europe
typically classifies batteries and accu-
mulators as 'green listed' waste,
Switzerland labels all used batteries as
hazardous. Batrec insists it wants to
capture the value inside by offering
battery metals a second life in high-
quality industrial applications. Batrec's
processing unit can recycle any type
of battery, whether that's an alkaline,
Zn-air, Zn-C, LiMnO2 or button cells.
Button cells may contain mercury and
require special treatment.
'All Europe countries consider this
type of battery as hazardous waste
requiring a transboundary waste per-
mit according to the Basel Convention
to transport the waste to the country
of the final treatment facility,'
Offenthaler says.
So how does Batrec deal with the
great variety of batteries coming into
the yard? It relies on a two-stage ther-
mal process that starts with pyrolysis
of the organic compounds in the bat-
teries (bitumen, paper, plastic) at up
to 800°C. This vaporises mercury and
water. Ferromanganese and slag are
then extracted and finally the zinc is
condensed.
The ceo points at Batrec's global per-
spective on recycling by noting that it
has many clients outside Switzerland.
It frequently does business with neigh-
bouring countries such as Germany
and has contacts in Asia, Australia and
the Middle East. At the end of the
day, the recycling industry is becom-
ing more of a global village.
Fotobijschrift
BATTERY RECYCLING SNAPSHOT
On a global scale, momentum in the
battery recycling business is going up
and up. Batrec cites figures putting
the global lithium-ion battery recy-
cling market at almost EUR 22 billion
by 2030, up from EUR 4.2 billion in
2021. This represents a compound
annual growth rate of 19.6%.
Even the lowest reported global mar-
ket estimates hit the EUR 10 billion
mark. Zooming in on emerging mar-
kets tells us that the African and
Middle Eastern lithium-ion battery
recycling sector will reach EUR 260
million in the next eight years.
E-bikes have broken sales records in Switzerland for several years.
64-65_switzerland.indd 65 02-05-2022 15:41