Our summer issue is out now!
Subscribe
Page 64 from: Our summer issue is out now!
64 Capturing batteries the right way Swiss recycler Batrec Industrie, based near Bern, was one of the first companies to launch a commercial battery recycling enterprise over 30 years ago. Today, it has a total annual revenue of EUR 1...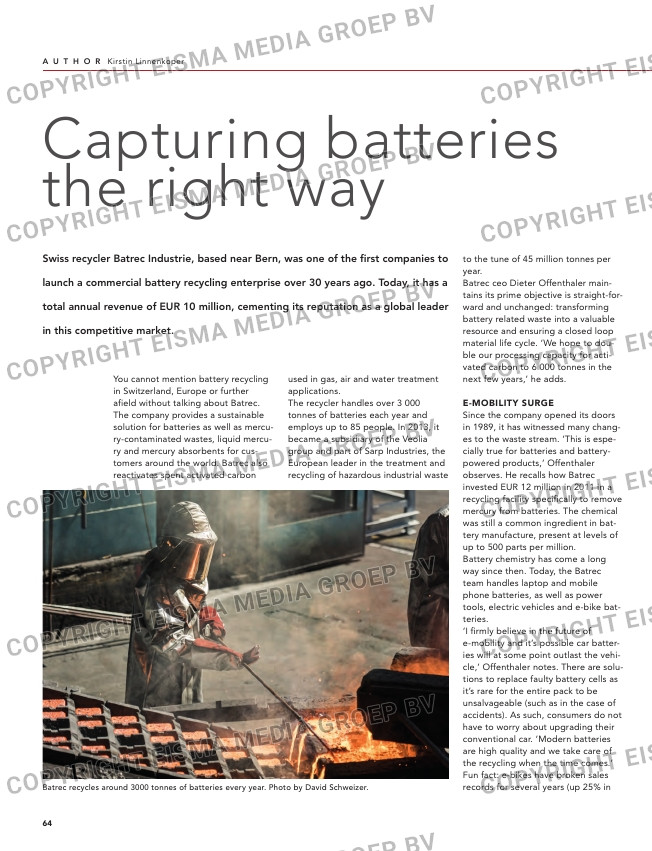 64
Capturing batteries
the right way
Swiss recycler Batrec Industrie, based near Bern, was one of the first companies to
launch a commercial battery recycling enterprise over 30 years ago. Today, it has a
total annual revenue of EUR 10 million, cementing its reputation as a global leader
in this competitive market.
2020, for example) as they are an
ideal way to get around Swiss moun-
tain villages. This e-mobility niche is
expected to keep recyclers busy in
future with a global market value
exceeding EUR 72.5 billion by 2026.
LITHIUM-ION FOCUS
The businessman acknowledges
Switzerland has had an efficiently
organised end-of-life battery infra-
structure for over 35 years. The
national recovery rate increased from
60% to 70% between 2001 and 2009
and now around 85% of portable and
consumer batteries placed on the
market are collected, thanks to the
federally funded Inobat collection
scheme (charging consumers a recy-
cling fee at purchase), and then sent
to Batrec for recycling.
Official government figures put the
national recycling rate at 68%, while
annual sales of batteries are put at
120 million units.
'In recent years, the recovery rate has
plateaued or even declined slightly,'
Offenthaler says. This decrease is like-
ly to have been caused by the popu-
larity of lithium-ion batteries, which
have a longer life cycle and are not
yet included in the Inobat collection
scheme.
The Swiss recycler developed a novel
lithium-ion battery process in 2003,
which has been patented. The compa-
ny is looking beyond the usual porta-
ble and lead acid car battery waste
stream and built its first furnace to
treat spent catalyst materials in 2005,
followed by a second, more efficient,
one in 2008. 'Last year, we commis-
sioned our third kiln.'
SPECIAL TREATMENT
Offenthaler adds that while Europe
typically classifies batteries and accu-
mulators as 'green listed' waste,
Switzerland labels all used batteries as
hazardous. Batrec insists it wants to
capture the value inside by offering
battery metals a second life in high-
quality industrial applications. Batrec's
processing unit can recycle any type
of battery, whether that's an alkaline,
You cannot mention battery recycling
in Switzerland, Europe or further
afield without talking about Batrec.
The company provides a sustainable
solution for batteries as well as mercu-
ry-contaminated wastes, liquid mercu-
ry and mercury absorbents for cus-
tomers around the world. Batrec also
reactivates spent activated carbon
used in gas, air and water treatment
applications.
The recycler handles over 3 000
tonnes of batteries each year and
employs up to 85 people. In 2013, it
became a subsidiary of the Veolia
group and part of Sarp Industries, the
European leader in the treatment and
recycling of hazardous industrial waste
to the tune of 45 million tonnes per
year.
Batrec ceo Dieter Offenthaler main-
tains its prime objective is straight-for-
ward and unchanged: transforming
battery related waste into a valuable
resource and ensuring a closed loop
material life cycle. 'We hope to dou-
ble our processing capacity for acti-
vated carbon to 6 000 tonnes in the
next few years,' he adds.
E-MOBILITY SURGE
Since the company opened its doors
in 1989, it has witnessed many chang-
es to the waste stream. 'This is espe-
cially true for batteries and battery-
powered products,' Offenthaler
observes. He recalls how Batrec
invested EUR 12 million in 2011 in a
recycling facility specifically to remove
mercury from batteries. The chemical
was still a common ingredient in bat-
tery manufacture, present at levels of
up to 500 parts per million.
Battery chemistry has come a long
way since then. Today, the Batrec
team handles laptop and mobile
phone batteries, as well as power
tools, electric vehicles and e-bike bat-
teries.
'I firmly believe in the future of
e-mobility and it's possible car batter-
ies will at some point outlast the vehi-
cle,' Offenthaler notes. There are solu-
tions to replace faulty battery cells as
it's rare for the entire pack to be
unsalvageable (such as in the case of
accidents). As such, consumers do not
have to worry about upgrading their
conventional car. 'Modern batteries
are high quality and we take care of
the recycling when the time comes.'
Fun fact: e-bikes have broken sales
records for several years (up 25% in
A U T H O R Kirstin Linnenkoper
Batrec recycles around 3000 tonnes of batteries every year. Photo by David Schweizer.
64-65_switzerland.indd 64 02-05-2022 15:41