Our summer issue is out now!
Subscribe
Page 40 from: Our summer issue is out now!
40 'I SUPPORT RUSSIA'S SCRAP INDUSTRY - NOT PUTIN' Among the European tech providers at the Vegas show was French shear-baler provider Copex, as always. 'Despite trou- bled supply chains our business is good,' said company owne...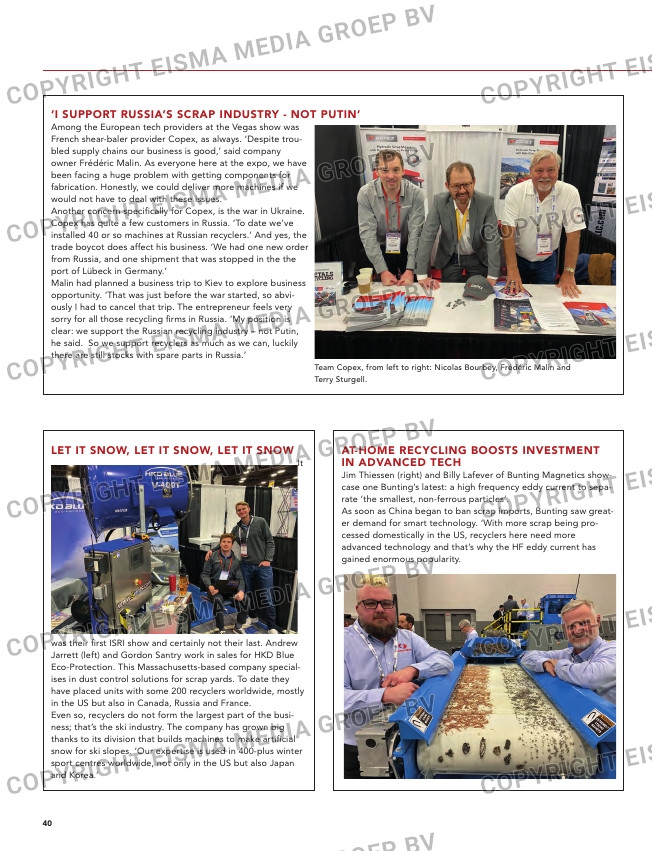 40
'I SUPPORT RUSSIA'S SCRAP INDUSTRY – NOT PUTIN'
Among the European tech providers at the Vegas show was
French shear-baler provider Copex, as always. 'Despite trou-
bled supply chains our business is good,' said company
owner Frédéric Malin. As everyone here at the expo, we have
been facing a huge problem with getting components for
fabrication. Honestly, we could deliver more machines if we
would not have to deal with these issues.
Another concern specifically for Copex, is the war in Ukraine.
Copex has quite a few customers in Russia. 'To date we've
installed 40 or so machines at Russian recyclers.' And yes, the
trade boycot does affect his business. 'We had one new order
from Russia, and one shipment that was stopped in the the
port of Lübeck in Germany.'
Malin had planned a business trip to Kiev to explore business
opportunity. 'That was just before the war started, so abvi-
ously I had to cancel that trip. The entrepreneur feels very
sorry for all those recycling firms in Russia. 'My position is
clear: we support the Russian recycling industry – not Putin,
he said. So we support recyclers as much as we can, luckily
there are still stocks with spare parts in Russia.'
THE MISSION OF AUSTIN AI
'Europe leads the world in accepting sorting
and separation technology,' says Rick Comtois,
president and ceo of sensor-based sorting tech
expert Austin AI. The company specialises
among others in X-ray ad LIBS (laser induced
breakdown spectroscopy) technology applica-
tions for the recycling industry. Two lines are in
operation in North America; 12 are in Europe
(Germany, Italy, Portugal, Scandinavia).
Latest from Austin AI is Terahertz, a high fre-
quency magnetic technology to detect black
plastics (carbon black). 'We are seeing a grow-
ing amount of carbon black in car parts,'says
Comtois. 'If you manage to separate them –
and with Terahertz you can – you will recover a highly recyclable material.'
Comtois and his team are still in development stage with Terahertz and the first
results are very promising.
Austin AI has two locations: Austin, Texas
and Budapest, Hungary.
SOLID BASE IN CATALYTIC CONVERTERS, STEADY GROWTH
IN BATTERIES
From Anaheim, California, Kinsbursky Brothers
International (KBI) has built a solid business in
catalytic converters. The company, now led by
the fourth generation family members, also
has a battery recycling business operating
under the name Retriev Technologies with
locations in California, Ohio and Canada. Next
step is expansion to Phoenix, Arizona and the
south-east of the US.
Team Copex, from left to right: Nicolas Bourbey, Frédéric Malin and
Terry Sturgell.
LET IT SNOW, LET IT SNOW, LET IT SNOW
It
was their first ISRI show and certainly not their last. Andrew
Jarrett (left) and Gordon Santry work in sales for HKD Blue
Eco-Protection. This Massachusetts-based company special-
ises in dust control solutions for scrap yards. To date they
have placed units with some 200 recyclers worldwide, mostly
in the US but also in Canada, Russia and France.
Even so, recyclers do not form the largest part of the busi-
ness; that's the ski industry. The company has grown big
thanks to its division that builds machines to make artificial
snow for ski slopes. 'Our expertise is used in 400-plus winter
sport centres worldwide, not only in the US but also Japan
and Korea.'
AT-HOME RECYCLING BOOSTS INVESTMENT
IN ADVANCED TECH
Jim Thiessen (right) and Billy Lafever of Bunting Magnetics show-
case one Bunting's latest: a high frequency eddy current to sepa-
rate 'the smallest, non-ferrous particles'.
As soon as China began to ban scrap imports, Bunting saw great-
er demand for smart technology. 'With more scrap being pro-
cessed domestically in the US, recyclers here need more
advanced technology and that's why the HF eddy current has
gained enormous popularity.
NEW TEST CENTRE FOR MOROS
'It's good to be here again,' says Daniel
Esteban, managing director of Spanish
recycling equipment manufacturer
Moros. 'It's good that after Covid we
can finally catch up again with our Latin
American customers. Half of the people
at our ISRI stand come from Mexico,
which for us is a market of growing
importance. The same with Argentina'.
Markets in Europe are flat, observes
Esteban. 'However, we've recently sold
a shear to a UK recycler while a big
baler was delivered to a yard in Belgium.
Meanwhile, the company has recently expanded its headquarters in Zaragoza with a
new building, dedicated to testing shredders.
36-37-38-40-41-42-43-44_isri2022_NIEUW.indd 40 02-05-2022 18:00