Recycling International May issue | 2022
Subscribe
Page 27 from: Recycling International May issue | 2022
COVER STORY 27recyclinginternational.com | May/June | 2022 In February, with the pandemic fading, the management of Siegfried Jacob Metallwerke was hoping for better times to come. But then, on 24 February, Russia invaded Ukraine a...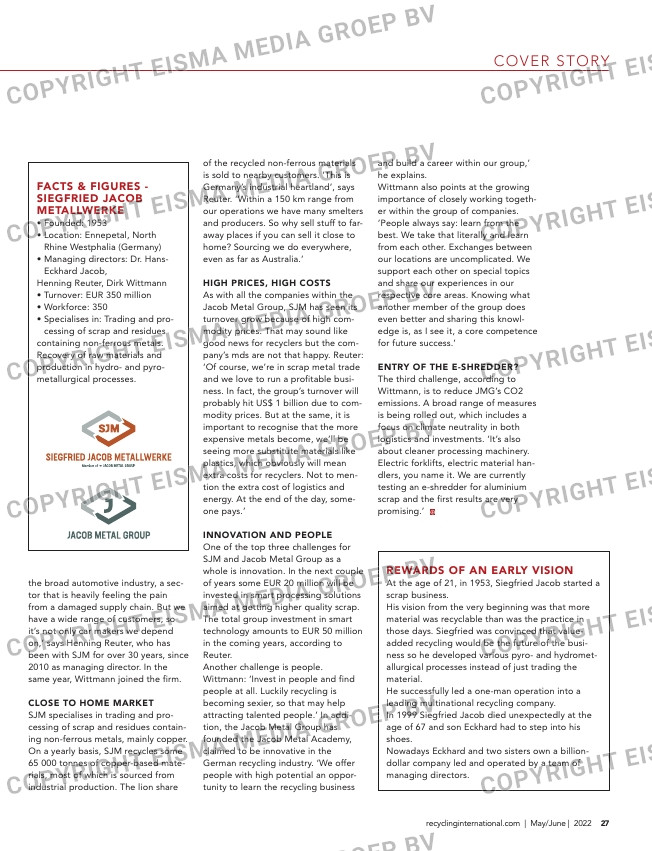 COVER STORY
27recyclinginternational.com | May/June | 2022
In February, with the pandemic fading,
the management of Siegfried Jacob
Metallwerke was hoping for better
times to come. But then, on 24
February, Russia invaded Ukraine and
the company had to deal with a new
crisis.
Obviously, the war has had an impact
on business. 'We source and supply
the broad automotive industry, a sec-
tor that is heavily feeling the pain
from a damaged supply chain. But we
have a wide range of customers, so
it's not only car makers we depend
on,' says Henning Reuter, who has
been with SJM for over 30 years, since
2010 as managing director. In the
same year, Wittmann joined the firm.
CLOSE TO HOME MARKET
SJM specialises in trading and pro-
cessing of scrap and residues contain-
ing non-ferrous metals, mainly copper.
On a yearly basis, SJM recycles some
65 000 tonnes of copper-based mate-
rials, most of which is sourced from
industrial production. The lion share
of the recycled non-ferrous materials
is sold to nearby customers. 'This is
Germany's industrial heartland', says
Reuter. 'Within a 150 km range from
our operations we have many smelters
and producers. So why sell stuff to far-
away places if you can sell it close to
home? Sourcing we do everywhere,
even as far as Australia.'
HIGH PRICES, HIGH COSTS
As with all the companies within the
Jacob Metal Group, SJM has seen its
turnover grow because of high com-
modity prices. That may sound like
good news for recyclers but the com-
pany's mds are not that happy. Reuter:
'Of course, we're in scrap metal trade
and we love to run a profitable busi-
ness. In fact, the group's turnover will
probably hit US$ 1 billion due to com-
modity prices. But at the same, it is
important to recognise that the more
expensive metals become, we'll be
seeing more substitute materials like
plastics, which obviously will mean
extra costs for recyclers. Not to men-
tion the extra cost of logistics and
energy. At the end of the day, some-
one pays.'
INNOVATION AND PEOPLE
One of the top three challenges for
SJM and Jacob Metal Group as a
whole is innovation. In the next couple
of years some EUR 20 million will be
invested in smart processing solutions
aimed at getting higher quality scrap.
The total group investment in smart
technology amounts to EUR 50 million
in the coming years, according to
Reuter.
Another challenge is people.
Wittmann: 'Invest in people and find
people at all. Luckily recycling is
becoming sexier, so that may help
attracting talented people.' In addi-
tion, the Jacob Metal Group has
founded the Jacob Metal Academy,
claimed to be innovative in the
German recycling industry. 'We offer
people with high potential an oppor-
tunity to learn the recycling business
FACTS & FIGURES –
SIEGFRIED JACOB
METALLWERKE
• Founded: 1953
• Location: Ennepetal, North
Rhine Westphalia (Germany)
• Managing directors: Dr. Hans-
Eckhard Jacob,
Henning Reuter, Dirk Wittmann
• Turnover: EUR 350 million
• Workforce: 350
• Specialises in: Trading and pro-
cessing of scrap and residues
containing non-ferrous metals.
Recovery of raw materials and
production in hydro- and pyro-
metallurgical processes.
REWARDS OF AN EARLY VISION
At the age of 21, in 1953, Siegfried Jacob started a
scrap business.
His vision from the very beginning was that more
material was recyclable than was the practice in
those days. Siegfried was convinced that value-
added recycling would be the future of the busi-
ness so he developed various pyro- and hydromet-
allurgical processes instead of just trading the
material.
He successfully led a one-man operation into a
leading multinational recycling company.
In 1999 Siegfried Jacob died unexpectedly at the
age of 67 and son Eckhard had to step into his
shoes.
Nowadays Eckhard and two sisters own a billion-
dollar company led and operated by a team of
managing directors.
and build a career within our group,'
he explains.
Wittmann also points at the growing
importance of closely working togeth-
er within the group of companies.
'People always say: learn from the
best. We take that literally and learn
from each other. Exchanges between
our locations are uncomplicated. We
support each other on special topics
and share our experiences in our
respective core areas. Knowing what
another member of the group does
even better and sharing this knowl-
edge is, as I see it, a core competence
for future success.'
ENTRY OF THE E-SHREDDER?
The third challenge, according to
Wittmann, is to reduce JMG's CO2
emissions. A broad range of measures
is being rolled out, which includes a
focus on climate neutrality in both
logistics and investments. 'It's also
about cleaner processing machinery.
Electric forklifts, electric material han-
dlers, you name it. We are currently
testing an e-shredder for aluminium
scrap and the first results are very
promising.'
24-25-26-27-28-29-30-31_jacobmetalgroup.indd 27 02-05-2022 17:52