Our summer issue is out now!
Subscribe
Page 25 from: Our summer issue is out now!
COVER STORY 25recyclinginternational.com | May/June | 2022 also shipping space, container shortage as well as truck capacity. We've all been dealing with major delays. There is one example where a container with copper scrap dest...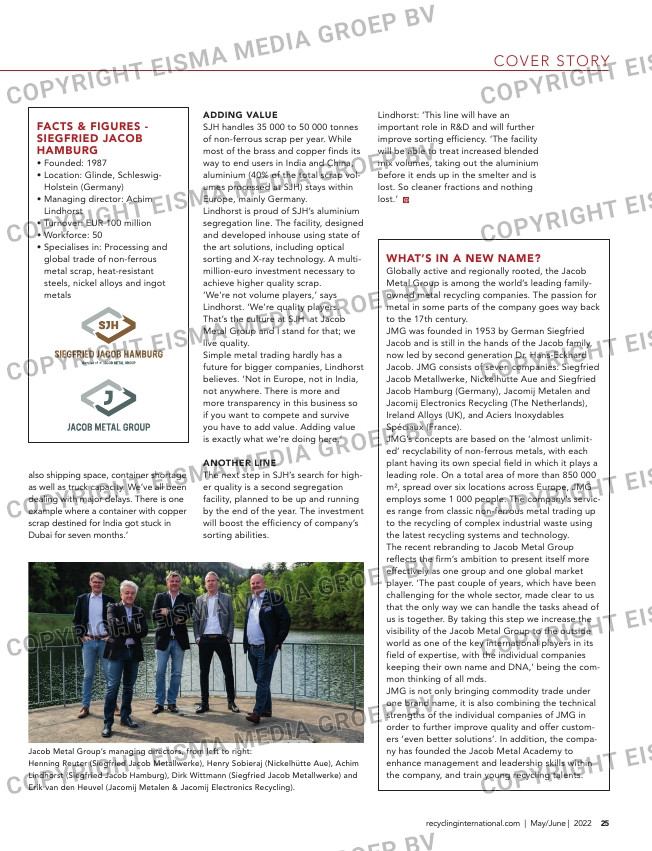 COVER STORY
25recyclinginternational.com | May/June | 2022
also shipping space, container shortage
as well as truck capacity. We've all been
dealing with major delays. There is one
example where a container with copper
scrap destined for India got stuck in
Dubai for seven months.'
ADDING VALUE
SJH handles 35 000 to 50 000 tonnes
of non-ferrous scrap per year. While
most of the brass and copper finds its
way to end users in India and China,
aluminium (40% of the total scrap vol-
umes processed at SJH) stays within
Europe, mainly Germany.
Lindhorst is proud of SJH's aluminium
segregation line. The facility, designed
and developed inhouse using state of
the art solutions, including optical
sorting and X-ray technology. A multi-
million-euro investment necessary to
achieve higher quality scrap.
'We're not volume players,' says
Lindhorst. 'We're quality players.
That's the culture at SJH at Jacob
Metal Group and I stand for that; we
live quality.
Simple metal trading hardly has a
future for bigger companies, Lindhorst
believes. 'Not in Europe, not in India,
not anywhere. There is more and
more transparency in this business so
if you want to compete and survive
you have to add value. Adding value
is exactly what we're doing here.'
ANOTHER LINE
The next step in SJH's search for high-
er quality is a second segregation
facility, planned to be up and running
by the end of the year. The investment
will boost the efficiency of company's
sorting abilities.
Lindhorst: 'This line will have an
important role in R&D and will further
improve sorting efficiency. 'The facility
will be able to treat increased blended
mix volumes, taking out the aluminium
before it ends up in the smelter and is
lost. So cleaner fractions and nothing
lost.'
WHAT'S IN A NEW NAME?
Globally active and regionally rooted, the Jacob
Metal Group is among the world's leading family-
owned metal recycling companies. The passion for
metal in some parts of the company goes way back
to the 17th century.
JMG was founded in 1953 by German Siegfried
Jacob and is still in the hands of the Jacob family,
now led by second generation Dr. Hans-Eckhard
Jacob. JMG consists of seven companies: Siegfried
Jacob Metallwerke, Nickelhütte Aue and Siegfried
Jacob Hamburg (Germany), Jacomij Metalen and
Jacomij Electronics Recycling (The Netherlands),
Ireland Alloys (UK), and Aciers Inoxydables
Spéciaux (France).
JMG's concepts are based on the 'almost unlimit-
ed' recyclability of non-ferrous metals, with each
plant having its own special field in which it plays a
leading role. On a total area of more than 850 000
m², spread over six locations across Europe, JMG
employs some 1 000 people. The company's servic-
es range from classic non-ferrous metal trading up
to the recycling of complex industrial waste using
the latest recycling systems and technology.
The recent rebranding to Jacob Metal Group
reflects the firm's ambition to present itself more
effectively as one group and one global market
player. 'The past couple of years, which have been
challenging for the whole sector, made clear to us
that the only way we can handle the tasks ahead of
us is together. By taking this step we increase the
visibility of the Jacob Metal Group to the outside
world as one of the key international players in its
field of expertise, with the individual companies
keeping their own name and DNA,' being the com-
mon thinking of all mds.
JMG is not only bringing commodity trade under
one brand name, it is also combining the technical
strengths of the individual companies of JMG in
order to further improve quality and offer custom-
ers 'even better solutions'. In addition, the compa-
ny has founded the Jacob Metal Academy to
enhance management and leadership skills within
the company, and train young recycling talents.
FACTS & FIGURES –
SIEGFRIED JACOB
HAMBURG
• Founded: 1987
• Location: Glinde, Schleswig-
Holstein (Germany)
• Managing director: Achim
Lindhorst
• Turnover: EUR 100 million
• Workforce: 50
• Specialises in: Processing and
global trade of non-ferrous
metal scrap, heat-resistant
steels, nickel alloys and ingot
metals
Jacob Metal Group's managing directors, from left to right:
Henning Reuter (Siegfried Jacob Metallwerke), Henry Sobieraj (Nickelhütte Aue), Achim
Lindhorst (Siegfried Jacob Hamburg), Dirk Wittmann (Siegfried Jacob Metallwerke) and
Erik van den Heuvel (Jacomij Metalen & Jacomij Electronics Recycling).
24-25-26-27-28-29-30-31_jacobmetalgroup.indd 25 02-05-2022 17:52