Our summer issue is out now!
Subscribe
Page 24 from: Our summer issue is out now!
24 Quality players - not volume players B e h i n d t h e s c e n e s o f t h e J a c o b M e t a l G ro u p A new brand name, a new logo, a recent acquisition and, in the pipeline, multi-million- euro investments in expansi...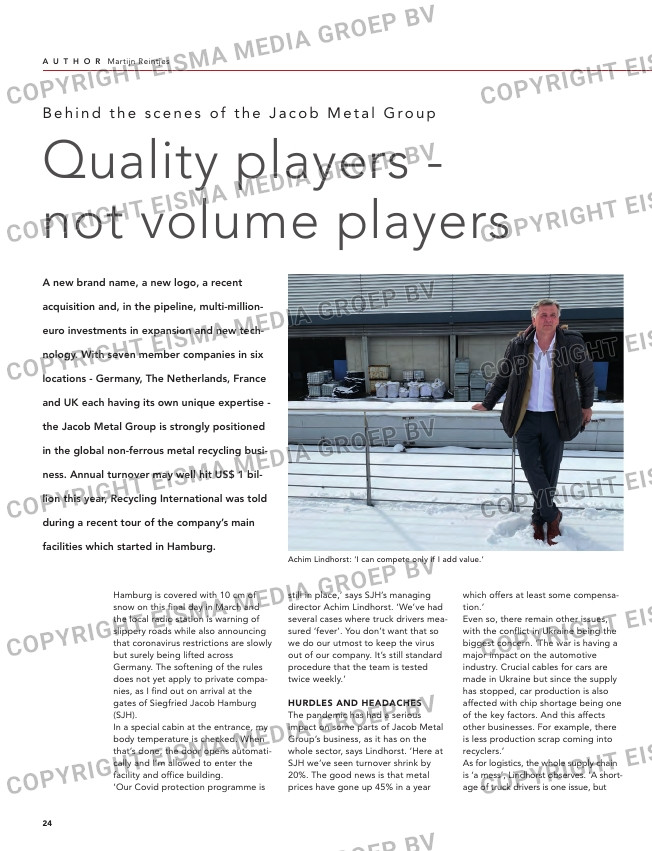 24
Quality players –
not volume players
B e h i n d t h e s c e n e s o f t h e J a c o b M e t a l G ro u p
A new brand name, a new logo, a recent
acquisition and, in the pipeline, multi-million-
euro investments in expansion and new tech-
nology. With seven member companies in six
locations – Germany, The Netherlands, France
and UK each having its own unique expertise –
the Jacob Metal Group is strongly positioned
in the global non-ferrous metal recycling busi-
ness. Annual turnover may well hit US$ 1 bil-
lion this year, Recycling International was told
during a recent tour of the company's main
facilities which started in Hamburg.
also shipping space, container shortage
as well as truck capacity. We've all been
dealing with major delays. There is one
example where a container with copper
scrap destined for India got stuck in
Dubai for seven months.'
Hamburg is covered with 10 cm of
snow on this final day in March and
the local radio station is warning of
slippery roads while also announcing
that coronavirus restrictions are slowly
but surely being lifted across
Germany. The softening of the rules
does not yet apply to private compa-
nies, as I find out on arrival at the
gates of Siegfried Jacob Hamburg
(SJH).
In a special cabin at the entrance, my
body temperature is checked. When
that's done, the door opens automati-
cally and I'm allowed to enter the
facility and office building.
'Our Covid protection programme is
still in place,' says SJH's managing
director Achim Lindhorst. 'We've had
several cases where truck drivers mea-
sured 'fever'. You don't want that so
we do our utmost to keep the virus
out of our company. It's still standard
procedure that the team is tested
twice weekly.'
HURDLES AND HEADACHES
The pandemic has had a serious
impact on some parts of Jacob Metal
Group's business, as it has on the
whole sector, says Lindhorst. 'Here at
SJH we've seen turnover shrink by
20%. The good news is that metal
prices have gone up 45% in a year
which offers at least some compensa-
tion.'
Even so, there remain other issues,
with the conflict in Ukraine being the
biggest concern. 'The war is having a
major impact on the automotive
industry. Crucial cables for cars are
made in Ukraine but since the supply
has stopped, car production is also
affected with chip shortage being one
of the key factors. And this affects
other businesses. For example, there
is less production scrap coming into
recyclers.'
As for logistics, the whole supply chain
is 'a mess', Lindhorst observes. 'A short-
age of truck drivers is one issue, but
Achim Lindhorst: 'I can compete only if I add value.'
FACTS & FIGURES –
SIEGFRIED JACOB
HAMBURG
• Founded: 1987
• Location: Glinde, Schleswig-
Holstein (Germany)
• Managing director: Achim
Lindhorst
• Turnover: EUR 100 million
• Workforce: 50
• Specialises in: Processing and
global trade of non-ferrous
metal scrap, heat-resistant
steels, nickel alloys and ingot
metals
A U T H O R Martijn Reintjes
Jacob Metal Group's managing directors, from left to right:
Henning Reuter (Siegfried Jacob Metallwerke), Henry Sobieraj (Nickelhütte Aue), Achim
Lindhorst (Siegfried Jacob Hamburg), Dirk Wittmann (Siegfried Jacob Metallwerke) and
Erik van den Heuvel (Jacomij Metalen & Jacomij Electronics Recycling).
24-25-26-27-28-29-30-31_jacobmetalgroup.indd 24 02-05-2022 17:52