Our summer issue is out now!
Subscribe
Page 16 from: Our summer issue is out now!
Are you taking advantage of the rising price of scrap metal? Fractum breakers are cheaper and faster to implement compared to commonly used drop ball machines or oxy cutting. The solution removes the need for permissions or c...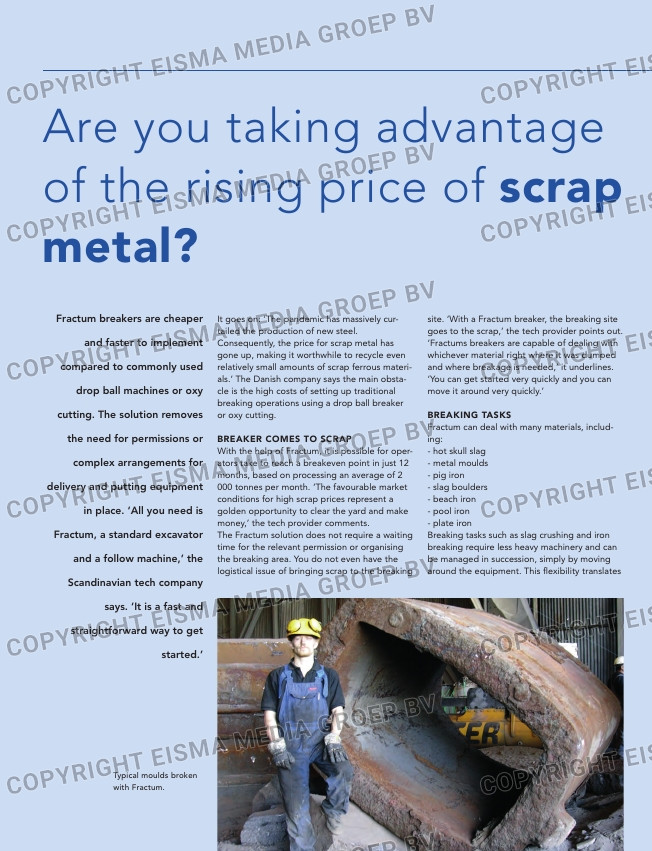 Are you taking advantage
of the rising price of scrap
metal?
Fractum breakers are cheaper
and faster to implement
compared to commonly used
drop ball machines or oxy
cutting. The solution removes
the need for permissions or
complex arrangements for
delivery and putting equipment
in place. 'All you need is
Fractum, a standard excavator
and a follow machine,' the
Scandinavian tech company
says. 'It is a fast and
straightforward way to get
started.'
It goes on: 'The pandemic has massively cur-
tailed the production of new steel.
Consequently, the price for scrap metal has
gone up, making it worthwhile to recycle even
relatively small amounts of scrap ferrous materi-
als.' The Danish company says the main obsta-
cle is the high costs of setting up traditional
breaking operations using a drop ball breaker
or oxy cutting.
BREAKER COMES TO SCRAP
With the help of Fractum, it is possible for oper-
ators take to reach a breakeven point in just 12
months, based on processing an average of 2
000 tonnes per month. 'The favourable market
conditions for high scrap prices represent a
golden opportunity to clear the yard and make
money,' the tech provider comments.
The Fractum solution does not require a waiting
time for the relevant permission or organising
the breaking area. You do not even have the
logistical issue of bringing scrap to the breaking
site. 'With a Fractum breaker, the breaking site
goes to the scrap,' the tech provider points out.
'Fractums breakers are capable of dealing with
whichever material right where it was dumped
and where breakage is needed,' it underlines.
'You can get started very quickly and you can
move it around very quickly.'
BREAKING TASKS
Fractum can deal with many materials, includ-
ing:
– hot skull slag
– metal moulds
– pig iron
– slag boulders
– beach iron
– pool iron
– plate iron
Breaking tasks such as slag crushing and iron
breaking require less heavy machinery and can
be managed in succession, simply by moving
around the equipment. This flexibility translates
into lower transport and other operational
costs, higher production capacity and produc-
tivity.
A Fractum breaker is precise and controlled in
the breaking process. Therefore, it can break
the material into small pieces, achieving the
same results as oxy cutting – without pollutants.
It can also handle the big slag mountains that
are usually found at steel yards.
Additionally, Fractum breakers allow slag skull
to be broken when it is still red hot, reducing
the cooling time to one fifth. So there is no
need to store it on site for a few days, waiting
for it to cool. Nor is there any need for wheel
loaders and other heavy machinery because
skull slag can be transported from the slag pit
for further processing within 24 hours.
Fractum breakers, due to their innovative
design, allow operators to hit pig iron and slag
boulders precisely and with high impact, with
power ranging from 100 000 joules to 250 000
joules. Material is broken into the right size
straight away, wherever it has been placed,
removing the need to transport the material
and thereby saving on costs.
Fractum breakers can easily break pig iron that
has been temporarily stored in a pit. The design
allows for a very high energy density and pre-
cise impact that rips the material apart. 'The
output of the breakers is higher than the capac-
ity of traditional machines,' the tech company
says.
MAIN BENEFITS
Besides the low start-up costs, a notable bene-
fit of Fractum breakers is their relatively simple
and straightforward operation which enables
companies with small amounts of scrap metal in
their yard to profit from rising prices. Relatively
small quantities of scrap metal that were using
up space in the yard, but were not enough to
make it worthwhile to invest in a drop ball
breaker, can now be broken and recycled at a
profit.
Nor do operators need to organise a secure,
fenced area in the yard or apply for special per-
mission. 'It is an low cost investment that can
start providing a return right after it has been
delivered,' the company says. 'It is very safe,
and it does not require complex health and
safety measures.' Practically speaking, all a
recycler needs is enough space to manoeuvre a
standard excavator, nothing else.
'Western economies are now becoming more
active post lockdown and China's demand for
steel never really stopped,' observes Fractum,
Typical moulds broken
with Fractum.
16-17_fractum.indd 16 02-05-2022 17:26