Our summer issue is out now!
Subscribe
Page 12 from: Our summer issue is out now!
12 PARTNERS CLAIM GERMAN FIRST IN PACKAGING RECYCLING Stadler and Krones have collaborated in the design and installation of a new sorting and washing plant for Kunststoff Recycling Grünstadt (KRG), a German recycling company serving th...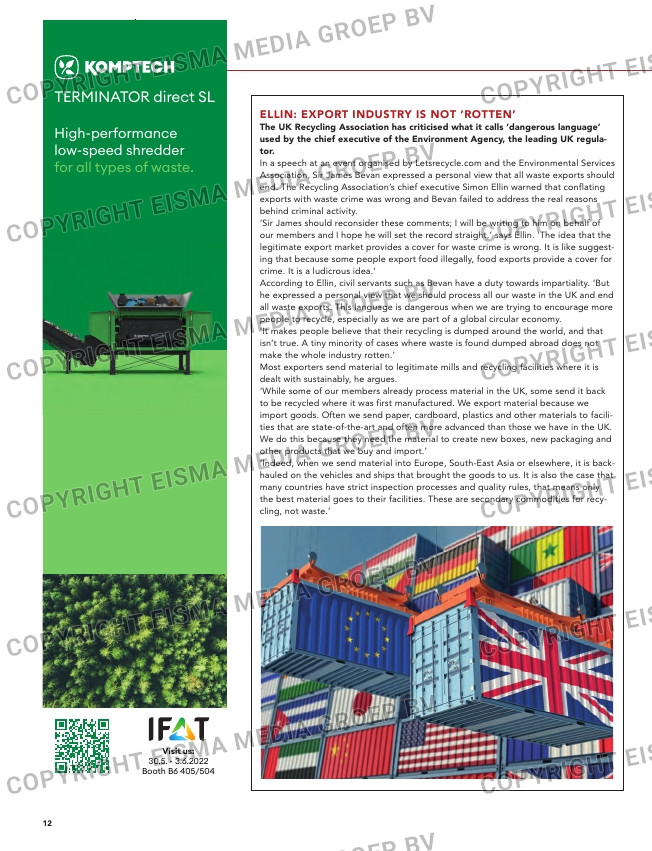 12
PARTNERS CLAIM GERMAN FIRST IN PACKAGING RECYCLING
Stadler and Krones have collaborated in the design and installation of a new sorting
and washing plant for Kunststoff Recycling Grünstadt (KRG), a German recycling
company serving the plastics processing industry.
The facility for processing post-consumer HDPE and polypropylene (PP) packaging waste
is the first of its kind in the country, producing high quality recyclates for the same pack-
aging applications – including food grade material. The plant was designed to produce
annually approximately 30 000 tonnes of recyclates that can be returned to the manufac-
turing cycle.
The process delivers a saving of up to 36 100 tonnes of CO2 equivalents per year by pro-
cessing around 38 000 tonnes of plastic waste. KRG aims to produce high-quality recy-
clates to meet the demands of branded goods companies and the fast-moving consumer
goods sector.
Pre-sorted materials coming from light packaging plants are first processed through the
sorting line designed and installed by Stadler. With a capacity of approximately 10
tonnes/hour, the line operates in two different modes depending on the feedstock mate-
rial.
Seven near-infrared sorters separate the remaining material into six product fractions
separated by colour. Part of the output materials is fed immediately into two Krones
lines, located in the same hall, while the rest is baled and stored for later processing.
'This plant makes a big step in advanced quality of the recycled material, which can go to
challenging applications where reduced odours and even food grade qualities need to
be achieved, explains Michael Auburger, product manager recycling solutions at Krones.
'HDPE and PP packaging can be recycled for the same application again, so that, for
example a HDPE shampoo bottle or PP margarine pot will have a second life as a bottle,
pot or lid. This was only done for PET bottles until now.'
Stadler project manager Pascal Locher emphasised the collaboration with Krones. 'Since
the two lines are linked to each other, there are interfaces in their controls. For our col-
leagues from the control engineering department, it was therefore a complex task to
coordinate the signal exchange between the lines regarding safety standards and operat-
ing modes.'
ELLIN: EXPORT INDUSTRY IS NOT 'ROTTEN'
The UK Recycling Association has criticised what it calls 'dangerous language'
used by the chief executive of the Environment Agency, the leading UK regula-
tor.
In a speech at an event organised by Letsrecycle.com and the Environmental Services
Association, Sir James Bevan expressed a personal view that all waste exports should
end. The Recycling Association's chief executive Simon Ellin warned that conflating
exports with waste crime was wrong and Bevan failed to address the real reasons
behind criminal activity.
'Sir James should reconsider these comments; I will be writing to him on behalf of
our members and I hope he will set the record straight,' says Ellin. 'The idea that the
legitimate export market provides a cover for waste crime is wrong. It is like suggest-
ing that because some people export food illegally, food exports provide a cover for
crime. It is a ludicrous idea.'
According to Ellin, civil servants such as Bevan have a duty towards impartiality. 'But
he expressed a personal view that we should process all our waste in the UK and end
all waste exports. This language is dangerous when we are trying to encourage more
people to recycle, especially as we are part of a global circular economy.
'It makes people believe that their recycling is dumped around the world, and that
isn't true. A tiny minority of cases where waste is found dumped abroad does not
make the whole industry rotten.'
Most exporters send material to legitimate mills and recycling facilities where it is
dealt with sustainably, he argues.
'While some of our members already process material in the UK, some send it back
to be recycled where it was first manufactured. We export material because we
import goods. Often we send paper, cardboard, plastics and other materials to facili-
ties that are state-of-the-art and often more advanced than those we have in the UK.
We do this because they need the material to create new boxes, new packaging and
other products that we buy and import.'
'Indeed, when we send material into Europe, South-East Asia or elsewhere, it is back-
hauled on the vehicles and ships that brought the goods to us. It is also the case that
many countries have strict inspection processes and quality rules, that means only
the best material goes to their facilities. These are secondary commodities for recy-
cling, not waste.'
INNOVATIVE RECYCLING TECHNOLOGY FOR MAJOR BAT-
TERY PLANT
A licensing agreement paves the way for the world's largest greenhouse gas emis-
sion-free lead-acid battery recycling facility in Chittoor, Andhra Pradesh, India.
ACE Green Recycling has signed a US$ 12 million (EUR 10 million) equipment sup-
ply and licensing deal spanning 10 years with India's Pondy Oxides & Chemicals.
The green technology will enable Pondy to recycle 40 000 tonnes of lead-acid batter-
ies with an annual value of around US$ 60 million. Pondy is one of India's leading non-
ferrous metals recycling companies and India's largest secondary lead manufacturer.
Traditional lead-acid battery recycling requires smelting at operating temperatures of
more than 1 000oC producing significant greenhouse gas (GHG) emissions.
ACE's technology runs on electricity and operates at room temperature. The process is
claimed to produce zero greenhouse gases and minimise solid waste by more than
80%. The only part needing any external heat is during the final melting to make lead
ingots and ACE has developed solar-powered electric kettles to avoid using fossil
fuels.
Operations on the new facility are due to start in the final quarter of this year and with-
in 10 years the 30 000 sqm facility is projected to recycle more than 28 million lead-
acid batteries.
High-performance
low-speed shredder
for all types of waste.
TERMINATOR direct SL
Visit us:
30.5. – 3.6.2022
Booth B6 405/504
TM direct SL_94x268_v1.indd 1 25.04.2022 13:49:49
10-11-12-13-14-15_trendsupdates.indd 12 02-05-2022 16:41