Our summer issue is out now!
Subscribe
Page 11 from: Our summer issue is out now!
TRENDS & UPDATES 11recyclinginternational.com | May/June | 2022 Fotobijschrift CALIFORNIA READY FOR BIG WAVE OF 'RETIRED' EV BATTERIES Redwood Materials is launching what it calls the 'most comprehensive' electric vehicl...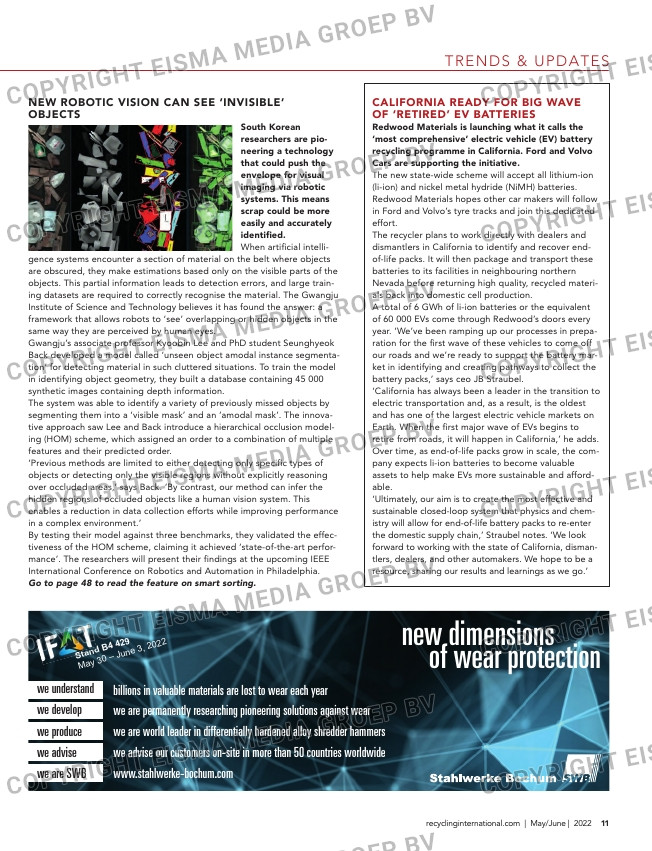 TRENDS & UPDATES
11recyclinginternational.com | May/June | 2022
Fotobijschrift
CALIFORNIA READY FOR BIG WAVE
OF 'RETIRED' EV BATTERIES
Redwood Materials is launching what it calls the
'most comprehensive' electric vehicle (EV) battery
recycling programme in California. Ford and Volvo
Cars are supporting the initiative.
The new state-wide scheme will accept all lithium-ion
(li-ion) and nickel metal hydride (NiMH) batteries.
Redwood Materials hopes other car makers will follow
in Ford and Volvo's tyre tracks and join this dedicated
effort.
The recycler plans to work directly with dealers and
dismantlers in California to identify and recover end-
of-life packs. It will then package and transport these
batteries to its facilities in neighbouring northern
Nevada before returning high quality, recycled materi-
als back into domestic cell production.
A total of 6 GWh of li-ion batteries or the equivalent
of 60 000 EVs come through Redwood's doors every
year. 'We've been ramping up our processes in prepa-
ration for the first wave of these vehicles to come off
our roads and we're ready to support the battery mar-
ket in identifying and creating pathways to collect the
battery packs,' says ceo JB Straubel.
'California has always been a leader in the transition to
electric transportation and, as a result, is the oldest
and has one of the largest electric vehicle markets on
Earth. When the first major wave of EVs begins to
retire from roads, it will happen in California,' he adds.
Over time, as end-of-life packs grow in scale, the com-
pany expects li-ion batteries to become valuable
assets to help make EVs more sustainable and afford-
able.
'Ultimately, our aim is to create the most effective and
sustainable closed-loop system that physics and chem-
istry will allow for end-of-life battery packs to re-enter
the domestic supply chain,' Straubel notes. 'We look
forward to working with the state of California, disman-
tlers, dealers, and other automakers. We hope to be a
resource, sharing our results and learnings as we go.'
NEW ROBOTIC VISION CAN SEE 'INVISIBLE'
OBJECTS
South Korean
researchers are pio-
neering a technology
that could push the
envelope for visual
imaging via robotic
systems. This means
scrap could be more
easily and accurately
identified.
When artificial intelli-
gence systems encounter a section of material on the belt where objects
are obscured, they make estimations based only on the visible parts of the
objects. This partial information leads to detection errors, and large train-
ing datasets are required to correctly recognise the material. The Gwangju
Institute of Science and Technology believes it has found the answer: a
framework that allows robots to 'see' overlapping or hidden objects in the
same way they are perceived by human eyes.
Gwangju's associate professor Kyoobin Lee and PhD student Seunghyeok
Back developed a model called 'unseen object amodal instance segmenta-
tion' for detecting material in such cluttered situations. To train the model
in identifying object geometry, they built a database containing 45 000
synthetic images containing depth information.
The system was able to identify a variety of previously missed objects by
segmenting them into a 'visible mask' and an 'amodal mask'. The innova-
tive approach saw Lee and Back introduce a hierarchical occlusion model-
ing (HOM) scheme, which assigned an order to a combination of multiple
features and their predicted order.
'Previous methods are limited to either detecting only specific types of
objects or detecting only the visible regions without explicitly reasoning
over occluded areas,' says Back. 'By contrast, our method can infer the
hidden regions of occluded objects like a human vision system. This
enables a reduction in data collection efforts while improving performance
in a complex environment.'
By testing their model against three benchmarks, they validated the effec-
tiveness of the HOM scheme, claiming it achieved 'state-of-the-art perfor-
mance'. The researchers will present their findings at the upcoming IEEE
International Conference on Robotics and Automation in Philadelphia.
Go to page 48 to read the feature on smart sorting.

new dimensions
of wear protection
we understand
we produce
we advise
we are SWB
billions in valuable materials are lost to wear each year
we advise our customers on-site in more than 50 countries worldwide
we are world leader in differentially hardened alloy shredder hammers
we are permanently researching pioneering solutions against wear
www.stahlwerke-bochum.com
we develop
Stand
B4 4

29

May 3
0 – Ju
ne 3,
2022
10-11-12-13-14-15_trendsupdates.indd 11 02-05-2022 16:41