Our summer issue is out now!
Subscribe
Page 105 from: Our summer issue is out now!
BECK'S 105recyclinginternational.com | May/June | 2022 Fotobijschrift KADERKOP ?? Weird hobbies During the Covid-19 years (or, as many call them, the 'corona years'), I took up several weird, unusual and stupid hobbies....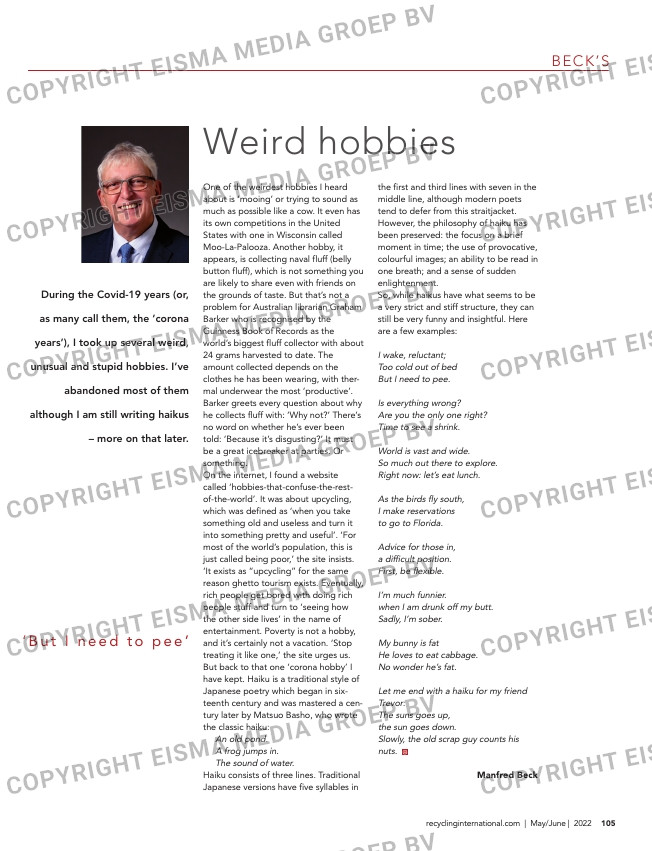 BECK'S
105recyclinginternational.com | May/June | 2022
Fotobijschrift
KADERKOP
??
Weird hobbies
During the Covid-19 years (or,
as many call them, the 'corona
years'), I took up several weird,
unusual and stupid hobbies. I've
abandoned most of them
although I am still writing haikus
– more on that later.
One of the weirdest hobbies I heard
about is 'mooing' or trying to sound as
much as possible like a cow. It even has
its own competitions in the United
States with one in Wisconsin called
Moo-La-Palooza. Another hobby, it
appears, is collecting naval fluff (belly
button fluff), which is not something you
are likely to share even with friends on
the grounds of taste. But that's not a
problem for Australian librarian Graham
Barker who is recognised by the
Guinness Book of Records as the
world's biggest fluff collector with about
24 grams harvested to date. The
amount collected depends on the
clothes he has been wearing, with ther-
mal underwear the most 'productive'.
Barker greets every question about why
he collects fluff with: 'Why not?' There's
no word on whether he's ever been
told: 'Because it's disgusting?' It must
be a great icebreaker at parties. Or
something.
On the internet, I found a website
called 'hobbies-that-confuse-the-rest-
of-the-world'. It was about upcycling,
which was defined as 'when you take
something old and useless and turn it
into something pretty and useful'. 'For
most of the world's population, this is
just called being poor,' the site insists.
'It exists as "upcycling" for the same
reason ghetto tourism exists. Eventually,
rich people get bored with doing rich
people stuff and turn to 'seeing how
the other side lives' in the name of
entertainment. Poverty is not a hobby,
and it's certainly not a vacation. 'Stop
treating it like one,' the site urges us.
But back to that one 'corona hobby' I
have kept. Haiku is a traditional style of
Japanese poetry which began in six-
teenth century and was mastered a cen-
tury later by Matsuo Basho, who wrote
the classic haiku:
An old pond.
A frog jumps in.
The sound of water.
Haiku consists of three lines. Traditional
Japanese versions have five syllables in
the first and third lines with seven in the
middle line, although modern poets
tend to defer from this straitjacket.
However, the philosophy of haiku has
been preserved: the focus on a brief
moment in time; the use of provocative,
colourful images; an ability to be read in
one breath; and a sense of sudden
enlightenment.
So, while haikus have what seems to be
a very strict and stiff structure, they can
still be very funny and insightful. Here
are a few examples:
I wake, reluctant;
Too cold out of bed
But I need to pee.
Is everything wrong?
Are you the only one right?
Time to see a shrink.
World is vast and wide.
So much out there to explore.
Right now: let's eat lunch.
As the birds fly south,
I make reservations
to go to Florida.
Advice for those in,
a difficult position.
First, be flexible.
I'm much funnier.
when I am drunk off my butt.
Sadly, I'm sober.
My bunny is fat
He loves to eat cabbage.
No wonder he's fat.
Let me end with a haiku for my friend
Trevor:
The suns goes up,
the sun goes down.
Slowly, the old scrap guy counts his
nuts.
Manfred Beck
' B u t I n e e d t o p e e '
105_becks.indd 105 02-05-2022 16:36