Our summer issue is out now!
Subscribe
Page 101 from: Our summer issue is out now!
TEXTILESMARKET ANALYSIS Ukraine war hits quality market The major eastern European market for used clothing is closed as traders look for alternative markets. 101recyclinginternational.com | May/June | 2022 CHINA TACKLES TEXTILE ...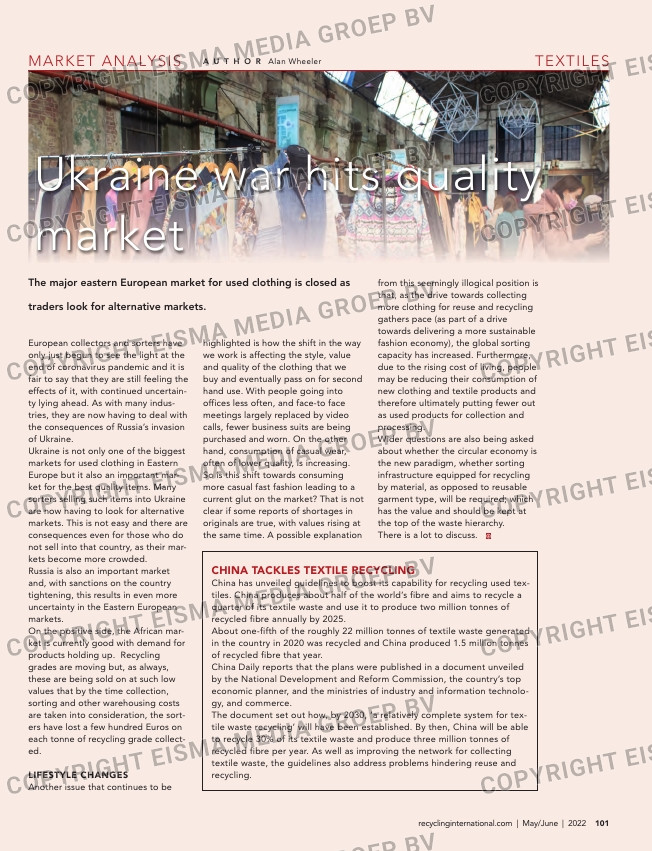 TEXTILESMARKET ANALYSIS
Ukraine war hits quality
market
The major eastern European market for used clothing is closed as
traders look for alternative markets.
101recyclinginternational.com | May/June | 2022
CHINA TACKLES TEXTILE RECYCLING
China has unveiled guidelines to boost its capability for recycling used tex-
tiles. China produces about half of the world's fibre and aims to recycle a
quarter of its textile waste and use it to produce two million tonnes of
recycled fibre annually by 2025.
About one-fifth of the roughly 22 million tonnes of textile waste generated
in the country in 2020 was recycled and China produced 1.5 million tonnes
of recycled fibre that year.
China Daily reports that the plans were published in a document unveiled
by the National Development and Reform Commission, the country's top
economic planner, and the ministries of industry and information technolo-
gy, and commerce.
The document set out how, by 2030, 'a relatively complete system for tex-
tile waste recycling' will have been established. By then, China will be able
to recycle 30% of its textile waste and produce three million tonnes of
recycled fibre per year. As well as improving the network for collecting
textile waste, the guidelines also address problems hindering reuse and
recycling.
European collectors and sorters have
only just begun to see the light at the
end of coronavirus pandemic and it is
fair to say that they are still feeling the
effects of it, with continued uncertain-
ty lying ahead. As with many indus-
tries, they are now having to deal with
the consequences of Russia's invasion
of Ukraine.
Ukraine is not only one of the biggest
markets for used clothing in Eastern
Europe but it also an important mar-
ket for the best quality items. Many
sorters selling such items into Ukraine
are now having to look for alternative
markets. This is not easy and there are
consequences even for those who do
not sell into that country, as their mar-
kets become more crowded.
Russia is also an important market
and, with sanctions on the country
tightening, this results in even more
uncertainty in the Eastern European
markets.
On the positive side, the African mar-
ket is currently good with demand for
products holding up. Recycling
grades are moving but, as always,
these are being sold on at such low
values that by the time collection,
sorting and other warehousing costs
are taken into consideration, the sort-
ers have lost a few hundred Euros on
each tonne of recycling grade collect-
ed.
LIFESTYLE CHANGES
Another issue that continues to be
highlighted is how the shift in the way
we work is affecting the style, value
and quality of the clothing that we
buy and eventually pass on for second
hand use. With people going into
offices less often, and face-to face
meetings largely replaced by video
calls, fewer business suits are being
purchased and worn. On the other
hand, consumption of casual wear,
often of lower quality, is increasing.
So is this shift towards consuming
more casual fast fashion leading to a
current glut on the market? That is not
clear if some reports of shortages in
originals are true, with values rising at
the same time. A possible explanation
from this seemingly illogical position is
that, as the drive towards collecting
more clothing for reuse and recycling
gathers pace (as part of a drive
towards delivering a more sustainable
fashion economy), the global sorting
capacity has increased. Furthermore,
due to the rising cost of living, people
may be reducing their consumption of
new clothing and textile products and
therefore ultimately putting fewer out
as used products for collection and
processing.
Wider questions are also being asked
about whether the circular economy is
the new paradigm, whether sorting
infrastructure equipped for recycling
by material, as opposed to reusable
garment type, will be required; which
has the value and should be kept at
the top of the waste hierarchy.
There is a lot to discuss.
A U T H O R Alan Wheeler
101_matextiles.indd 101 02-05-2022 15:51