Our latest issue
Subscribe
Page 9 from: Our latest issue
9recyclinginternational.com | September/October | 2022 INTERVIEW chologist from the University of Houston talk about "blending people and business". So I applied to the same university to study psychology, minoring in business...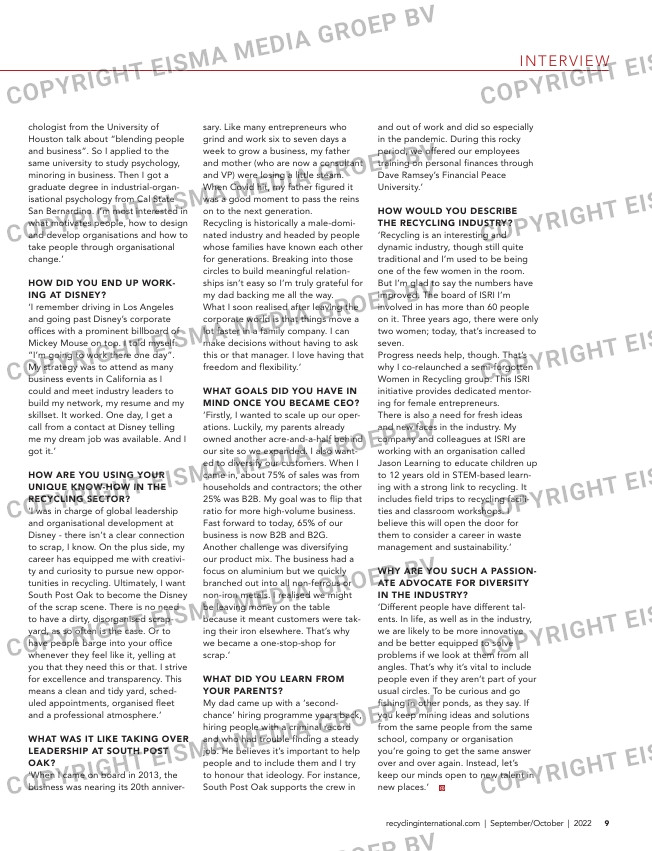 9recyclinginternational.com | September/October | 2022
INTERVIEW
chologist from the University of
Houston talk about "blending people
and business". So I applied to the
same university to study psychology,
minoring in business. Then I got a
graduate degree in industrial-organ-
isational psychology from Cal State
San Bernardino. I'm most interested in
what motivates people, how to design
and develop organisations and how to
take people through organisational
change.'
HOW DID YOU END UP WORK-
ING AT DISNEY?
'I remember driving in Los Angeles
and going past Disney's corporate
offices with a prominent billboard of
Mickey Mouse on top. I told myself:
"I'm going to work there one day".
My strategy was to attend as many
business events in California as I
could and meet industry leaders to
build my network, my resume and my
skillset. It worked. One day, I get a
call from a contact at Disney telling
me my dream job was available. And I
got it.'
HOW ARE YOU USING YOUR
UNIQUE KNOW-HOW IN THE
RECYCLING SECTOR?
'I was in charge of global leadership
and organisational development at
Disney – there isn't a clear connection
to scrap, I know. On the plus side, my
career has equipped me with creativi-
ty and curiosity to pursue new oppor-
tunities in recycling. Ultimately, I want
South Post Oak to become the Disney
of the scrap scene. There is no need
to have a dirty, disorganised scrap-
yard, as so often is the case. Or to
have people barge into your office
whenever they feel like it, yelling at
you that they need this or that. I strive
for excellence and transparency. This
means a clean and tidy yard, sched-
uled appointments, organised fleet
and a professional atmosphere.'
WHAT WAS IT LIKE TAKING OVER
LEADERSHIP AT SOUTH POST
OAK?
'When I came on board in 2013, the
business was nearing its 20th anniver-
sary. Like many entrepreneurs who
grind and work six to seven days a
week to grow a business, my father
and mother (who are now a consultant
and VP) were losing a little steam.
When Covid hit, my father figured it
was a good moment to pass the reins
on to the next generation.
Recycling is historically a male-domi-
nated industry and headed by people
whose families have known each other
for generations. Breaking into those
circles to build meaningful relation-
ships isn't easy so I'm truly grateful for
my dad backing me all the way.
What I soon realised after leaving the
corporate world is that things move a
lot faster in a family company. I can
make decisions without having to ask
this or that manager. I love having that
freedom and flexibility.'
WHAT GOALS DID YOU HAVE IN
MIND ONCE YOU BECAME CEO?
'Firstly, I wanted to scale up our oper-
ations. Luckily, my parents already
owned another acre-and-a-half behind
our site so we expanded. I also want-
ed to diversify our customers. When I
came in, about 75% of sales was from
households and contractors; the other
25% was B2B. My goal was to flip that
ratio for more high-volume business.
Fast forward to today, 65% of our
business is now B2B and B2G.
Another challenge was diversifying
our product mix. The business had a
focus on aluminium but we quickly
branched out into all non-ferrous or
non-iron metals. I realised we might
be leaving money on the table
because it meant customers were tak-
ing their iron elsewhere. That's why
we became a one-stop-shop for
scrap.'
WHAT DID YOU LEARN FROM
YOUR PARENTS?
My dad came up with a 'second-
chance' hiring programme years back,
hiring people with a criminal record
and who had trouble finding a steady
job. He believes it's important to help
people and to include them and I try
to honour that ideology. For instance,
South Post Oak supports the crew in
and out of work and did so especially
in the pandemic. During this rocky
period, we offered our employees
training on personal finances through
Dave Ramsey's Financial Peace
University.'
HOW WOULD YOU DESCRIBE
THE RECYCLING INDUSTRY?
'Recycling is an interesting and
dynamic industry, though still quite
traditional and I'm used to be being
one of the few women in the room.
But I'm glad to say the numbers have
improved. The board of ISRI I'm
involved in has more than 60 people
on it. Three years ago, there were only
two women; today, that's increased to
seven.
Progress needs help, though. That's
why I co-relaunched a semi-forgotten
Women in Recycling group. This ISRI
initiative provides dedicated mentor-
ing for female entrepreneurs.
There is also a need for fresh ideas
and new faces in the industry. My
company and colleagues at ISRI are
working with an organisation called
Jason Learning to educate children up
to 12 years old in STEM-based learn-
ing with a strong link to recycling. It
includes field trips to recycling facili-
ties and classroom workshops. I
believe this will open the door for
them to consider a career in waste
management and sustainability.'
WHY ARE YOU SUCH A PASSION-
ATE ADVOCATE FOR DIVERSITY
IN THE INDUSTRY?
'Different people have different tal-
ents. In life, as well as in the industry,
we are likely to be more innovative
and be better equipped to solve
problems if we look at them from all
angles. That's why it's vital to include
people even if they aren't part of your
usual circles. To be curious and go
fishing in other ponds, as they say. If
you keep mining ideas and solutions
from the same people from the same
school, company or organisation
you're going to get the same answer
over and over again. Instead, let's
keep our minds open to new talent in
new places.'
Fotobijschrift
KADERKOP
??
08-09_interview.indd 9 12-09-2022 14:35