Our latest issue
Subscribe
Page 79 from: Our latest issue
BECK'S 79recyclinginternational.com | September/October | 2022 Fotobijschrift KADERKOP ?? The green-tongued dog My life's motto is: 'The morning hour has cyanide in its mouth, especially when you are facing a deadline an...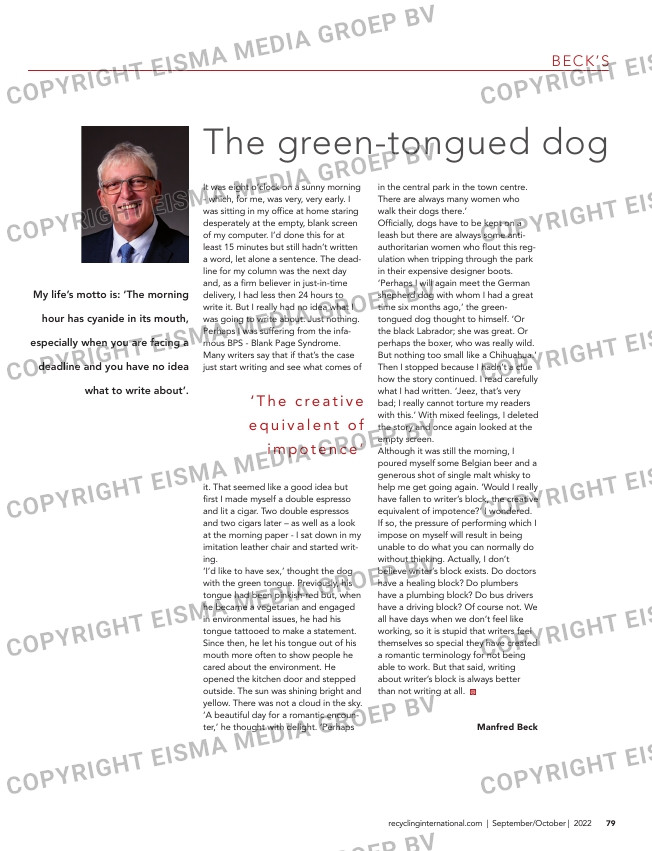 BECK'S
79recyclinginternational.com | September/October | 2022
Fotobijschrift
KADERKOP
??
The green-tongued dog
My life's motto is: 'The morning
hour has cyanide in its mouth,
especially when you are facing a
deadline and you have no idea
what to write about'.
It was eight o'clock on a sunny morning
– which, for me, was very, very early. I
was sitting in my office at home staring
desperately at the empty, blank screen
of my computer. I'd done this for at
least 15 minutes but still hadn't written
a word, let alone a sentence. The dead-
line for my column was the next day
and, as a firm believer in just-in-time
delivery, I had less then 24 hours to
write it. But I really had no idea what I
was going to write about. Just nothing.
Perhaps I was suffering from the infa-
mous BPS – Blank Page Syndrome.
Many writers say that if that's the case
just start writing and see what comes of
it. That seemed like a good idea but
first I made myself a double espresso
and lit a cigar. Two double espressos
and two cigars later – as well as a look
at the morning paper – I sat down in my
imitation leather chair and started writ-
ing.
'I'd like to have sex,' thought the dog
with the green tongue. Previously, his
tongue had been pinkish-red but, when
he became a vegetarian and engaged
in environmental issues, he had his
tongue tattooed to make a statement.
Since then, he let his tongue out of his
mouth more often to show people he
cared about the environment. He
opened the kitchen door and stepped
outside. The sun was shining bright and
yellow. There was not a cloud in the sky.
'A beautiful day for a romantic encoun-
ter,' he thought with delight. 'Perhaps
in the central park in the town centre.
There are always many women who
walk their dogs there.'
Officially, dogs have to be kept on a
leash but there are always some anti-
authoritarian women who flout this reg-
ulation when tripping through the park
in their expensive designer boots.
'Perhaps I will again meet the German
shepherd dog with whom I had a great
time six months ago,' the green-
tongued dog thought to himself. 'Or
the black Labrador; she was great. Or
perhaps the boxer, who was really wild.
But nothing too small like a Chihuahua.'
Then I stopped because I hadn't a clue
how the story continued. I read carefully
what I had written. 'Jeez, that's very
bad; I really cannot torture my readers
with this.' With mixed feelings, I deleted
the story and once again looked at the
empty screen.
Although it was still the morning, I
poured myself some Belgian beer and a
generous shot of single malt whisky to
help me get going again. 'Would I really
have fallen to writer's block, the creative
equivalent of impotence?' I wondered.
If so, the pressure of performing which I
impose on myself will result in being
unable to do what you can normally do
without thinking. Actually, I don't
believe writer's block exists. Do doctors
have a healing block? Do plumbers
have a plumbing block? Do bus drivers
have a driving block? Of course not. We
all have days when we don't feel like
working, so it is stupid that writers feel
themselves so special they have created
a romantic terminology for not being
able to work. But that said, writing
about writer's block is always better
than not writing at all.
Manfred Beck
' T h e c re a t i v e
e q u i v a l e n t o f
i m p o t e n c e '
79_becks.indd 79 12-09-2022 15:15