Our latest issue
Subscribe
Page 76 from: Our latest issue
76 PLASTICSMARKET ANALYSIS Energy costs and inflation batter sector Higher bills for gas and electricity, weaker economies and lower oil prices are a night- mare combination for scrap recyclers. High inflation across Europe has not...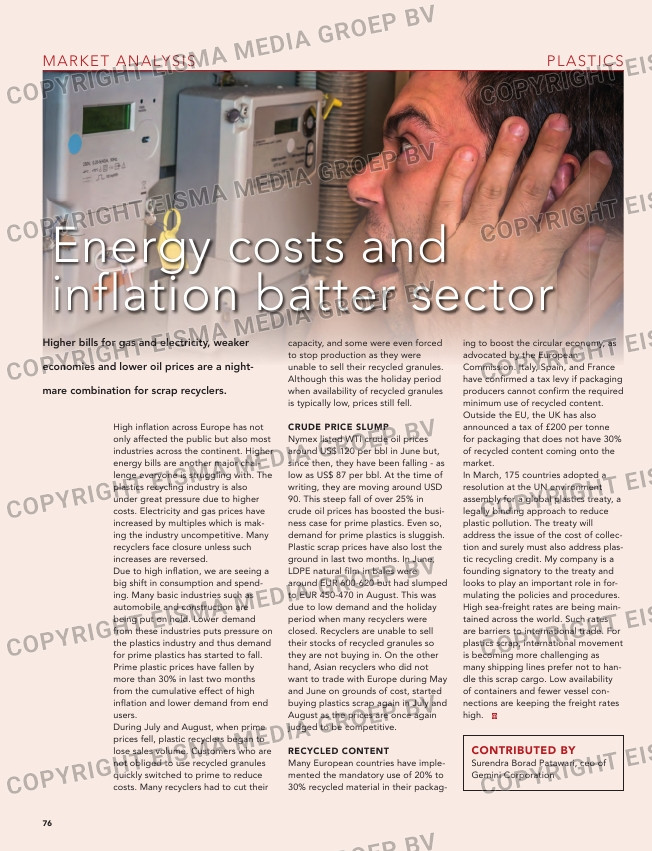 76
PLASTICSMARKET ANALYSIS
Energy costs and
inflation batter sector
Higher bills for gas and electricity, weaker
economies and lower oil prices are a night-
mare combination for scrap recyclers.
High inflation across Europe has not
only affected the public but also most
industries across the continent. Higher
energy bills are another major chal-
lenge everyone is struggling with. The
plastics recycling industry is also
under great pressure due to higher
costs. Electricity and gas prices have
increased by multiples which is mak-
ing the industry uncompetitive. Many
recyclers face closure unless such
increases are reversed.
Due to high inflation, we are seeing a
big shift in consumption and spend-
ing. Many basic industries such as
automobile and construction are
being put on hold. Lower demand
from these industries puts pressure on
the plastics industry and thus demand
for prime plastics has started to fall.
Prime plastic prices have fallen by
more than 30% in last two months
from the cumulative effect of high
inflation and lower demand from end
users.
During July and August, when prime
prices fell, plastic recyclers began to
lose sales volume. Customers who are
not obliged to use recycled granules
quickly switched to prime to reduce
costs. Many recyclers had to cut their
capacity, and some were even forced
to stop production as they were
unable to sell their recycled granules.
Although this was the holiday period
when availability of recycled granules
is typically low, prices still fell.
CRUDE PRICE SLUMP
Nymex listed WTI crude oil prices
around US$ 120 per bbl in June but,
since then, they have been falling – as
low as US$ 87 per bbl. At the time of
writing, they are moving around USD
90. This steep fall of over 25% in
crude oil prices has boosted the busi-
ness case for prime plastics. Even so,
demand for prime plastics is sluggish.
Plastic scrap prices have also lost the
ground in last two months. In June,
LDPE natural film in bales were
around EUR 600-620 but had slumped
to EUR 450-470 in August. This was
due to low demand and the holiday
period when many recyclers were
closed. Recyclers are unable to sell
their stocks of recycled granules so
they are not buying in. On the other
hand, Asian recyclers who did not
want to trade with Europe during May
and June on grounds of cost, started
buying plastics scrap again in July and
August as the prices are once again
judged to be competitive.
RECYCLED CONTENT
Many European countries have imple-
mented the mandatory use of 20% to
30% recycled material in their packag-
ing to boost the circular economy, as
advocated by the European
Commission. Italy, Spain, and France
have confirmed a tax levy if packaging
producers cannot confirm the required
minimum use of recycled content.
Outside the EU, the UK has also
announced a tax of £200 per tonne
for packaging that does not have 30%
of recycled content coming onto the
market.
In March, 175 countries adopted a
resolution at the UN environment
assembly for a global plastics treaty, a
legally binding approach to reduce
plastic pollution. The treaty will
address the issue of the cost of collec-
tion and surely must also address plas-
tic recycling credit. My company is a
founding signatory to the treaty and
looks to play an important role in for-
mulating the policies and procedures.
High sea-freight rates are being main-
tained across the world. Such rates
are barriers to international trade. For
plastics scrap, international movement
is becoming more challenging as
many shipping lines prefer not to han-
dle this scrap cargo. Low availability
of containers and fewer vessel con-
nections are keeping the freight rates
high.
CONTRIBUTED BY
Surendra Borad Patawari, ceo of
Gemini Corporation
76_maplastics.indd 76 12-09-2022 15:14