Our latest issue
Subscribe
Page 75 from: Our latest issue
TEXTILESMARKET ANALYSIS Design is crucial for circular textiles An emphasis on how often clothing is worn masks the need for a smarter approach to when an item is no longer wanted. 75recyclinginternational.com | September/Octobe...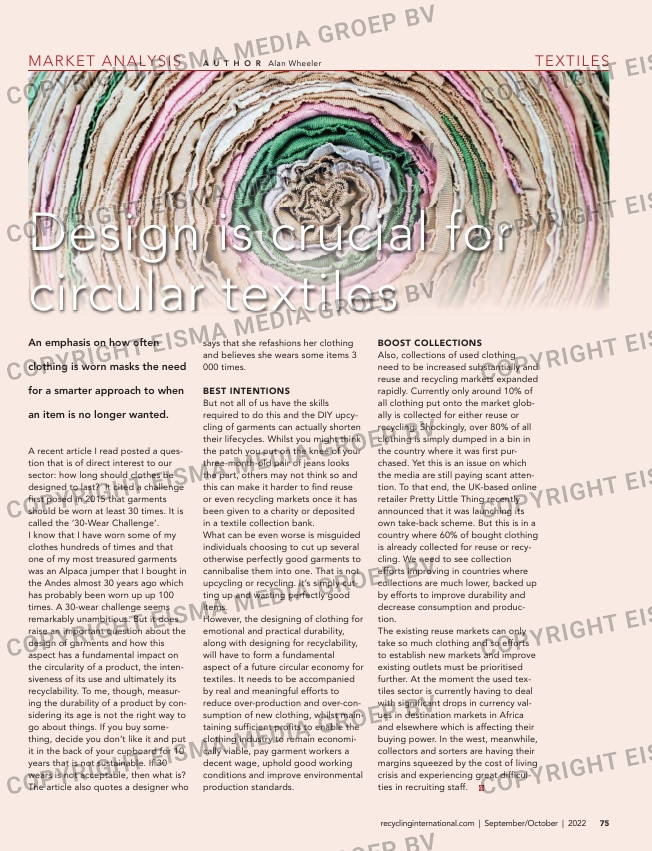 TEXTILESMARKET ANALYSIS
Design is crucial for
circular textiles
An emphasis on how often
clothing is worn masks the need
for a smarter approach to when
an item is no longer wanted.
75recyclinginternational.com | September/October | 2022
A recent article I read posted a ques-
tion that is of direct interest to our
sector: how long should clothes be
designed to last? It cited a challenge
first posed in 2015 that garments
should be worn at least 30 times. It is
called the '30-Wear Challenge'.
I know that I have worn some of my
clothes hundreds of times and that
one of my most treasured garments
was an Alpaca jumper that I bought in
the Andes almost 30 years ago which
has probably been worn up up 100
times. A 30-wear challenge seems
remarkably unambitious. But it does
raise an important question about the
design of garments and how this
aspect has a fundamental impact on
the circularity of a product, the inten-
siveness of its use and ultimately its
recyclability. To me, though, measur-
ing the durability of a product by con-
sidering its age is not the right way to
go about things. If you buy some-
thing, decide you don't like it and put
it in the back of your cupboard for 10
years that is not sustainable. If 30
wears is not acceptable, then what is?
The article also quotes a designer who
says that she refashions her clothing
and believes she wears some items 3
000 times.
BEST INTENTIONS
But not all of us have the skills
required to do this and the DIY upcy-
cling of garments can actually shorten
their lifecycles. Whilst you might think
the patch you put on the knee of your
three-month-old pair of jeans looks
the part, others may not think so and
this can make it harder to find reuse
or even recycling markets once it has
been given to a charity or deposited
in a textile collection bank.
What can be even worse is misguided
individuals choosing to cut up several
otherwise perfectly good garments to
cannibalise them into one. That is not
upcycling or recycling. It's simply cut-
ting up and wasting perfectly good
items.
However, the designing of clothing for
emotional and practical durability,
along with designing for recyclability,
will have to form a fundamental
aspect of a future circular economy for
textiles. It needs to be accompanied
by real and meaningful efforts to
reduce over-production and over-con-
sumption of new clothing, whilst main-
taining sufficient profits to enable the
clothing industry to remain economi-
cally viable, pay garment workers a
decent wage, uphold good working
conditions and improve environmental
production standards.
BOOST COLLECTIONS
Also, collections of used clothing
need to be increased substantially and
reuse and recycling markets expanded
rapidly. Currently only around 10% of
all clothing put onto the market glob-
ally is collected for either reuse or
recycling. Shockingly, over 80% of all
clothing is simply dumped in a bin in
the country where it was first pur-
chased. Yet this is an issue on which
the media are still paying scant atten-
tion. To that end, the UK-based online
retailer Pretty Little Thing recently
announced that it was launching its
own take-back scheme. But this is in a
country where 60% of bought clothing
is already collected for reuse or recy-
cling. We need to see collection
efforts improving in countries where
collections are much lower, backed up
by efforts to improve durability and
decrease consumption and produc-
tion.
The existing reuse markets can only
take so much clothing and so efforts
to establish new markets and improve
existing outlets must be prioritised
further. At the moment the used tex-
tiles sector is currently having to deal
with significant drops in currency val-
ues in destination markets in Africa
and elsewhere which is affecting their
buying power. In the west, meanwhile,
collectors and sorters are having their
margins squeezed by the cost of living
crisis and experiencing great difficul-
ties in recruiting staff.
A U T H O R Alan Wheeler
75_matextiles.indd 75 12-09-2022 15:13