Our latest issue
Subscribe
Page 73 from: Our latest issue
PAPER 73recyclinginternational.com | September/October | 2022 CONTRIBUTING TO THE RECOVERED PAPER MARKET ANALYSIS: • Simon Ellin, ceo, IWPP, the recovered paper trading division of The Recycling Association (TRA), UK • ...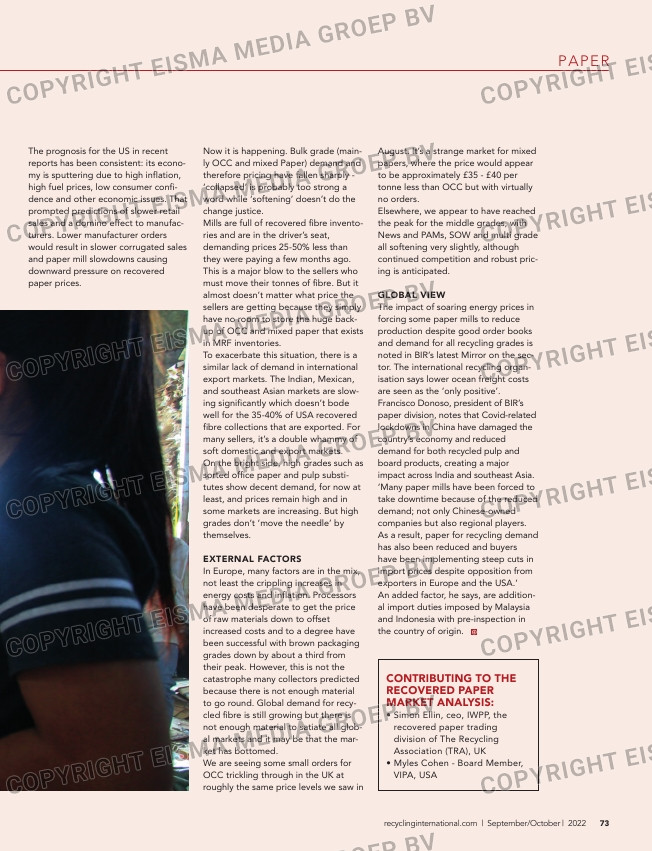 PAPER
73recyclinginternational.com | September/October | 2022
CONTRIBUTING TO THE
RECOVERED PAPER
MARKET ANALYSIS:
• Simon Ellin, ceo, IWPP, the
recovered paper trading
division of The Recycling
Association (TRA), UK
• Myles Cohen – Board Member,
VIPA, USA
August. It's a strange market for mixed
papers, where the price would appear
to be approximately £35 – £40 per
tonne less than OCC but with virtually
no orders.
Elsewhere, we appear to have reached
the peak for the middle grades, with
News and PAMs, SOW and multi grade
all softening very slightly, although
continued competition and robust pric-
ing is anticipated.
GLOBAL VIEW
The impact of soaring energy prices in
forcing some paper mills to reduce
production despite good order books
and demand for all recycling grades is
noted in BIR's latest Mirror on the sec-
tor. The international recycling organ-
isation says lower ocean freight costs
are seen as the 'only positive'.
Francisco Donoso, president of BIR's
paper division, notes that Covid-related
lockdowns in China have damaged the
country's economy and reduced
demand for both recycled pulp and
board products, creating a major
impact across India and southeast Asia.
'Many paper mills have been forced to
take downtime because of the reduced
demand; not only Chinese-owned
companies but also regional players.
As a result, paper for recycling demand
has also been reduced and buyers
have been implementing steep cuts in
import prices despite opposition from
exporters in Europe and the USA.'
An added factor, he says, are addition-
al import duties imposed by Malaysia
and Indonesia with pre-inspection in
the country of origin.
Now it is happening. Bulk grade (main-
ly OCC and mixed Paper) demand and
therefore pricing have fallen sharply –
'collapsed' is probably too strong a
word while 'softening' doesn't do the
change justice.
Mills are full of recovered fibre invento-
ries and are in the driver's seat,
demanding prices 25-50% less than
they were paying a few months ago.
This is a major blow to the sellers who
must move their tonnes of fibre. But it
almost doesn't matter what price the
sellers are getting because they simply
have no room to store the huge back-
up of OCC and mixed paper that exists
in MRF inventories.
To exacerbate this situation, there is a
similar lack of demand in international
export markets. The Indian, Mexican,
and southeast Asian markets are slow-
ing significantly which doesn't bode
well for the 35-40% of USA recovered
fibre collections that are exported. For
many sellers, it's a double whammy of
soft domestic and export markets.
On the bright side, high grades such as
sorted office paper and pulp substi-
tutes show decent demand, for now at
least, and prices remain high and in
some markets are increasing. But high
grades don't 'move the needle' by
themselves.
EXTERNAL FACTORS
In Europe, many factors are in the mix,
not least the crippling increases in
energy costs and inflation. Processors
have been desperate to get the price
of raw materials down to offset
increased costs and to a degree have
been successful with brown packaging
grades down by about a third from
their peak. However, this is not the
catastrophe many collectors predicted
because there is not enough material
to go round. Global demand for recy-
cled fibre is still growing but there is
not enough material to satiate all glob-
al markets and it may be that the mar-
ket has bottomed.
We are seeing some small orders for
OCC trickling through in the UK at
roughly the same price levels we saw in
The prognosis for the US in recent
reports has been consistent: its econo-
my is sputtering due to high inflation,
high fuel prices, low consumer confi-
dence and other economic issues. That
prompted predictions of slower retail
sales and a domino effect to manufac-
turers. Lower manufacturer orders
would result in slower corrugated sales
and paper mill slowdowns causing
downward pressure on recovered
paper prices.
72-73_mapaper.indd 73 12-09-2022 15:13