Our latest issue
Subscribe
Page 69 from: Our latest issue
NON-FERROUS Gas crisis bears down on recyclers at 50.9, while a similar one for Japan fell for the first time in six months. VOLATILITY CONCERN The bleak outlook for non-ferrous markets was reflected in the latest World Mirror from t...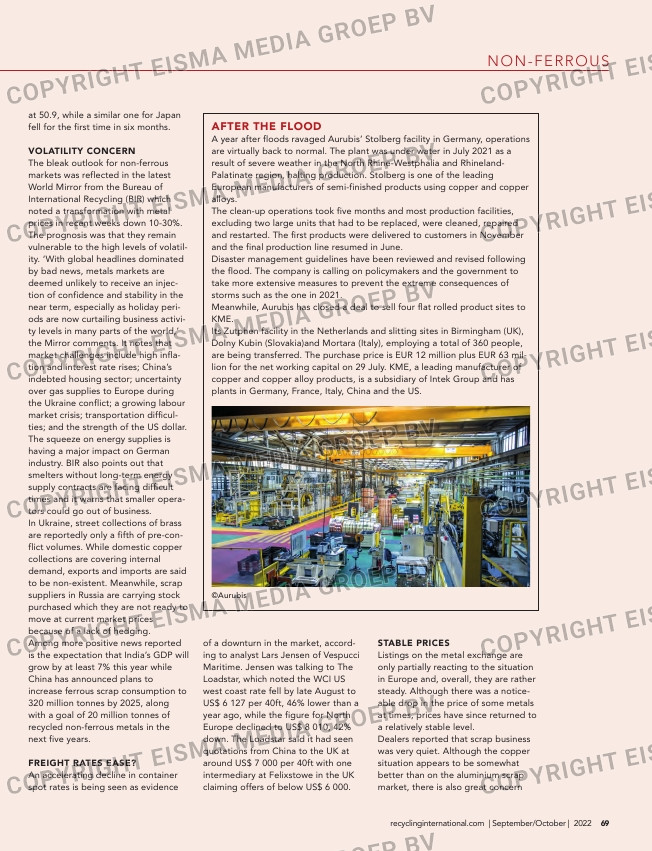 NON-FERROUS
Gas crisis bears down
on recyclers
at 50.9, while a similar one for Japan
fell for the first time in six months.
VOLATILITY CONCERN
The bleak outlook for non-ferrous
markets was reflected in the latest
World Mirror from the Bureau of
International Recycling (BIR) which
noted a transformation with metal
prices in recent weeks down 10-30%.
The prognosis was that they remain
vulnerable to the high levels of volatil-
ity. 'With global headlines dominated
by bad news, metals markets are
deemed unlikely to receive an injec-
tion of confidence and stability in the
near term, especially as holiday peri-
ods are now curtailing business activi-
ty levels in many parts of the world,'
the Mirror comments. It notes that
market challenges include high infla-
tion and interest rate rises; China's
indebted housing sector; uncertainty
over gas supplies to Europe during
the Ukraine conflict; a growing labour
market crisis; transportation difficul-
ties; and the strength of the US dollar.
The squeeze on energy supplies is
having a major impact on German
industry. BIR also points out that
smelters without long-term energy
supply contracts are facing difficult
times and it warns that smaller opera-
tors could go out of business.
In Ukraine, street collections of brass
are reportedly only a fifth of pre-con-
flict volumes. While domestic copper
collections are covering internal
demand, exports and imports are said
to be non-existent. Meanwhile, scrap
suppliers in Russia are carrying stock
purchased which they are not ready to
move at current market prices
because of a lack of hedging.
Among more positive news reported
is the expectation that India's GDP will
grow by at least 7% this year while
China has announced plans to
increase ferrous scrap consumption to
320 million tonnes by 2025, along
with a goal of 20 million tonnes of
recycled non-ferrous metals in the
next five years.
FREIGHT RATES EASE?
An accelerating decline in container
spot rates is being seen as evidence
69recyclinginternational.com | September/October | 2022
AFTER THE FLOOD
A year after floods ravaged Aurubis' Stolberg facility in Germany, operations
are virtually back to normal. The plant was under water in July 2021 as a
result of severe weather in the North Rhine-Westphalia and Rhineland-
Palatinate region, halting production. Stolberg is one of the leading
European manufacturers of semi-finished products using copper and copper
alloys.
The clean-up operations took five months and most production facilities,
excluding two large units that had to be replaced, were cleaned, repaired
and restarted. The first products were delivered to customers in November
and the final production line resumed in June.
Disaster management guidelines have been reviewed and revised following
the flood. The company is calling on policymakers and the government to
take more extensive measures to prevent the extreme consequences of
storms such as the one in 2021.
Meanwhile, Aurubis has closed a deal to sell four flat rolled product sites to
KME.
Its Zutphen facility in the Netherlands and slitting sites in Birmingham (UK),
Dolny Kubin (Slovakia)and Mortara (Italy), employing a total of 360 people,
are being transferred. The purchase price is EUR 12 million plus EUR 63 mil-
lion for the net working capital on 29 July. KME, a leading manufacturer of
copper and copper alloy products, is a subsidiary of Intek Group and has
plants in Germany, France, Italy, China and the US.
of a downturn in the market, accord-
ing to analyst Lars Jensen of Vespucci
Maritime. Jensen was talking to The
Loadstar, which noted the WCI US
west coast rate fell by late August to
US$ 6 127 per 40ft, 46% lower than a
year ago, while the figure for North
Europe declined to US$ 8 010, 42%
down. The Loadstar said it had seen
quotations from China to the UK at
around US$ 7 000 per 40ft with one
intermediary at Felixstowe in the UK
claiming offers of below US$ 6 000.
STABLE PRICES
Listings on the metal exchange are
only partially reacting to the situation
in Europe and, overall, they are rather
steady. Although there was a notice-
able drop in the price of some metals
at times, prices have since returned to
a relatively stable level.
Dealers reported that scrap business
was very quiet. Although the copper
situation appears to be somewhat
better than on the aluminium scrap
market, there is also great concern
©Aurubis
68-69-70-71_manon-ferrous.indd 69 12-09-2022 14:46