Our latest issue
Subscribe
Page 66 from: Our latest issue
MARKET ANALYSIS Prices stabilise amid economic doubts A range of factors including inflation, interest rates and likely widespread recessions suggest an outlook of extreme caution is required. stainless steel products in China is ...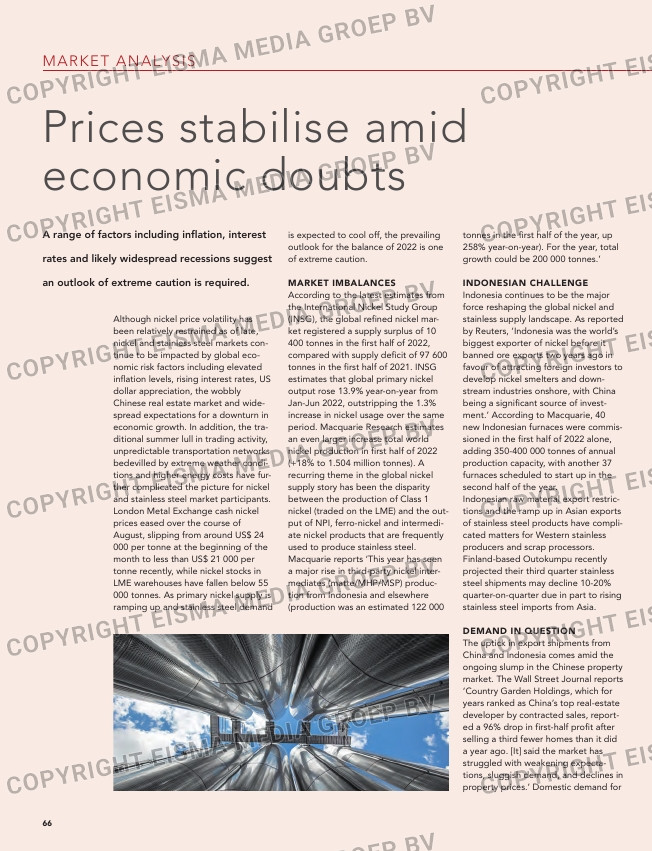 MARKET ANALYSIS
Prices stabilise amid
economic doubts
A range of factors including inflation, interest
rates and likely widespread recessions suggest
an outlook of extreme caution is required.
stainless steel products in China is
closely tied to the health of real estate
market.
European market participants are also
being impacted by transportation bot-
tlenecks, including low river levels that
have impeded the flow of goods and
difficulty obtaining railcars due to the
increased rail demand from the oil and
gas sector, according to the Oryx
Stainless Group. In the United States,
softening domestic market conditions
have been partially offset this year by
rising export demand for stainless steel
scrap. According to trade statistics
from the US Commerce Department,
the US exported more than 253 000
tonnes of stainless steel scrap during
Jan-Jun 2022, a 67% increase as com-
pared to the first half of 2021 thanks to
improved demand from India, Mexico,
Canada, and Germany.
tonnes in the first half of the year, up
258% year-on-year). For the year, total
growth could be 200 000 tonnes.'
INDONESIAN CHALLENGE
Indonesia continues to be the major
force reshaping the global nickel and
stainless supply landscape. As reported
by Reuters, 'Indonesia was the world's
biggest exporter of nickel before it
banned ore exports two years ago in
favour of attracting foreign investors to
develop nickel smelters and down-
stream industries onshore, with China
being a significant source of invest-
ment.' According to Macquarie, 40
new Indonesian furnaces were commis-
sioned in the first half of 2022 alone,
adding 350-400 000 tonnes of annual
production capacity, with another 37
furnaces scheduled to start up in the
second half of the year.
Indonesian raw material export restric-
tions and the ramp up in Asian exports
of stainless steel products have compli-
cated matters for Western stainless
producers and scrap processors.
Finland-based Outokumpu recently
projected their third quarter stainless
steel shipments may decline 10-20%
quarter-on-quarter due in part to rising
stainless steel imports from Asia.
DEMAND IN QUESTION
The uptick in export shipments from
China and Indonesia comes amid the
ongoing slump in the Chinese property
market. The Wall Street Journal reports
'Country Garden Holdings, which for
years ranked as China's top real-estate
developer by contracted sales, report-
ed a 96% drop in first-half profit after
selling a third fewer homes than it did
a year ago. [It] said the market has
struggled with weakening expecta-
tions, sluggish demand, and declines in
property prices.' Domestic demand for
66
Although nickel price volatility has
been relatively restrained as of late,
nickel and stainless steel markets con-
tinue to be impacted by global eco-
nomic risk factors including elevated
inflation levels, rising interest rates, US
dollar appreciation, the wobbly
Chinese real estate market and wide-
spread expectations for a downturn in
economic growth. In addition, the tra-
ditional summer lull in trading activity,
unpredictable transportation networks
bedevilled by extreme weather condi-
tions and higher energy costs have fur-
ther complicated the picture for nickel
and stainless steel market participants.
London Metal Exchange cash nickel
prices eased over the course of
August, slipping from around US$ 24
000 per tonne at the beginning of the
month to less than US$ 21 000 per
tonne recently, while nickel stocks in
LME warehouses have fallen below 55
000 tonnes. As primary nickel supply is
ramping up and stainless steel demand
is expected to cool off, the prevailing
outlook for the balance of 2022 is one
of extreme caution.
MARKET IMBALANCES
According to the latest estimates from
the International Nickel Study Group
(INSG), the global refined nickel mar-
ket registered a supply surplus of 10
400 tonnes in the first half of 2022,
compared with supply deficit of 97 600
tonnes in the first half of 2021. INSG
estimates that global primary nickel
output rose 13.9% year-on-year from
Jan-Jun 2022, outstripping the 1.3%
increase in nickel usage over the same
period. Macquarie Research estimates
an even larger increase total world
nickel production in first half of 2022
(+18% to 1.504 million tonnes). A
recurring theme in the global nickel
supply story has been the disparity
between the production of Class 1
nickel (traded on the LME) and the out-
put of NPI, ferro-nickel and intermedi-
ate nickel products that are frequently
used to produce stainless steel.
Macquarie reports 'This year has seen
a major rise in third-party nickel inter-
mediates (matte/MHP/MSP) produc-
tion from Indonesia and elsewhere
(production was an estimated 122 000
66-67_manickelstainless.indd 66 12-09-2022 14:45