Our latest issue
Subscribe
Page 63 from: Our latest issue
FERROUS 63recyclinginternational.com | September/October | 2022 prices and maintaining volumes.' Irepas says steel mills in China are bare- ly making money with volumes being suppressed both politically and by busi- ness decisions....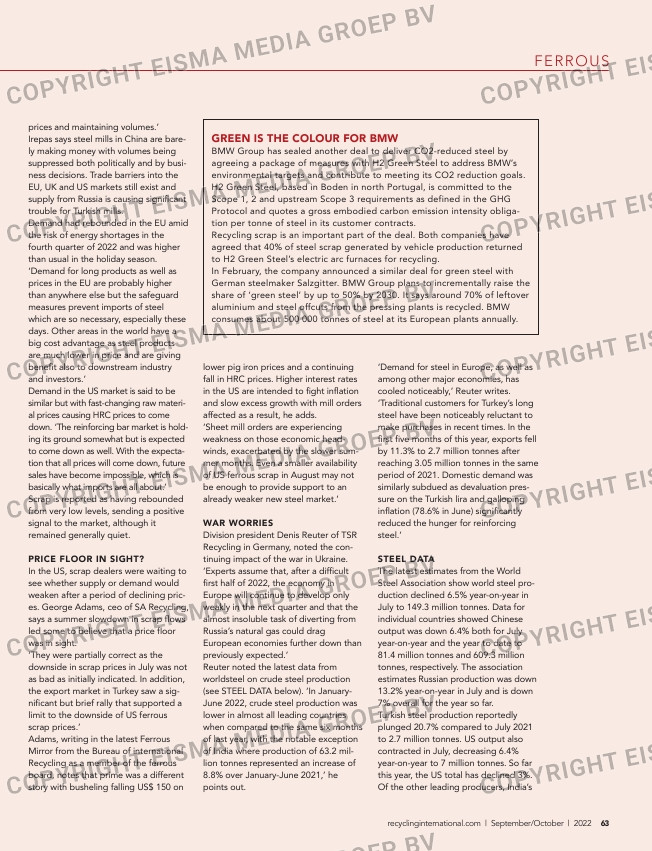 FERROUS
63recyclinginternational.com | September/October | 2022
prices and maintaining volumes.'
Irepas says steel mills in China are bare-
ly making money with volumes being
suppressed both politically and by busi-
ness decisions. Trade barriers into the
EU, UK and US markets still exist and
supply from Russia is causing significant
trouble for Turkish mills.
Demand had rebounded in the EU amid
the risk of energy shortages in the
fourth quarter of 2022 and was higher
than usual in the holiday season.
'Demand for long products as well as
prices in the EU are probably higher
than anywhere else but the safeguard
measures prevent imports of steel
which are so necessary, especially these
days. Other areas in the world have a
big cost advantage as steel products
are much lower in price and are giving
benefit also to downstream industry
and investors.'
Demand in the US market is said to be
similar but with fast-changing raw materi-
al prices causing HRC prices to come
down. 'The reinforcing bar market is hold-
ing its ground somewhat but is expected
to come down as well. With the expecta-
tion that all prices will come down, future
sales have become impossible, which is
basically what imports are all about.'
Scrap is reported as having rebounded
from very low levels, sending a positive
signal to the market, although it
remained generally quiet.
PRICE FLOOR IN SIGHT?
In the US, scrap dealers were waiting to
see whether supply or demand would
weaken after a period of declining pric-
es. George Adams, ceo of SA Recycling,
says a summer slowdown in scrap flows
led some to believe that a price floor
was in sight.
'They were partially correct as the
downside in scrap prices in July was not
as bad as initially indicated. In addition,
the export market in Turkey saw a sig-
nificant but brief rally that supported a
limit to the downside of US ferrous
scrap prices.'
Adams, writing in the latest Ferrous
Mirror from the Bureau of international
Recycling as a member of the ferrous
board, notes that prime was a different
story with busheling falling US$ 150 on
A U T H O R Robin Latchem
lower pig iron prices and a continuing
fall in HRC prices. Higher interest rates
in the US are intended to fight inflation
and slow excess growth with mill orders
affected as a result, he adds.
'Sheet mill orders are experiencing
weakness on those economic head-
winds, exacerbated by the slower sum-
mer months. Even a smaller availability
of US ferrous scrap in August may not
be enough to provide support to an
already weaker new steel market.'
WAR WORRIES
Division president Denis Reuter of TSR
Recycling in Germany, noted the con-
tinuing impact of the war in Ukraine.
'Experts assume that, after a difficult
first half of 2022, the economy in
Europe will continue to develop only
weakly in the next quarter and that the
almost insoluble task of diverting from
Russia's natural gas could drag
European economies further down than
previously expected.'
Reuter noted the latest data from
worldsteel on crude steel production
(see STEEL DATA below). 'In January-
June 2022, crude steel production was
lower in almost all leading countries
when compared to the same six months
of last year, with the notable exception
of India where production of 63.2 mil-
lion tonnes represented an increase of
8.8% over January-June 2021,' he
points out.
'Demand for steel in Europe, as well as
among other major economies, has
cooled noticeably,' Reuter writes.
'Traditional customers for Turkey's long
steel have been noticeably reluctant to
make purchases in recent times. In the
first five months of this year, exports fell
by 11.3% to 2.7 million tonnes after
reaching 3.05 million tonnes in the same
period of 2021. Domestic demand was
similarly subdued as devaluation pres-
sure on the Turkish lira and galloping
inflation (78.6% in June) significantly
reduced the hunger for reinforcing
steel.'
STEEL DATA
The latest estimates from the World
Steel Association show world steel pro-
duction declined 6.5% year-on-year in
July to 149.3 million tonnes. Data for
individual countries showed Chinese
output was down 6.4% both for July
year-on-year and the year to date to
81.4 million tonnes and 609.3 million
tonnes, respectively. The association
estimates Russian production was down
13.2% year-on-year in July and is down
7% overall for the year so far.
Turkish steel production reportedly
plunged 20.7% compared to July 2021
to 2.7 million tonnes. US output also
contracted in July, decreasing 6.4%
year-on-year to 7 million tonnes. So far
this year, the US total has declined 3%.
Of the other leading producers, India's
GREEN IS THE COLOUR FOR BMW
BMW Group has sealed another deal to deliver CO2-reduced steel by
agreeing a package of measures with H2 Green Steel to address BMW's
environmental targets and contribute to meeting its CO2 reduction goals.
H2 Green Steel, based in Boden in north Portugal, is committed to the
Scope 1, 2 and upstream Scope 3 requirements as defined in the GHG
Protocol and quotes a gross embodied carbon emission intensity obliga-
tion per tonne of steel in its customer contracts.
Recycling scrap is an important part of the deal. Both companies have
agreed that 40% of steel scrap generated by vehicle production returned
to H2 Green Steel's electric arc furnaces for recycling.
In February, the company announced a similar deal for green steel with
German steelmaker Salzgitter. BMW Group plans to incrementally raise the
share of 'green steel' by up to 50% by 2030. It says around 70% of leftover
aluminium and steel offcuts from the pressing plants is recycled. BMW
consumes about 500 000 tonnes of steel at its European plants annually.
62-63-64_ma-ferrous.indd 63 12-09-2022 14:45