Our latest issue
Subscribe
Page 58 from: Our latest issue
58 NEWCOMER LEVIATHAN JOINS THE RANKS OF CERTI- FIED EU SHIPBREAKERS Start-up Leviathan is working with German Naval Yards at Kiel to dem- onstrate its sustainable ship recycling methods in order to be listed as an EU approved site. The M...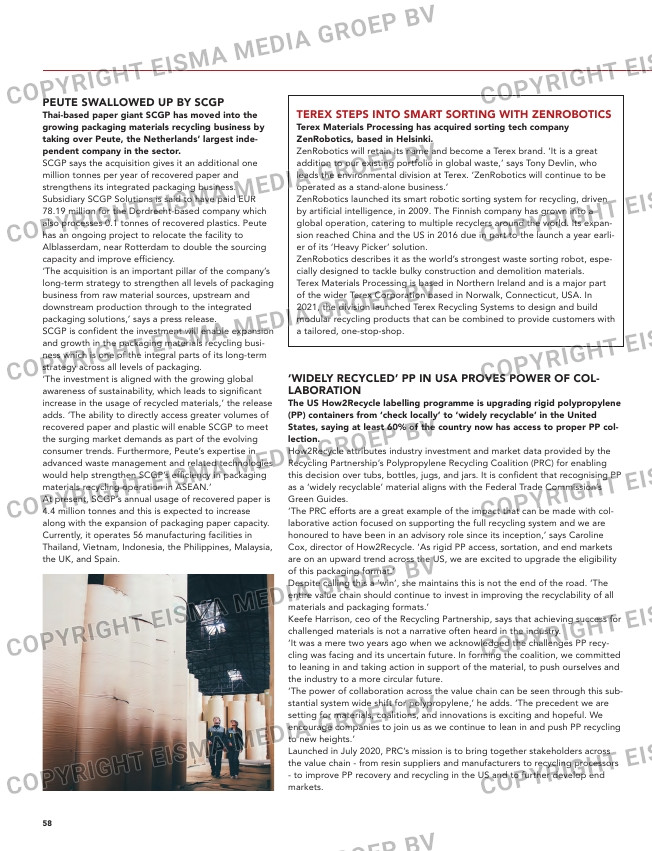 58
NEWCOMER LEVIATHAN JOINS THE RANKS OF CERTI-
FIED EU SHIPBREAKERS
Start-up Leviathan is working with German Naval Yards at Kiel to dem-
onstrate its sustainable ship recycling methods in order to be listed as
an EU approved site. The Maritime Executive reports that the first ves-
sel has arrived for dismantling which will be completed over the next
few weeks.
Leviathan relies on a cold cutting technology it has perfected over the last
ten years. The recycler says tests conducted indicate that this 'clean' meth-
od can reduce CO2 emissions during the dismantling process by a factor of
300. The German start-up says it is ready to handle ships on an industrial
scale.
The first ship it will take apart is the 56-year-old HC Hagemann 1, a nearly
40 metre construction vessel (147 dwt) which arrived at the Kiel yard in mid-
June. Cutting is underway and is scheduled to be completed by August.
Leviathan acknowledges EU rules require cutting to be done on a solid base
so that no haz-
ardous materials
reach the soil.
'This project is an
important mile-
stone and now
the performance
of the ESG-
compliant recy-
cling process can
be verified in the
next weeks,' says
Karsten
Schumacher,
managing part-
ner at Leviathan.
TEREX STEPS INTO SMART SORTING WITH ZENROBOTICS
Terex Materials Processing has acquired sorting tech company
ZenRobotics, based in Helsinki.
ZenRobotics will retain its name and become a Terex brand. 'It is a great
addition to our existing portfolio in global waste,' says Tony Devlin, who
leads the environmental division at Terex. 'ZenRobotics will continue to be
operated as a stand-alone business.'
ZenRobotics launched its smart robotic sorting system for recycling, driven
by artificial intelligence, in 2009. The Finnish company has grown into a
global operation, catering to multiple recyclers around the world. Its expan-
sion reached China and the US in 2016 due in part to the launch a year earli-
er of its 'Heavy Picker' solution.
ZenRobotics describes it as the world's strongest waste sorting robot, espe-
cially designed to tackle bulky construction and demolition materials.
Terex Materials Processing is based in Northern Ireland and is a major part
of the wider Terex Corporation based in Norwalk, Connecticut, USA. In
2021, the division launched Terex Recycling Systems to design and build
modular recycling products that can be combined to provide customers with
a tailored, one-stop-shop.
PEUTE SWALLOWED UP BY SCGP
Thai-based paper giant SCGP has moved into the
growing packaging materials recycling business by
taking over Peute, the Netherlands' largest inde-
pendent company in the sector.
SCGP says the acquisition gives it an additional one
million tonnes per year of recovered paper and
strengthens its integrated packaging business.
Subsidiary SCGP Solutions is said to have paid EUR
78.19 million for the Dordrecht-based company which
also processes 0.1 tonnes of recovered plastics. Peute
has an ongoing project to relocate the facility to
Alblasserdam, near Rotterdam to double the sourcing
capacity and improve efficiency.
'The acquisition is an important pillar of the company's
long-term strategy to strengthen all levels of packaging
business from raw material sources, upstream and
downstream production through to the integrated
packaging solutions,' says a press release.
SCGP is confident the investment will enable expansion
and growth in the packaging materials recycling busi-
ness which is one of the integral parts of its long-term
strategy across all levels of packaging.
'The investment is aligned with the growing global
awareness of sustainability, which leads to significant
increase in the usage of recycled materials,' the release
adds. 'The ability to directly access greater volumes of
recovered paper and plastic will enable SCGP to meet
the surging market demands as part of the evolving
consumer trends. Furthermore, Peute's expertise in
advanced waste management and related technologies
would help strengthen SCGP's efficiency in packaging
materials recycling operation in ASEAN.'
At present, SCGP's annual usage of recovered paper is
4.4 million tonnes and this is expected to increase
along with the expansion of packaging paper capacity.
Currently, it operates 56 manufacturing facilities in
Thailand, Vietnam, Indonesia, the Philippines, Malaysia,
the UK, and Spain.
Big scrap, big business
Convert your heavy steel scrap into profits

Recycle your heavy steel scrap in a flexible and profitable way
with the Fractum impact breakers
Erritsø Møllebanke 11
7000 Fredericia Denmark
Email: [email protected]
Phone: +45 7262 7300 www.fractum.com/scrap-metal/

'WIDELY RECYCLED' PP IN USA PROVES POWER OF COL-
LABORATION
The US How2Recycle labelling programme is upgrading rigid polypropylene
(PP) containers from 'check locally' to 'widely recyclable' in the United
States, saying at least 60% of the country now has access to proper PP col-
lection.
How2Recycle attributes industry investment and market data provided by the
Recycling Partnership's Polypropylene Recycling Coalition (PRC) for enabling
this decision over tubs, bottles, jugs, and jars. It is confident that recognising PP
as a 'widely recyclable' material aligns with the Federal Trade Commission's
Green Guides.
'The PRC efforts are a great example of the impact that can be made with col-
laborative action focused on supporting the full recycling system and we are
honoured to have been in an advisory role since its inception,' says Caroline
Cox, director of How2Recycle. 'As rigid PP access, sortation, and end markets
are on an upward trend across the US, we are excited to upgrade the eligibility
of this packaging format.'
Despite calling this a 'win', she maintains this is not the end of the road. 'The
entire value chain should continue to invest in improving the recyclability of all
materials and packaging formats.'
Keefe Harrison, ceo of the Recycling Partnership, says that achieving success for
challenged materials is not a narrative often heard in the industry.
'It was a mere two years ago when we acknowledged the challenges PP recy-
cling was facing and its uncertain future. In forming the coalition, we committed
to leaning in and taking action in support of the material, to push ourselves and
the industry to a more circular future.
'The power of collaboration across the value chain can be seen through this sub-
stantial system wide shift for polypropylene,' he adds. 'The precedent we are
setting for materials, coalitions, and innovations is exciting and hopeful. We
encourage companies to join us as we continue to lean in and push PP recycling
to new heights.'
Launched in July 2020, PRC's mission is to bring together stakeholders across
the value chain – from resin suppliers and manufacturers to recycling processors
– to improve PP recovery and recycling in the US and to further develop end
markets.
54-55-56-57-58-59_trendsupdates.indd 58 12-09-2022 14:44