Our latest issue
Subscribe
Page 57 from: Our latest issue
TRENDS & UPDATES 57recyclinginternational.com | September/October | 2022 PURICYCLE TACKLES 'MOST CHALLENGING' PYROLYSIS WASTE Chemical company BASF has launched PuriCycle, a new line of advanced high-performance products mean...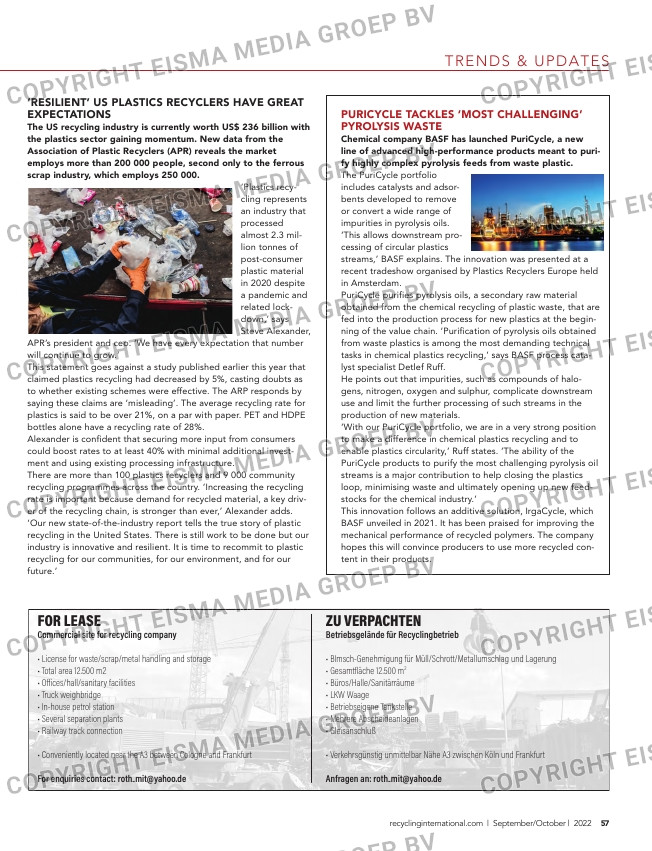 TRENDS & UPDATES
57recyclinginternational.com | September/October | 2022
PURICYCLE TACKLES 'MOST CHALLENGING'
PYROLYSIS WASTE
Chemical company BASF has launched PuriCycle, a new
line of advanced high-performance products meant to puri-
fy highly complex pyrolysis feeds from waste plastic.
The PuriCycle portfolio
includes catalysts and adsor-
bents developed to remove
or convert a wide range of
impurities in pyrolysis oils.
'This allows downstream pro-
cessing of circular plastics
streams,' BASF explains. The innovation was presented at a
recent tradeshow organised by Plastics Recyclers Europe held
in Amsterdam.
PuriCycle purifies pyrolysis oils, a secondary raw material
obtained from the chemical recycling of plastic waste, that are
fed into the production process for new plastics at the begin-
ning of the value chain. 'Purification of pyrolysis oils obtained
from waste plastics is among the most demanding technical
tasks in chemical plastics recycling,' says BASF process cata-
lyst specialist Detlef Ruff.
He points out that impurities, such as compounds of halo-
gens, nitrogen, oxygen and sulphur, complicate downstream
use and limit the further processing of such streams in the
production of new materials.
'With our PuriCycle portfolio, we are in a very strong position
to make a difference in chemical plastics recycling and to
enable plastics circularity,' Ruff states. 'The ability of the
PuriCycle products to purify the most challenging pyrolysis oil
streams is a major contribution to help closing the plastics
loop, minimising waste and ultimately opening up new feed-
stocks for the chemical industry.'
This innovation follows an additive solution, IrgaCycle, which
BASF unveiled in 2021. It has been praised for improving the
mechanical performance of recycled polymers. The company
hopes this will convince producers to use more recycled con-
tent in their products.




 
­
€ 
'ƒ€"
…
†
‡ˆ‡
ˆ

†‰
…‡Š‰‰
‹ŒŒ
…

ˆ
'
†
Ž
'
‡'‰
'ƒ"
‹""

'RESILIENT' US PLASTICS RECYCLERS HAVE GREAT
EXPECTATIONS
The US recycling industry is currently worth US$ 236 billion with
the plastics sector gaining momentum. New data from the
Association of Plastic Recyclers (APR) reveals the market
employs more than 200 000 people, second only to the ferrous
scrap industry, which employs 250 000.
'Plastics recy-
cling represents
an industry that
processed
almost 2.3 mil-
lion tonnes of
post-consumer
plastic material
in 2020 despite
a pandemic and
related lock-
down,' says
Steve Alexander,
APR's president and ceo. 'We have every expectation that number
will continue to grow.'
This statement goes against a study published earlier this year that
claimed plastics recycling had decreased by 5%, casting doubts as
to whether existing schemes were effective. The ARP responds by
saying these claims are 'misleading'. The average recycling rate for
plastics is said to be over 21%, on a par with paper. PET and HDPE
bottles alone have a recycling rate of 28%.
Alexander is confident that securing more input from consumers
could boost rates to at least 40% with minimal additional invest-
ment and using existing processing infrastructure.
There are more than 100 plastics recyclers and 9 000 community
recycling programmes across the country. 'Increasing the recycling
rate is important because demand for recycled material, a key driv-
er of the recycling chain, is stronger than ever,' Alexander adds.
'Our new state-of-the-industry report tells the true story of plastic
recycling in the United States. There is still work to be done but our
industry is innovative and resilient. It is time to recommit to plastic
recycling for our communities, for our environment, and for our
future.'
SA SCRAP EXPORT BAN CRITICISED
Plans by the South African government to tackle metal
theft from public buildings and infrastructure by banning
exports of scrap have been condemned by traders.
A proposed ban was set out in August and, in response, the
Bureau of International Recycling (BIR) has written to the govern-
ment complaining on the impact on trade, and particularly those in
the nation's Metals Recyclers Association (MRA). BIR supports the
improvement of regulatory enforcement and actions to stop the
theft of metals from public infrastructure but expresses strong con-
cerns about any policy linking metal theft with metal trade.
'BIR stresses that restricting the trade of ferrous and nonfer-
rous metals does not address the root cause of the theft
problem,' the letter says. 'Instead, it would cause substantial
harm to an essential economic sector that directly contrib-
utes to a stronger, more sustainable and circular economy.
Export restrictions are an ineffective policy response to pre-
vent metal theft from public infrastructure.'
BIR recommends considering other ways of preventing theft
and protecting public assets:
• Supporting legitimate recycling businesses by closing ille-
gal operations, unregulated scrap yards and unregulated
metalworks and foundries.
• Protecting public infrastructure by marking metals; install-
ing monitors of power, or of data or other parameters such
as the voltage drop on cables to indicate a theft is taking
place; by joining forces with police and industry security
patrols to catch criminals in the act.
• Ensuring the traceability of scrap metal from industry and
consumers that enter legitimate recycling enterprises.
• Introducing stronger penalties for the destruction and theft
of infrastructure.
BIR says it 'stands ready' to engage with the South African
government or any other national authority in the efforts to
limit metal theft, without resorting to a ban on scrap exports.
54-55-56-57-58-59_trendsupdates.indd 57 12-09-2022 14:43