Our latest issue
Subscribe
Page 56 from: Our latest issue
56       ­ €  'ƒ€" … † ‡ˆ‡ ˆ  †‰ …‡Š‰‰ ‹ŒŒ …  ˆ ' † Ž ' ‡'‰ 'ƒ" ‹""  MULTI-BILLION APPETITE FOR AUTOMOTIVE PLASTICS Pl...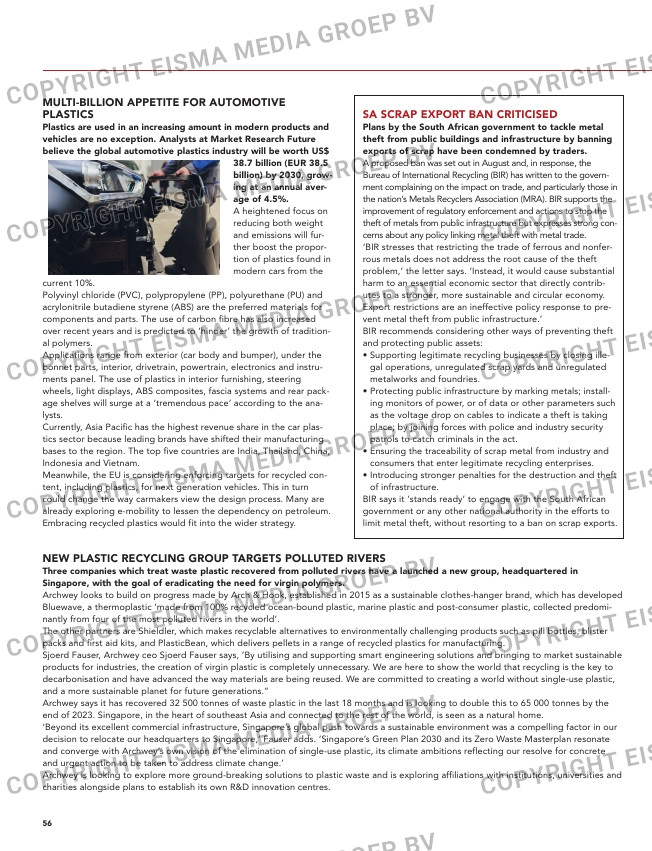 56




 
­
€ 
'ƒ€"
…
†
‡ˆ‡
ˆ

†‰
…‡Š‰‰
‹ŒŒ
…

ˆ
'
†
Ž
'
‡'‰
'ƒ"
‹""

MULTI-BILLION APPETITE FOR AUTOMOTIVE
PLASTICS
Plastics are used in an increasing amount in modern products and
vehicles are no exception. Analysts at Market Research Future
believe the global automotive plastics industry will be worth US$
38.7 billion (EUR 38.5
billion) by 2030, grow-
ing at an annual aver-
age of 4.5%.
A heightened focus on
reducing both weight
and emissions will fur-
ther boost the propor-
tion of plastics found in
modern cars from the
current 10%.
Polyvinyl chloride (PVC), polypropylene (PP), polyurethane (PU) and
acrylonitrile butadiene styrene (ABS) are the preferred materials for
components and parts. The use of carbon fibre has also increased
over recent years and is predicted to 'hinder' the growth of tradition-
al polymers.
Applications range from exterior (car body and bumper), under the
bonnet parts, interior, drivetrain, powertrain, electronics and instru-
ments panel. The use of plastics in interior furnishing, steering
wheels, light displays, ABS composites, fascia systems and rear pack-
age shelves will surge at a 'tremendous pace' according to the ana-
lysts.
Currently, Asia Pacific has the highest revenue share in the car plas-
tics sector because leading brands have shifted their manufacturing
bases to the region. The top five countries are India, Thailand, China,
Indonesia and Vietnam.
Meanwhile, the EU is considering enforcing targets for recycled con-
tent, including plastics, for next generation vehicles. This in turn
could change the way carmakers view the design process. Many are
already exploring e-mobility to lessen the dependency on petroleum.
Embracing recycled plastics would fit into the wider strategy.
NEW PLASTIC RECYCLING GROUP TARGETS POLLUTED RIVERS
Three companies which treat waste plastic recovered from polluted rivers have a launched a new group, headquartered in
Singapore, with the goal of eradicating the need for virgin polymers.
Archwey looks to build on progress made by Arch & Hook, established in 2015 as a sustainable clothes-hanger brand, which has developed
Bluewave, a thermoplastic 'made from 100% recycled ocean-bound plastic, marine plastic and post-consumer plastic, collected predomi-
nantly from four of the most polluted rivers in the world'.
The other partners are Shieldler, which makes recyclable alternatives to environmentally challenging products such as pill bottles, blister
packs and first aid kits, and PlasticBean, which delivers pellets in a range of recycled plastics for manufacturing.
Sjoerd Fauser, Archwey ceo Sjoerd Fauser says, 'By utilising and supporting smart engineering solutions and bringing to market sustainable
products for industries, the creation of virgin plastic is completely unnecessary. We are here to show the world that recycling is the key to
decarbonisation and have advanced the way materials are being reused. We are committed to creating a world without single-use plastic,
and a more sustainable planet for future generations."
Archwey says it has recovered 32 500 tonnes of waste plastic in the last 18 months and is looking to double this to 65 000 tonnes by the
end of 2023. Singapore, in the heart of southeast Asia and connected to the rest of the world, is seen as a natural home.
'Beyond its excellent commercial infrastructure, Singapore's global push towards a sustainable environment was a compelling factor in our
decision to relocate our headquarters to Singapore,' Fauser adds. 'Singapore's Green Plan 2030 and its Zero Waste Masterplan resonate
and converge with Archwey's own vision of the elimination of single-use plastic, its climate ambitions reflecting our resolve for concrete
and urgent action to be taken to address climate change.'
Archwey is looking to explore more ground-breaking solutions to plastic waste and is exploring affiliations with institutions, universities and
charities alongside plans to establish its own R&D innovation centres.
'RESILIENT' US PLASTICS RECYCLERS HAVE GREAT
EXPECTATIONS
The US recycling industry is currently worth US$ 236 billion with
the plastics sector gaining momentum. New data from the
Association of Plastic Recyclers (APR) reveals the market
employs more than 200 000 people, second only to the ferrous
scrap industry, which employs 250 000.
'Plastics recy-
cling represents
an industry that
processed
almost 2.3 mil-
lion tonnes of
post-consumer
plastic material
in 2020 despite
a pandemic and
related lock-
down,' says
Steve Alexander,
APR's president and ceo. 'We have every expectation that number
will continue to grow.'
This statement goes against a study published earlier this year that
claimed plastics recycling had decreased by 5%, casting doubts as
to whether existing schemes were effective. The ARP responds by
saying these claims are 'misleading'. The average recycling rate for
plastics is said to be over 21%, on a par with paper. PET and HDPE
bottles alone have a recycling rate of 28%.
Alexander is confident that securing more input from consumers
could boost rates to at least 40% with minimal additional invest-
ment and using existing processing infrastructure.
There are more than 100 plastics recyclers and 9 000 community
recycling programmes across the country. 'Increasing the recycling
rate is important because demand for recycled material, a key driv-
er of the recycling chain, is stronger than ever,' Alexander adds.
'Our new state-of-the-industry report tells the true story of plastic
recycling in the United States. There is still work to be done but our
industry is innovative and resilient. It is time to recommit to plastic
recycling for our communities, for our environment, and for our
future.'
SA SCRAP EXPORT BAN CRITICISED
Plans by the South African government to tackle metal
theft from public buildings and infrastructure by banning
exports of scrap have been condemned by traders.
A proposed ban was set out in August and, in response, the
Bureau of International Recycling (BIR) has written to the govern-
ment complaining on the impact on trade, and particularly those in
the nation's Metals Recyclers Association (MRA). BIR supports the
improvement of regulatory enforcement and actions to stop the
theft of metals from public infrastructure but expresses strong con-
cerns about any policy linking metal theft with metal trade.
'BIR stresses that restricting the trade of ferrous and nonfer-
rous metals does not address the root cause of the theft
problem,' the letter says. 'Instead, it would cause substantial
harm to an essential economic sector that directly contrib-
utes to a stronger, more sustainable and circular economy.
Export restrictions are an ineffective policy response to pre-
vent metal theft from public infrastructure.'
BIR recommends considering other ways of preventing theft
and protecting public assets:
• Supporting legitimate recycling businesses by closing ille-
gal operations, unregulated scrap yards and unregulated
metalworks and foundries.
• Protecting public infrastructure by marking metals; install-
ing monitors of power, or of data or other parameters such
as the voltage drop on cables to indicate a theft is taking
place; by joining forces with police and industry security
patrols to catch criminals in the act.
• Ensuring the traceability of scrap metal from industry and
consumers that enter legitimate recycling enterprises.
• Introducing stronger penalties for the destruction and theft
of infrastructure.
BIR says it 'stands ready' to engage with the South African
government or any other national authority in the efforts to
limit metal theft, without resorting to a ban on scrap exports.
54-55-56-57-58-59_trendsupdates.indd 56 12-09-2022 14:43