Our latest issue
Subscribe
Page 55 from: Our latest issue
TRENDS & UPDATES 55recyclinginternational.com | September/October | 2022 Fotobijschrift HELP US MAKE GREEN STEEL, SAY UK PRODUCERS UK steel producers have called for a renewed focus on positive policies to help them meet rigorou...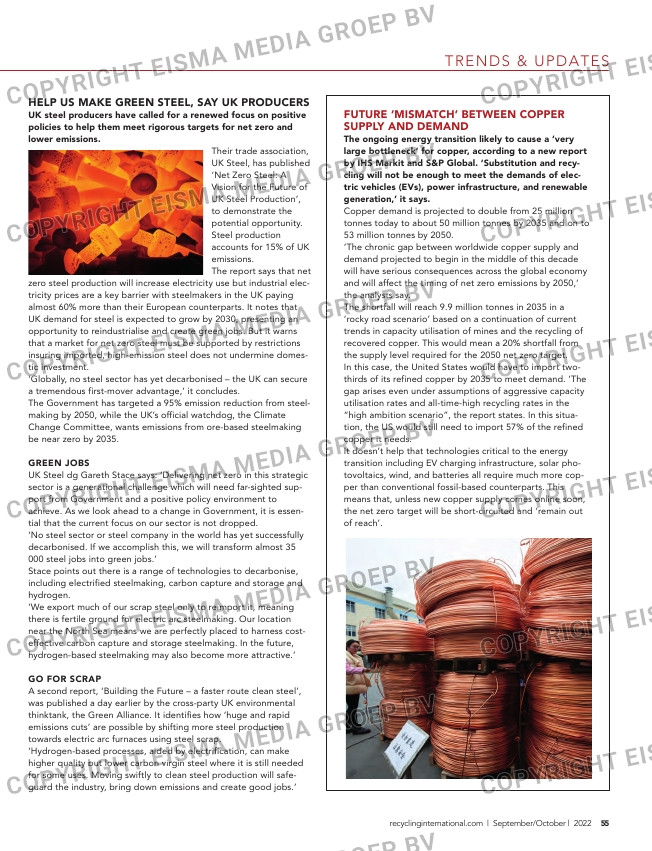 TRENDS & UPDATES
55recyclinginternational.com | September/October | 2022
Fotobijschrift
HELP US MAKE GREEN STEEL, SAY UK PRODUCERS
UK steel producers have called for a renewed focus on positive
policies to help them meet rigorous targets for net zero and
lower emissions.
Their trade association,
UK Steel, has published
'Net Zero Steel: A
Vision for the Future of
UK Steel Production',
to demonstrate the
potential opportunity.
Steel production
accounts for 15% of UK
emissions.
The report says that net
zero steel production will increase electricity use but industrial elec-
tricity prices are a key barrier with steelmakers in the UK paying
almost 60% more than their European counterparts. It notes that
UK demand for steel is expected to grow by 2030, presenting an
opportunity to reindustrialise and create green jobs. But it warns
that a market for net zero steel must be supported by restrictions
insuring imported, high-emission steel does not undermine domes-
tic investment.
'Globally, no steel sector has yet decarbonised – the UK can secure
a tremendous first-mover advantage,' it concludes.
The Government has targeted a 95% emission reduction from steel-
making by 2050, while the UK's official watchdog, the Climate
Change Committee, wants emissions from ore-based steelmaking
be near zero by 2035.
GREEN JOBS
UK Steel dg Gareth Stace says: 'Delivering net zero in this strategic
sector is a generational challenge which will need far-sighted sup-
port from Government and a positive policy environment to
achieve. As we look ahead to a change in Government, it is essen-
tial that the current focus on our sector is not dropped.
'No steel sector or steel company in the world has yet successfully
decarbonised. If we accomplish this, we will transform almost 35
000 steel jobs into green jobs.'
Stace points out there is a range of technologies to decarbonise,
including electrified steelmaking, carbon capture and storage and
hydrogen.
'We export much of our scrap steel only to reimport it, meaning
there is fertile ground for electric arc steelmaking. Our location
near the North Sea means we are perfectly placed to harness cost-
effective carbon capture and storage steelmaking. In the future,
hydrogen-based steelmaking may also become more attractive.'
GO FOR SCRAP
A second report, 'Building the Future – a faster route clean steel',
was published a day earlier by the cross-party UK environmental
thinktank, the Green Alliance. It identifies how 'huge and rapid
emissions cuts' are possible by shifting more steel production
towards electric arc furnaces using steel scrap.
'Hydrogen-based processes, aided by electrification, can make
higher quality but lower carbon virgin steel where it is still needed
for some uses. Moving swiftly to clean steel production will safe-
guard the industry, bring down emissions and create good jobs.'
Are recyclers
getting lost
in the Lithium
Triangle?

pensated. Biodiversity is another issue
as it's been documented that Chile's
flamingo population is at risk. It's yet
unclear what the actual cost of produc-
ing 'green' batteries is.
What I do know is that we've got
awfully good at stripping the Earth of
its natural resources. Our eagerness to
make a profit (and our ambitions to
save the world) tends to block out
scepticism. I can't help but wonder if
the expanding Lithium Triangle is
going to trigger a modern gold rush.
And will it make recycling lithium from
the products we own and ultimately
throw away a very, very last resort?
Take the vapes I mentioned earlier. In
the UK alone, up to 10 tonnes of lithi-
um hidden inside these devices is
dumped in landfills each year. It's hard
to imagine all this valuable metal going
up in smoke.
I'll leave you with my favourite eco-
friendly word: 'urban mine'. Statista
researchers calculate approximately
345 000 tonnes of battery metals –
mostly manganese – are lying in wait in
Europe right now. About 17 000
tonnes of secondary lithium is ready to
be recycled. Serious numbers; serious
potential. What are we doing about
that?
FUTURE 'MISMATCH' BETWEEN COPPER
SUPPLY AND DEMAND
The ongoing energy transition likely to cause a 'very
large bottleneck' for copper, according to a new report
by IHS Markit and S&P Global. 'Substitution and recy-
cling will not be enough to meet the demands of elec-
tric vehicles (EVs), power infrastructure, and renewable
generation,' it says.
Copper demand is projected to double from 25 million
tonnes today to about 50 million tonnes by 2035 and on to
53 million tonnes by 2050.
'The chronic gap between worldwide copper supply and
demand projected to begin in the middle of this decade
will have serious consequences across the global economy
and will affect the timing of net zero emissions by 2050,'
the analysts say.
The shortfall will reach 9.9 million tonnes in 2035 in a
'rocky road scenario' based on a continuation of current
trends in capacity utilisation of mines and the recycling of
recovered copper. This would mean a 20% shortfall from
the supply level required for the 2050 net zero target.
In this case, the United States would have to import two-
thirds of its refined copper by 2035 to meet demand. 'The
gap arises even under assumptions of aggressive capacity
utilisation rates and all-time-high recycling rates in the
"high ambition scenario", the report states. In this situa-
tion, the US would still need to import 57% of the refined
copper it needs.
It doesn't help that technologies critical to the energy
transition including EV charging infrastructure, solar pho-
tovoltaics, wind, and batteries all require much more cop-
per than conventional fossil-based counterparts. This
means that, unless new copper supply comes online soon,
the net zero target will be short-circuited and 'remain out
of reach'.
54-55-56-57-58-59_trendsupdates.indd 55 12-09-2022 14:43