Our latest issue
Subscribe
Page 53 from: Our latest issue
53recyclinginternational.com | September/October | 2022 CONFERENCE REPORT the new recycling targets might be hindered. Robust sorting and collec- tion infrastructure is a must to increase stable feedstocks for European recyclers....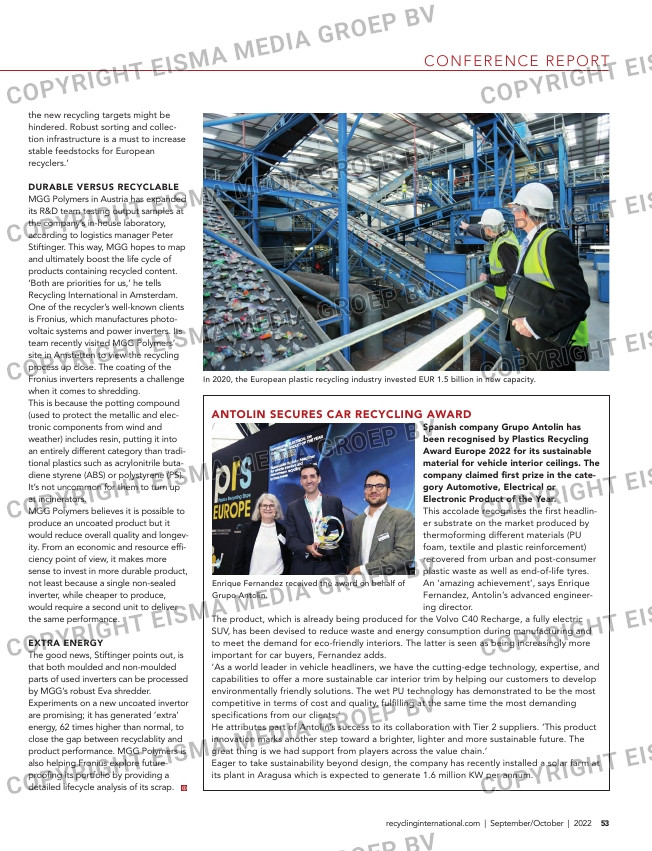 53recyclinginternational.com | September/October | 2022
CONFERENCE REPORT
the new recycling targets might be
hindered. Robust sorting and collec-
tion infrastructure is a must to increase
stable feedstocks for European
recyclers.'
DURABLE VERSUS RECYCLABLE
MGG Polymers in Austria has expanded
its R&D team testing output samples at
the company's in-house laboratory,
according to logistics manager Peter
Stiftinger. This way, MGG hopes to map
and ultimately boost the life cycle of
products containing recycled content.
'Both are priorities for us,' he tells
Recycling International in Amsterdam.
One of the recycler's well-known clients
is Fronius, which manufactures photo-
voltaic systems and power inverters. Its
team recently visited MGG Polymers'
site in Amstetten to view the recycling
process up close. The coating of the
Fronius inverters represents a challenge
when it comes to shredding.
This is because the potting compound
(used to protect the metallic and elec-
tronic components from wind and
weather) includes resin, putting it into
an entirely different category than tradi-
tional plastics such as acrylonitrile buta-
diene styrene (ABS) or polystyrene (PS).
It's not uncommon for them to turn up
at incinerators.
MGG Polymers believes it is possible to
produce an uncoated product but it
would reduce overall quality and longev-
ity. From an economic and resource effi-
ciency point of view, it makes more
sense to invest in more durable product,
not least because a single non-sealed
inverter, while cheaper to produce,
would require a second unit to deliver
the same performance.
EXTRA ENERGY
The good news, Stiftinger points out, is
that both moulded and non-moulded
parts of used inverters can be processed
by MGG's robust Eva shredder.
Experiments on a new uncoated invertor
are promising; it has generated 'extra'
energy, 62 times higher than normal, to
close the gap between recyclablity and
product performance. MGG Polymers is
also helping Fronius explore future-
proofing its portfolio by providing a
detailed lifecycle analysis of its scrap.
Fotobijschrift
KADERKOP
??
In 2020, the European plastic recycling industry invested EUR 1.5 billion in new capacity.
ANTOLIN SECURES CAR RECYCLING AWARD
Spanish company Grupo Antolin has
been recognised by Plastics Recycling
Award Europe 2022 for its sustainable
material for vehicle interior ceilings. The
company claimed first prize in the cate-
gory Automotive, Electrical or
Electronic Product of the Year.
This accolade recognises the first headlin-
er substrate on the market produced by
thermoforming different materials (PU
foam, textile and plastic reinforcement)
recovered from urban and post-consumer
plastic waste as well as end-of-life tyres.
An 'amazing achievement', says Enrique
Fernandez, Antolin's advanced engineer-
ing director.
The product, which is already being produced for the Volvo C40 Recharge, a fully electric
SUV, has been devised to reduce waste and energy consumption during manufacturing and
to meet the demand for eco-friendly interiors. The latter is seen as being increasingly more
important for car buyers, Fernandez adds.
'As a world leader in vehicle headliners, we have the cutting-edge technology, expertise, and
capabilities to offer a more sustainable car interior trim by helping our customers to develop
environmentally friendly solutions. The wet PU technology has demonstrated to be the most
competitive in terms of cost and quality, fulfilling at the same time the most demanding
specifications from our clients.'
He attributes part of Antolin's success to its collaboration with Tier 2 suppliers. 'This product
innovation marks another step toward a brighter, lighter and more sustainable future. The
great thing is we had support from players across the value chain.'
Eager to take sustainability beyond design, the company has recently installed a solar farm at
its plant in Aragusa which is expected to generate 1.6 million KW per annum.
Enrique Fernandez received the award on behalf of
Grupo Antolin.
52-53_euplasticsshowhighlights.indd 53 12-09-2022 14:43