Our latest issue
Subscribe
Page 52 from: Our latest issue
52 Scrap shortage slowing down circular plastics? The Plastics Recycling Show Europe, held in Amsterdam at the start of June, wel- comed a record 5 000 visitors and 200 exhibitors from 80 different countries. While it proved to be a st...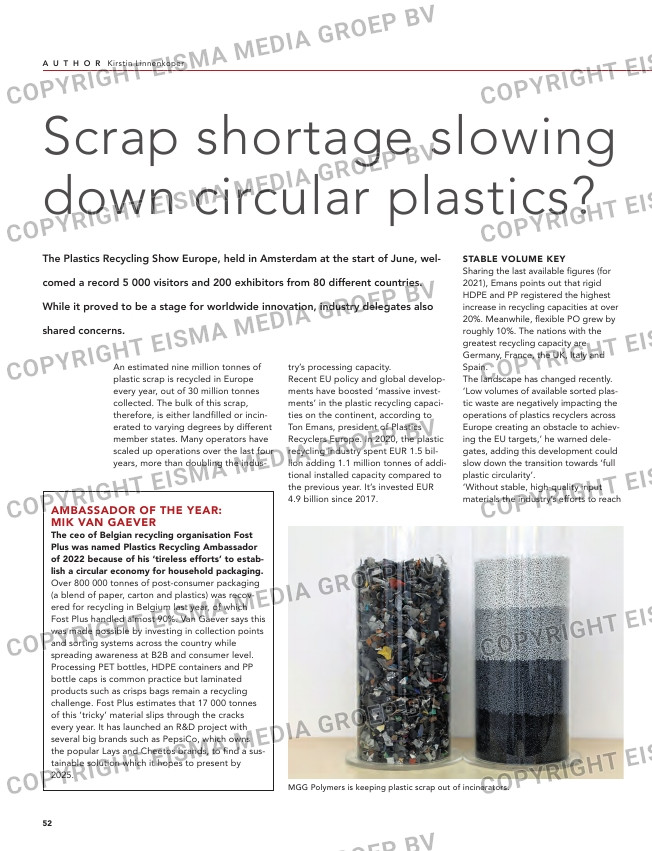 52
Scrap shortage slowing
down circular plastics?
The Plastics Recycling Show Europe, held in Amsterdam at the start of June, wel-
comed a record 5 000 visitors and 200 exhibitors from 80 different countries.
While it proved to be a stage for worldwide innovation, industry delegates also
shared concerns.
the new recycling targets might be
hindered. Robust sorting and collec-
tion infrastructure is a must to increase
stable feedstocks for European
recyclers.'
DURABLE VERSUS RECYCLABLE
MGG Polymers in Austria has expanded
its R&D team testing output samples at
the company's in-house laboratory,
according to logistics manager Peter
Stiftinger. This way, MGG hopes to map
and ultimately boost the life cycle of
products containing recycled content.
'Both are priorities for us,' he tells
Recycling International in Amsterdam.
One of the recycler's well-known clients
is Fronius, which manufactures photo-
voltaic systems and power inverters. Its
team recently visited MGG Polymers'
site in Amstetten to view the recycling
process up close. The coating of the
Fronius inverters represents a challenge
when it comes to shredding.
This is because the potting compound
(used to protect the metallic and elec-
tronic components from wind and
weather) includes resin, putting it into
an entirely different category than tradi-
tional plastics such as acrylonitrile buta-
diene styrene (ABS) or polystyrene (PS).
It's not uncommon for them to turn up
at incinerators.
MGG Polymers believes it is possible to
produce an uncoated product but it
would reduce overall quality and longev-
ity. From an economic and resource effi-
ciency point of view, it makes more
sense to invest in more durable product,
not least because a single non-sealed
inverter, while cheaper to produce,
would require a second unit to deliver
the same performance.
EXTRA ENERGY
The good news, Stiftinger points out, is
that both moulded and non-moulded
parts of used inverters can be processed
by MGG's robust Eva shredder.
Experiments on a new uncoated invertor
are promising; it has generated 'extra'
energy, 62 times higher than normal, to
close the gap between recyclablity and
product performance. MGG Polymers is
also helping Fronius explore future-
proofing its portfolio by providing a
detailed lifecycle analysis of its scrap.
An estimated nine million tonnes of
plastic scrap is recycled in Europe
every year, out of 30 million tonnes
collected. The bulk of this scrap,
therefore, is either landfilled or incin-
erated to varying degrees by different
member states. Many operators have
scaled up operations over the last four
years, more than doubling the indus-
try's processing capacity.
Recent EU policy and global develop-
ments have boosted 'massive invest-
ments' in the plastic recycling capaci-
ties on the continent, according to
Ton Emans, president of Plastics
Recyclers Europe. In 2020, the plastic
recycling industry spent EUR 1.5 bil-
lion adding 1.1 million tonnes of addi-
tional installed capacity compared to
the previous year. It's invested EUR
4.9 billion since 2017.
STABLE VOLUME KEY
Sharing the last available figures (for
2021), Emans points out that rigid
HDPE and PP registered the highest
increase in recycling capacities at over
20%. Meanwhile, flexible PO grew by
roughly 10%. The nations with the
greatest recycling capacity are
Germany, France, the UK, Italy and
Spain.
The landscape has changed recently.
'Low volumes of available sorted plas-
tic waste are negatively impacting the
operations of plastics recyclers across
Europe creating an obstacle to achiev-
ing the EU targets,' he warned dele-
gates, adding this development could
slow down the transition towards 'full
plastic circularity'.
'Without stable, high-quality input
materials the industry's efforts to reach
A U T H O R Kirstin Linnenkoper
MGG Polymers is keeping plastic scrap out of incinerators.
AMBASSADOR OF THE YEAR:
MIK VAN GAEVER
The ceo of Belgian recycling organisation Fost
Plus was named Plastics Recycling Ambassador
of 2022 because of his 'tireless efforts' to estab-
lish a circular economy for household packaging.
Over 800 000 tonnes of post-consumer packaging
(a blend of paper, carton and plastics) was recov-
ered for recycling in Belgium last year, of which
Fost Plus handled almost 90%. Van Gaever says this
was made possible by investing in collection points
and sorting systems across the country while
spreading awareness at B2B and consumer level.
Processing PET bottles, HDPE containers and PP
bottle caps is common practice but laminated
products such as crisps bags remain a recycling
challenge. Fost Plus estimates that 17 000 tonnes
of this 'tricky' material slips through the cracks
every year. It has launched an R&D project with
several big brands such as PepsiCo, which owns
the popular Lays and Cheetos brands, to find a sus-
tainable solution which it hopes to present by
2025.
52-53_euplasticsshowhighlights.indd 52 12-09-2022 14:43