Our latest issue
Subscribe
Page 51 from: Our latest issue
SECOND LIFE 51recyclinginternational.com | September/October | 2022 cled into secondary raw materials. Around 5% is incinerated with energy recovery, yielding a total recovery rate of just under 95%. 'We monitor these figures cl...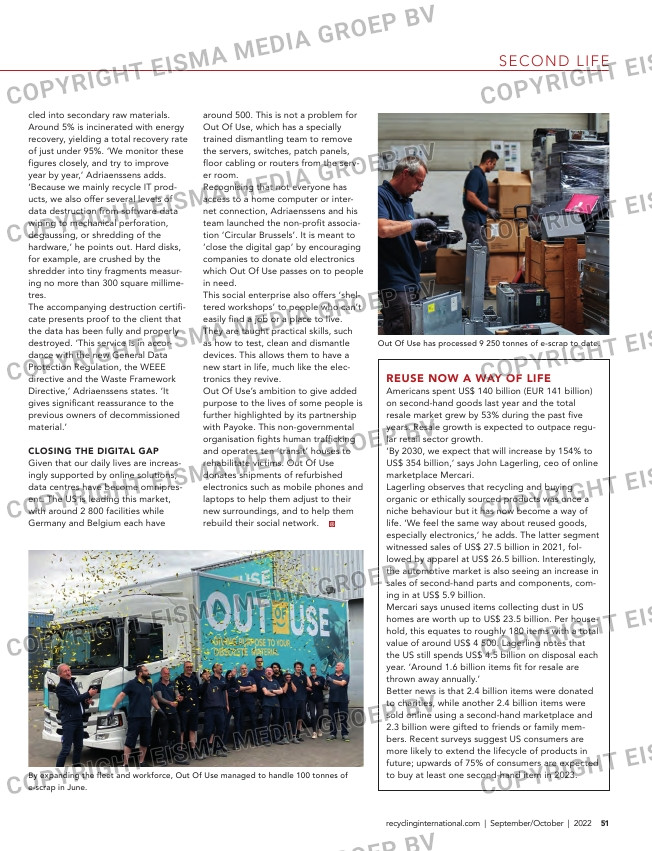 SECOND LIFE
51recyclinginternational.com | September/October | 2022
cled into secondary raw materials.
Around 5% is incinerated with energy
recovery, yielding a total recovery rate
of just under 95%. 'We monitor these
figures closely, and try to improve
year by year,' Adriaenssens adds.
'Because we mainly recycle IT prod-
ucts, we also offer several levels of
data destruction from software data
wiping to mechanical perforation,
degaussing, or shredding of the
hardware,' he points out. Hard disks,
for example, are crushed by the
shredder into tiny fragments measur-
ing no more than 300 square millime-
tres.
The accompanying destruction certifi-
cate presents proof to the client that
the data has been fully and properly
destroyed. 'This service is in accor-
dance with the new General Data
Protection Regulation, the WEEE
directive and the Waste Framework
Directive,' Adriaenssens states. 'It
gives significant reassurance to the
previous owners of decommissioned
material.'
CLOSING THE DIGITAL GAP
Given that our daily lives are increas-
ingly supported by online solutions,
data centres have become omnipres-
ent. The US is leading this market,
with around 2 800 facilities while
Germany and Belgium each have
around 500. This is not a problem for
Out Of Use, which has a specially
trained dismantling team to remove
the servers, switches, patch panels,
floor cabling or routers from the serv-
er room.
Recognising that not everyone has
access to a home computer or inter-
net connection, Adriaenssens and his
team launched the non-profit associa-
tion 'Circular Brussels'. It is meant to
'close the digital gap' by encouraging
companies to donate old electronics
which Out Of Use passes on to people
in need.
This social enterprise also offers 'shel-
tered workshops' to people who can't
easily find a job or a place to live.
They are taught practical skills, such
as how to test, clean and dismantle
devices. This allows them to have a
new start in life, much like the elec-
tronics they revive.
Out Of Use's ambition to give added
purpose to the lives of some people is
further highlighted by its partnership
with Payoke. This non-governmental
organisation fights human trafficking
and operates ten 'transit' houses to
rehabilitate victims. Out Of Use
donates shipments of refurbished
electronics such as mobile phones and
laptops to help them adjust to their
new surroundings, and to help them
rebuild their social network.
Fotobijschrift
KADERKOP
??
By expanding the fleet and workforce, Out Of Use managed to handle 100 tonnes of
e-scrap in June.
Out Of Use has processed 9 250 tonnes of e-scrap to date.
REUSE NOW A WAY OF LIFE
Americans spent US$ 140 billion (EUR 141 billion)
on second-hand goods last year and the total
resale market grew by 53% during the past five
years. Resale growth is expected to outpace regu-
lar retail sector growth.
'By 2030, we expect that will increase by 154% to
US$ 354 billion,' says John Lagerling, ceo of online
marketplace Mercari.
Lagerling observes that recycling and buying
organic or ethically sourced products was once a
niche behaviour but it has now become a way of
life. 'We feel the same way about reused goods,
especially electronics,' he adds. The latter segment
witnessed sales of US$ 27.5 billion in 2021, fol-
lowed by apparel at US$ 26.5 billion. Interestingly,
the automotive market is also seeing an increase in
sales of second-hand parts and components, com-
ing in at US$ 5.9 billion.
Mercari says unused items collecting dust in US
homes are worth up to US$ 23.5 billion. Per house-
hold, this equates to roughly 180 items with a total
value of around US$ 4 500. Lagerling notes that
the US still spends US$ 4.5 billion on disposal each
year. 'Around 1.6 billion items fit for resale are
thrown away annually.'
Better news is that 2.4 billion items were donated
to charities, while another 2.4 billion items were
sold online using a second-hand marketplace and
2.3 billion were gifted to friends or family mem-
bers. Recent surveys suggest US consumers are
more likely to extend the lifecycle of products in
future; upwards of 75% of consumers are expected
to buy at least one second-hand item in 2023.
50-51_secondlife.indd 51 12-09-2022 14:42