Our latest issue
Subscribe
Page 50 from: Our latest issue
50 Old tech doesn't have to go out of style Whether it's businesses or consumers, people in both camps have realised the value of reviving electronics. They can save money when buying 'new' equipment while making money selling...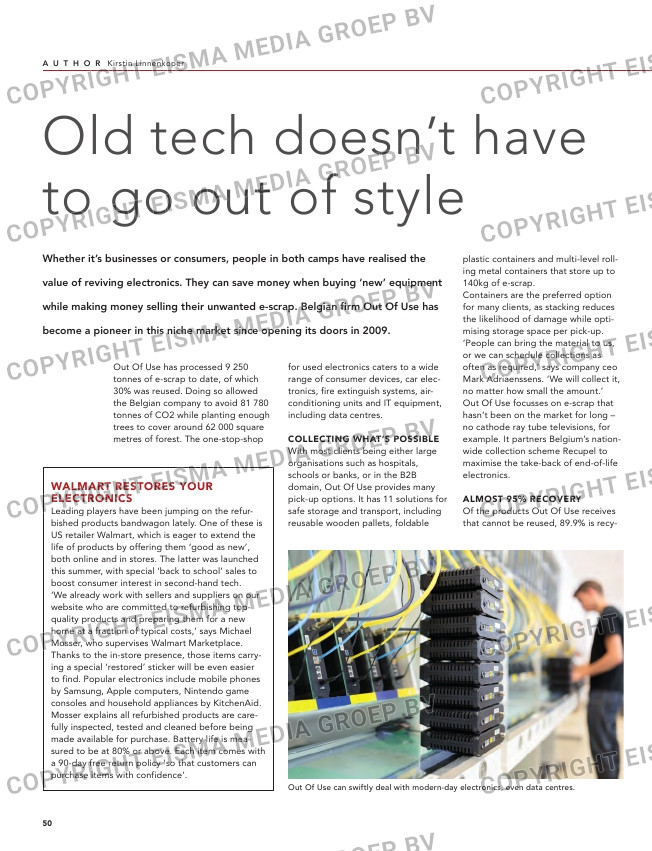 50
Old tech doesn't have
to go out of style
Whether it's businesses or consumers, people in both camps have realised the
value of reviving electronics. They can save money when buying 'new' equipment
while making money selling their unwanted e-scrap. Belgian firm Out Of Use has
become a pioneer in this niche market since opening its doors in 2009.
cled into secondary raw materials.
Around 5% is incinerated with energy
recovery, yielding a total recovery rate
of just under 95%. 'We monitor these
figures closely, and try to improve
year by year,' Adriaenssens adds.
'Because we mainly recycle IT prod-
ucts, we also offer several levels of
data destruction from software data
wiping to mechanical perforation,
degaussing, or shredding of the
hardware,' he points out. Hard disks,
for example, are crushed by the
shredder into tiny fragments measur-
ing no more than 300 square millime-
tres.
The accompanying destruction certifi-
cate presents proof to the client that
the data has been fully and properly
destroyed. 'This service is in accor-
dance with the new General Data
Protection Regulation, the WEEE
directive and the Waste Framework
Directive,' Adriaenssens states. 'It
gives significant reassurance to the
previous owners of decommissioned
material.'
CLOSING THE DIGITAL GAP
Given that our daily lives are increas-
ingly supported by online solutions,
data centres have become omnipres-
ent. The US is leading this market,
with around 2 800 facilities while
Germany and Belgium each have
Out Of Use has processed 9 250
tonnes of e-scrap to date, of which
30% was reused. Doing so allowed
the Belgian company to avoid 81 780
tonnes of CO2 while planting enough
trees to cover around 62 000 square
metres of forest. The one-stop-shop
for used electronics caters to a wide
range of consumer devices, car elec-
tronics, fire extinguish systems, air-
conditioning units and IT equipment,
including data centres.
COLLECTING WHAT'S POSSIBLE
With most clients being either large
organisations such as hospitals,
schools or banks, or in the B2B
domain, Out Of Use provides many
pick-up options. It has 11 solutions for
safe storage and transport, including
reusable wooden pallets, foldable
plastic containers and multi-level roll-
ing metal containers that store up to
140kg of e-scrap.
Containers are the preferred option
for many clients, as stacking reduces
the likelihood of damage while opti-
mising storage space per pick-up.
'People can bring the material to us,
or we can schedule collections as
often as required,' says company ceo
Mark Adriaenssens. 'We will collect it,
no matter how small the amount.'
Out Of Use focusses on e-scrap that
hasn't been on the market for long –
no cathode ray tube televisions, for
example. It partners Belgium's nation-
wide collection scheme Recupel to
maximise the take-back of end-of-life
electronics.
ALMOST 95% RECOVERY
Of the products Out Of Use receives
that cannot be reused, 89.9% is recy-
A U T H O R Kirstin Linnenkoper
Out Of Use can swiftly deal with modern-day electronics, even data centres.
By expanding the fleet and workforce, Out Of Use managed to handle 100 tonnes of
e-scrap in June.
WALMART RESTORES YOUR
ELECTRONICS
Leading players have been jumping on the refur-
bished products bandwagon lately. One of these is
US retailer Walmart, which is eager to extend the
life of products by offering them 'good as new',
both online and in stores. The latter was launched
this summer, with special 'back to school' sales to
boost consumer interest in second-hand tech.
'We already work with sellers and suppliers on our
website who are committed to refurbishing top-
quality products and preparing them for a new
home at a fraction of typical costs,' says Michael
Mosser, who supervises Walmart Marketplace.
Thanks to the in-store presence, those items carry-
ing a special 'restored' sticker will be even easier
to find. Popular electronics include mobile phones
by Samsung, Apple computers, Nintendo game
consoles and household appliances by KitchenAid.
Mosser explains all refurbished products are care-
fully inspected, tested and cleaned before being
made available for purchase. Battery life is mea-
sured to be at 80% or above. Each item comes with
a 90-day free return policy 'so that customers can
purchase items with confidence'.
50-51_secondlife.indd 50 12-09-2022 14:42