Our latest issue
Subscribe
Page 46 from: Our latest issue
Sorting light metals at light speed Sensor-based sorting systems are commonplace. One challenge for recyclers is sorting light elements, particularly aluminium and magnesium, and determining aluminium alloys. Ocean Insight has...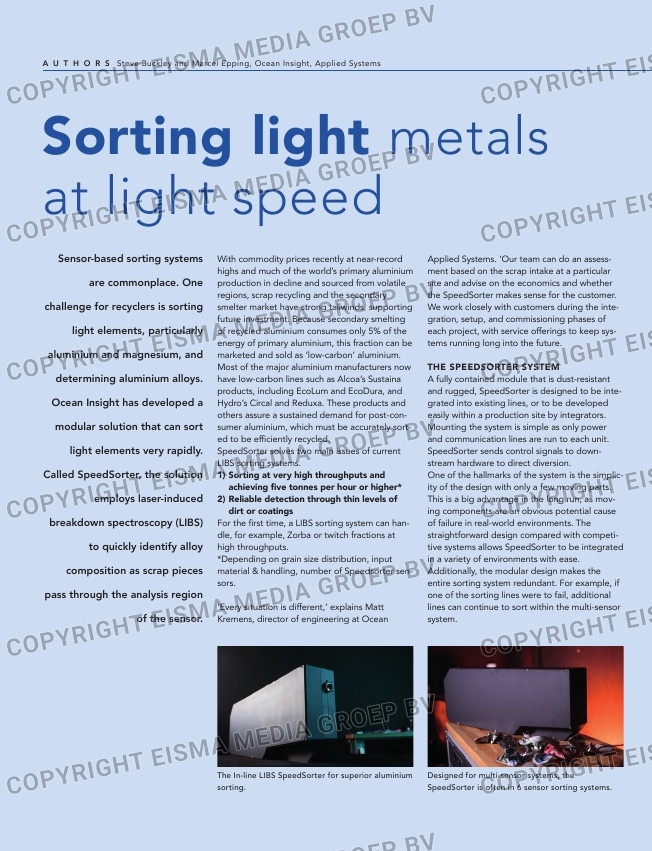 Sorting light metals
at light speed
Sensor-based sorting systems
are commonplace. One
challenge for recyclers is sorting
light elements, particularly
aluminium and magnesium, and
determining aluminium alloys.
Ocean Insight has developed a
modular solution that can sort
light elements very rapidly.
Called SpeedSorter, the solution
employs laser-induced
breakdown spectroscopy (LIBS)
to quickly identify alloy
composition as scrap pieces
pass through the analysis region
of the sensor.
With commodity prices recently at near-record
highs and much of the world's primary aluminium
production in decline and sourced from volatile
regions, scrap recycling and the secondary
smelter market have strong tailwinds, supporting
future investment. Because secondary smelting
of recycled aluminium consumes only 5% of the
energy of primary aluminium, this fraction can be
marketed and sold as 'low-carbon' aluminium.
Most of the major aluminium manufacturers now
have low-carbon lines such as Alcoa's Sustaina
products, including EcoLum and EcoDura, and
Hydro's Circal and Reduxa. These products and
others assure a sustained demand for post-con-
sumer aluminium, which must be accurately sort-
ed to be efficiently recycled.
SpeedSorter solves two main issues of current
LIBS sorting systems.
1) Sorting at very high throughputs and
achieving five tonnes per hour or higher*
2) Reliable detection through thin levels of
dirt or coatings
For the first time, a LIBS sorting system can han-
dle, for example, Zorba or twitch fractions at
high throughputs.
*Depending on grain size distribution, input
material & handling, number of Speedsorter sen-
sors.
'Every situation is different,' explains Matt
Kremens, director of engineering at Ocean
Applied Systems. 'Our team can do an assess-
ment based on the scrap intake at a particular
site and advise on the economics and whether
the SpeedSorter makes sense for the customer.
We work closely with customers during the inte-
gration, setup, and commissioning phases of
each project, with service offerings to keep sys-
tems running long into the future.
THE SPEEDSORTER SYSTEM
A fully contained module that is dust-resistant
and rugged, SpeedSorter is designed to be inte-
grated into existing lines, or to be developed
easily within a production site by integrators.
Mounting the system is simple as only power
and communication lines are run to each unit.
SpeedSorter sends control signals to down-
stream hardware to direct diversion.
One of the hallmarks of the system is the simplic-
ity of the design with only a few moving parts.
This is a big advantage in the long run, as mov-
ing components are an obvious potential cause
of failure in real-world environments. The
straightforward design compared with competi-
tive systems allows SpeedSorter to be integrated
in a variety of environments with ease.
Additionally, the modular design makes the
entire sorting system redundant. For example, if
one of the sorting lines were to fail, additional
lines can continue to sort within the multi-sensor
system.
HOW DOES IT WORK?
SpeedSorter uses a powerful laser to make a
series of sparks on the metal pieces as they pass
by. The laser ablates material from the piece of
scrap, and this ablated material is consumed into
a plasma, which we see as a spark (also called a
'breakdown'). The light from the spark is anal-
ysed by an extremely fast spectrometer, identify-
ing emissions from each of the elements in the
alloy. Piece by piece, the elemental composition
is identified and the individual scrap pieces are
diverted into the proper stream, unlocking addi-
tional value from aluminium scrap.
LIBS is on the Nasa Mars rovers, with a system
developed by Los Alamos and using spectrome-
ter technology from Ocean Insight. On the
Curiosity rover, LIBS was deployed in the
ChemCam instrument to investigate the geology
of Mars, zapping rock samples up to seven
metres from the rover. Hence scrap sorting using
Ocean's SpeedSorter systems can correctly claim
to be using technology that is 'out of this world'.
ECONOMIC BENEFITS
The average price globally for Zorba in mid-
August was around US$ 800-900 per tonne.
Meanwhile, high-value alloys such as 6061 or
6063 were valued higher at US$ 1 300 per
tonne. Deploying SpeedSorter technology can
unlock incredible value.
Consider the base case of mixed aluminium with
33% 6061 or 6063 mixed in. In a conservative
case, feeding 0.5 tonne per hour of Zorba per
sensor (three tonnes per hour with six
SpeedSorters), for six hours would yield a tonne
of 6061 or 6063 and two tonnes of standard
scrap, unlocking up to US$ 500 of value. With
varying sortation rates and different mixtures,
the economics can be calculated to determine
the payback for almost any situation. For multi-
sensor systems at current scrap prices, the typi-
cal payback period is less than nine months.
MOVING FORWARD
LIBS technology is one of the key developments
A U T H O R S Steve Buckley and Marcel Epping, Ocean Insight, Applied Systems
The In-line LIBS SpeedSorter for superior aluminium
sorting.
Designed for multi-sensor systems, the
SpeedSorter is often in 6 sensor sorting systems.
Similar LIBS technology is used to identify elements
on Mars.
46-47_oceaninsight.indd 46 12-09-2022 14:42