Our latest issue
Subscribe
Page 45 from: Our latest issue
SHIP RECYCLING 45recyclinginternational.com | September/October | 2022 Slobodan Kecic: 'Protectionism is part of the foundation of all industries, including ours.' focus on the standards, not on the methods. When we think of b...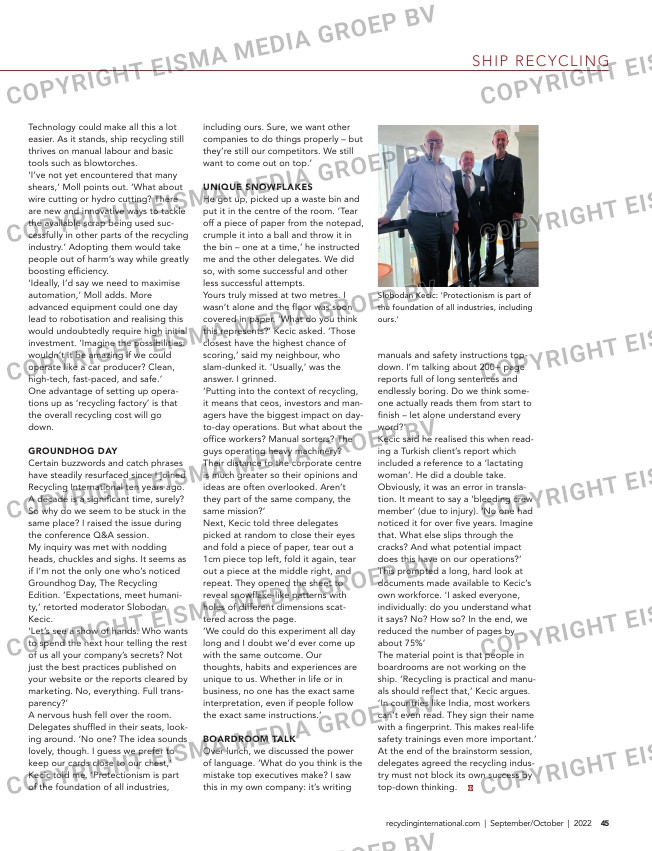 SHIP RECYCLING
45recyclinginternational.com | September/October | 2022
Slobodan Kecic: 'Protectionism is part of
the foundation of all industries, including
ours.'
focus on the standards, not on the
methods. When we think of beaching,
we think of the worst possible scenar-
io. This isn't always the reality. There
are exceptions. We need to phase out
sub-standard sites. Meanwhile, let's
keep in mind that not only sites ratified
by the HKC (Hong Kong Convention)
count as "good guys", OK?'
Andrew Stephens, director of the
Sustainable Ship Transparency
Initiative, advocating a voluntary mar-
ket-driven approach to responsible
practices, believes countries and com-
panies are on a learning curve. He
reports that Seaspan has just joined
the initiative for ship owners to dis-
close their best practices. Maersk and
Crowley Holdings are prominent
members, although they recycle a ves-
sel maybe once every 30 or 40 years.
'We don't rank them, we just share
information with other market play-
ers,' Stephens points out. 'Everyone is
on their own journey. Some are further
along than others or take it more seri-
ously. We're there to offer clarity.'
He believes the tonnage of the global
fleet will 'practically quadruple' by
2033, due to year-on-year growth,
larger ships and new technologies.
WHAT'S NEXT?
Three main trends are on the horizon
for ship recyclers, according to Moll.
'First of all, green steel will drive
demand and price for scrap steel.
Second, the tonnage offered for recy-
cling will increase and, finally, ship
owners will steer more towards proper
recycling channels.'
One factor is the steel industry's drive
to use more scrap steel and it 'has its
eyes' on the ship recycling sector. 'It's
promising that the US has agreed to
not put a levy on green steel imports,'
Moll adds.
Based on current market figures, he
thinks additional EU-approved capaci-
ty will be required in the next five to
eight years. 'Vessels in the container
segment, especially, are getting big-
ger. This will squeeze capacity but
let's remember there is a large differ-
ence between theoretical capacity
and capacity used.'
Technology could make all this a lot
easier. As it stands, ship recycling still
thrives on manual labour and basic
tools such as blowtorches.
'I've not yet encountered that many
shears,' Moll points out. 'What about
wire cutting or hydro cutting? There
are new and innovative ways to tackle
the available scrap being used suc-
cessfully in other parts of the recycling
industry.' Adopting them would take
people out of harm's way while greatly
boosting efficiency.
'Ideally, I'd say we need to maximise
automation,' Moll adds. More
advanced equipment could one day
lead to robotisation and realising this
would undoubtedly require high initial
investment. 'Imagine the possibilities:
wouldn't it be amazing if we could
operate like a car producer? Clean,
high-tech, fast-paced, and safe.'
One advantage of setting up opera-
tions up as 'recycling factory' is that
the overall recycling cost will go
down.
GROUNDHOG DAY
Certain buzzwords and catch phrases
have steadily resurfaced since I joined
Recycling International ten years ago.
A decade is a significant time, surely?
So why do we seem to be stuck in the
same place? I raised the issue during
the conference Q&A session.
My inquiry was met with nodding
heads, chuckles and sighs. It seems as
if I'm not the only one who's noticed
Groundhog Day, The Recycling
Edition. 'Expectations, meet humani-
ty,' retorted moderator Slobodan
Kecic.
'Let's see a show of hands. Who wants
to spend the next hour telling the rest
of us all your company's secrets? Not
just the best practices published on
your website or the reports cleared by
marketing. No, everything. Full trans-
parency?'
A nervous hush fell over the room.
Delegates shuffled in their seats, look-
ing around. 'No one? The idea sounds
lovely, though. I guess we prefer to
keep our cards close to our chest,'
Kecic told me. 'Protectionism is part
of the foundation of all industries,
including ours. Sure, we want other
companies to do things properly – but
they're still our competitors. We still
want to come out on top.'
UNIQUE SNOWFLAKES
He got up, picked up a waste bin and
put it in the centre of the room. 'Tear
off a piece of paper from the notepad,
crumple it into a ball and throw it in
the bin – one at a time,' he instructed
me and the other delegates. We did
so, with some successful and other
less successful attempts.
Yours truly missed at two metres. I
wasn't alone and the floor was soon
covered in paper. 'What do you think
this represents?' Kecic asked. 'Those
closest have the highest chance of
scoring,' said my neighbour, who
slam-dunked it. 'Usually,' was the
answer. I grinned.
'Putting into the context of recycling,
it means that ceos, investors and man-
agers have the biggest impact on day-
to-day operations. But what about the
office workers? Manual sorters? The
guys operating heavy machinery?
Their distance to the corporate centre
is much greater so their opinions and
ideas are often overlooked. Aren't
they part of the same company, the
same mission?'
Next, Kecic told three delegates
picked at random to close their eyes
and fold a piece of paper, tear out a
1cm piece top left, fold it again, tear
out a piece at the middle right, and
repeat. They opened the sheet to
reveal snowflake-like patterns with
holes of different dimensions scat-
tered across the page.
'We could do this experiment all day
long and I doubt we'd ever come up
with the same outcome. Our
thoughts, habits and experiences are
unique to us. Whether in life or in
business, no one has the exact same
interpretation, even if people follow
the exact same instructions.'
BOARDROOM TALK
Over lunch, we discussed the power
of language. 'What do you think is the
mistake top executives make? I saw
this in my own company: it's writing
manuals and safety instructions top-
down. I'm talking about 200+ page
reports full of long sentences and
endlessly boring. Do we think some-
one actually reads them from start to
finish – let alone understand every
word?'
Kecic said he realised this when read-
ing a Turkish client's report which
included a reference to a 'lactating
woman'. He did a double take.
Obviously, it was an error in transla-
tion. It meant to say a 'bleeding crew
member' (due to injury). 'No one had
noticed it for over five years. Imagine
that. What else slips through the
cracks? And what potential impact
does this have on our operations?'
This prompted a long, hard look at
documents made available to Kecic's
own workforce. 'I asked everyone,
individually: do you understand what
it says? No? How so? In the end, we
reduced the number of pages by
about 75%'
The material point is that people in
boardrooms are not working on the
ship. 'Recycling is practical and manu-
als should reflect that,' Kecic argues.
'In countries like India, most workers
can't even read. They sign their name
with a fingerprint. This makes real-life
safety trainings even more important.'
At the end of the brainstorm session,
delegates agreed the recycling indus-
try must not block its own success by
top-down thinking.
42-43-44-45_shiprecyclingupdate.indd 45 12-09-2022 14:41