Our latest issue
Subscribe
Page 40 from: Our latest issue
HAMMERMILLS: EXPERIENCE, INNOVATION, INTEGRITY Hammermills International in the USA and Hammermills in the UK (collectively HMI) have been in business for decades and offer products and services to customers across North Ameri...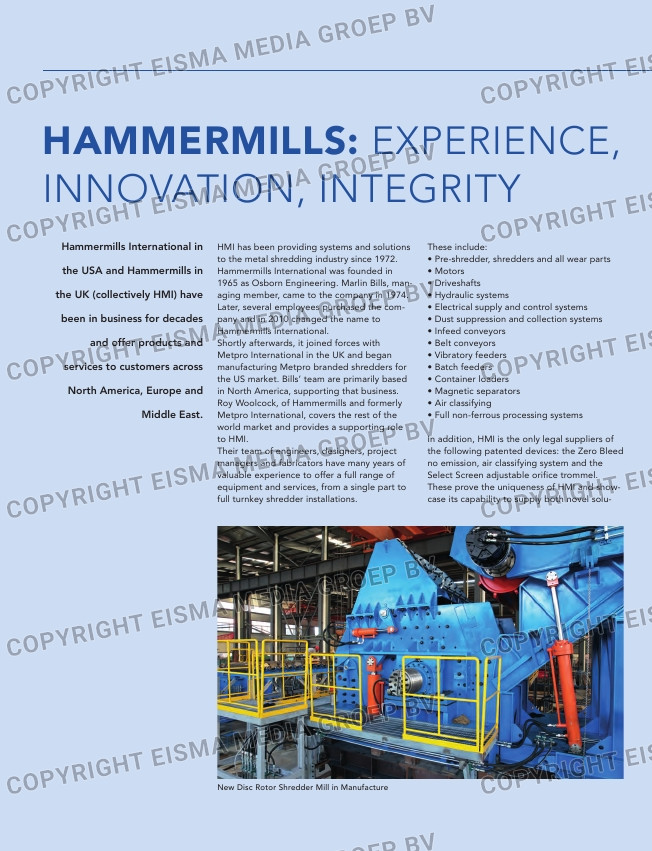 HAMMERMILLS: EXPERIENCE,
INNOVATION, INTEGRITY
Hammermills International in
the USA and Hammermills in
the UK (collectively HMI) have
been in business for decades
and offer products and
services to customers across
North America, Europe and
Middle East.
HMI has been providing systems and solutions
to the metal shredding industry since 1972.
Hammermills International was founded in
1965 as Osborn Engineering. Marlin Bills, man-
aging member, came to the company in 1974.
Later, several employees purchased the com-
pany and in 2010 changed the name to
Hammermills International.
Shortly afterwards, it joined forces with
Metpro International in the UK and began
manufacturing Metpro branded shredders for
the US market. Bills' team are primarily based
in North America, supporting that business.
Roy Woolcock, of Hammermills and formerly
Metpro International, covers the rest of the
world market and provides a supporting role
to HMI.
Their team of engineers, designers, project
managers and fabricators have many years of
valuable experience to offer a full range of
equipment and services, from a single part to
full turnkey shredder installations.
These include:
• Pre-shredder, shredders and all wear parts
• Motors
• Driveshafts
• Hydraulic systems
• Electrical supply and control systems
• Dust suppression and collection systems
• Infeed conveyors
• Belt conveyors
• Vibratory feeders
• Batch feeders
• Container loaders
• Magnetic separators
• Air classifying
• Full non-ferrous processing systems
In addition, HMI is the only legal suppliers of
the following patented devices: the Zero Bleed
no emission, air classifying system and the
Select Screen adjustable orifice trommel.
These prove the uniqueness of HMI and show-
case its capability to supply both novel solu-
New Disc Rotor Shredder Mill in Manufacture
tions and remain an asset to its customer base.
Its products are complemented with many ser-
vices, such as plant design engineering and
technical permit assistance, which allows HMI
to deliver state-of-the-art recommendations.
US REGULATION CHANGES
In the past year, HMI has used its significant
and direct experience with dust collection to
offer a solution to the US' EPA Enforcement
Alert in July 2021 which stipulates that many
typical techniques for the suppression of
shredder emission no longer comply with EPA
and state regulatory limits. With a solid experi-
ence base, HMI has supplied approximately 55
shredder dust collection systems (SDCS) which
form the front part of the required emission
capture and control system (ECCS).
This supply of early SDCS dealt primarily with
particulate matter (PM) and visible emissions
(opacity) with some attention paid toward vol-
atile organic compounds (VOC). While many
shredder suppliers focused on suppression, we
gained extensive experience in designing com-
plete systems for many different brands and
sizes of auto shredders. All of our SDCS meet
necessary compliance limits to satisfy local
governing authorities across the US.
Other suppliers had been successful in getting
approval for various types of dust suppression
devices and, because of their lower cost, SDCS
were used less even though they performed at
much higher levels of compliance. The new EPA
alert generally states that suppression will no
longer be accepted and a SDCS is now required.
To address these required designs and addi-
tional specifications from the EPA, specifically
relating to the destruction of VOC and acid
gasses, HMI has begun a new association with
Zenviro Tech US (ZVT).
ZENVIRO TECH US
ZVT is a US-based environmental technology
company that supplies fit-for-purpose treatment
systems for air, water and waste. Its legacy goes
back to the 1950s and its thermal oxidation
experience was started in the 1960s with US
operations beginning in the 1970s. The current
proprietary one-moving part valveless RTO
(VRTO) technology was developed in the 1990s.
It is based in the greater Chicago area and
offers 100% US design, engineering, and fabri-
cation of our systems along with a dedicated
365/24/7 emergency hotline to ensure service
and support and available when needed.
More than 275 VRTO systems have been
40-41_hammermills.indd 40 12-09-2022 15:51