Our latest issue
Subscribe
Page 39 from: Our latest issue
39recyclinginternational.com | September/October | 2022 BUSINESS process. Like most household appli- ances, fridges are also becoming ever more complex because they have more and more electronics within them. New-generation cooler...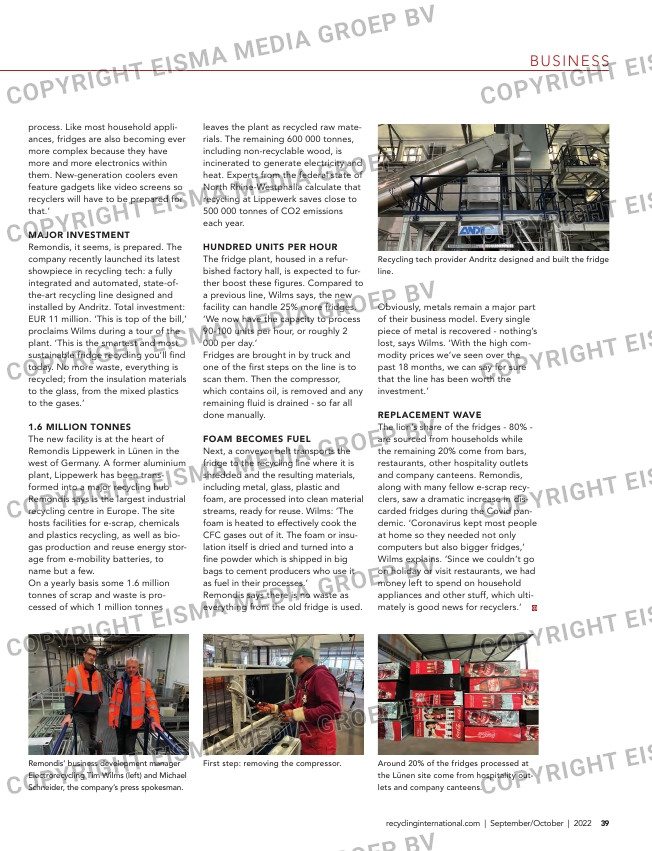 39recyclinginternational.com | September/October | 2022
BUSINESS
process. Like most household appli-
ances, fridges are also becoming ever
more complex because they have
more and more electronics within
them. New-generation coolers even
feature gadgets like video screens so
recyclers will have to be prepared for
that.'
MAJOR INVESTMENT
Remondis, it seems, is prepared. The
company recently launched its latest
showpiece in recycling tech: a fully
integrated and automated, state-of-
the-art recycling line designed and
installed by Andritz. Total investment:
EUR 11 million. 'This is top of the bill,'
proclaims Wilms during a tour of the
plant. 'This is the smartest and most
sustainable fridge recycling you'll find
today. No more waste, everything is
recycled; from the insulation materials
to the glass, from the mixed plastics
to the gases.'
1.6 MILLION TONNES
The new facility is at the heart of
Remondis Lippewerk in Lünen in the
west of Germany. A former aluminium
plant, Lippewerk has been trans-
formed into a major recycling hub
Remondis says is the largest industrial
recycling centre in Europe. The site
hosts facilities for e-scrap, chemicals
and plastics recycling, as well as bio-
gas production and reuse energy stor-
age from e-mobility batteries, to
name but a few.
On a yearly basis some 1.6 million
tonnes of scrap and waste is pro-
cessed of which 1 million tonnes
leaves the plant as recycled raw mate-
rials. The remaining 600 000 tonnes,
including non-recyclable wood, is
incinerated to generate electricity and
heat. Experts from the federal state of
North Rhine-Westphalia calculate that
recycling at Lippewerk saves close to
500 000 tonnes of CO2 emissions
each year.
HUNDRED UNITS PER HOUR
The fridge plant, housed in a refur-
bished factory hall, is expected to fur-
ther boost these figures. Compared to
a previous line, Wilms says, the new
facility can handle 25% more fridges.
'We now have the capacity to process
90-100 units per hour, or roughly 2
000 per day.'
Fridges are brought in by truck and
one of the first steps on the line is to
scan them. Then the compressor,
which contains oil, is removed and any
remaining fluid is drained – so far all
done manually.
FOAM BECOMES FUEL
Next, a conveyor belt transports the
fridge to the recycling line where it is
shredded and the resulting materials,
including metal, glass, plastic and
foam, are processed into clean material
streams, ready for reuse. Wilms: 'The
foam is heated to effectively cook the
CFC gases out of it. The foam or insu-
lation itself is dried and turned into a
fine powder which is shipped in big
bags to cement producers who use it
as fuel in their processes.'
Remondis says there is no waste as
everything from the old fridge is used.
Obviously, metals remain a major part
of their business model. Every single
piece of metal is recovered – nothing's
lost, says Wilms. 'With the high com-
modity prices we've seen over the
past 18 months, we can say for sure
that the line has been worth the
investment.'
REPLACEMENT WAVE
The lion's share of the fridges – 80% –
are sourced from households while
the remaining 20% come from bars,
restaurants, other hospitality outlets
and company canteens. Remondis,
along with many fellow e-scrap recy-
clers, saw a dramatic increase in dis-
carded fridges during the Covid pan-
demic. 'Coronavirus kept most people
at home so they needed not only
computers but also bigger fridges,'
Wilms explains. 'Since we couldn't go
on holiday or visit restaurants, we had
money left to spend on household
appliances and other stuff, which ulti-
mately is good news for recyclers.'
Fotobijschrift
KADERKOP
??
Remondis' business development manager
Electrorecycling Tim Wilms (left) and Michael
Schneider, the company's press spokesman.
Recycling tech provider Andritz designed and built the fridge
line.
First step: removing the compressor. Around 20% of the fridges processed at
the Lünen site come from hospitality out-
lets and company canteens.
38-39_tsrfridgerecycling.indd 39 12-09-2022 14:41