Our latest issue
Subscribe
Page 36 from: Our latest issue
BEST PRACTICE Steinert's pure-grade plastics sorting at K 2022 Steinert machines can be used to sort plastic fractions by polymers for further processing into recyclates. From 19–26 October, Steinert will be presenting solu...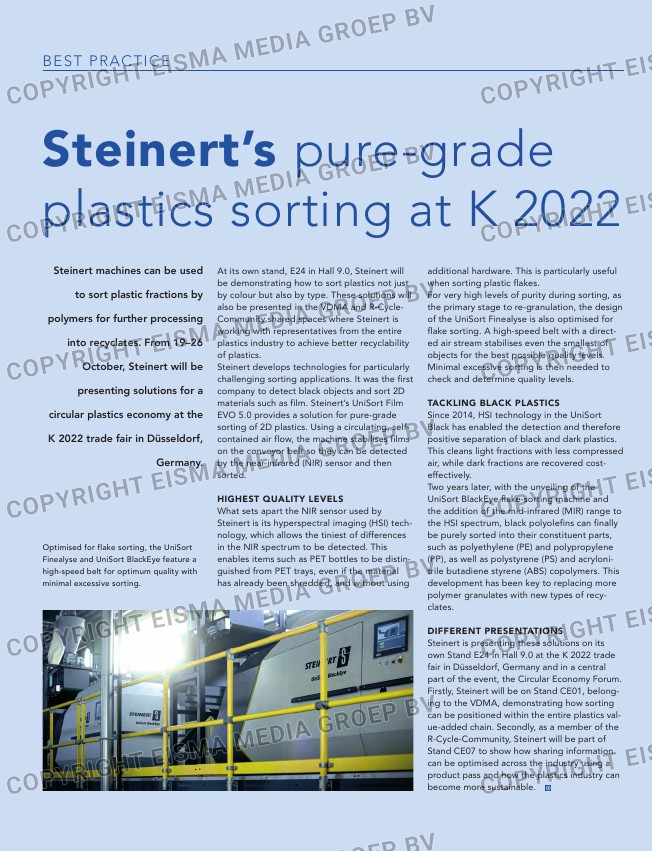 BEST PRACTICE
Steinert's pure-grade
plastics sorting at K 2022
Steinert machines can be used
to sort plastic fractions by
polymers for further processing
into recyclates. From 19–26
October, Steinert will be
presenting solutions for a
circular plastics economy at the
K 2022 trade fair in Düsseldorf,
Germany.
At its own stand, E24 in Hall 9.0, Steinert will
be demonstrating how to sort plastics not just
by colour but also by type. These solutions will
also be presented in the VDMA and R-Cycle-
Community shared spaces where Steinert is
working with representatives from the entire
plastics industry to achieve better recyclability
of plastics.
Steinert develops technologies for particularly
challenging sorting applications. It was the first
company to detect black objects and sort 2D
materials such as film. Steinert's UniSort Film
EVO 5.0 provides a solution for pure-grade
sorting of 2D plastics. Using a circulating, self-
contained air flow, the machine stabilises films
on the conveyor belt so they can be detected
by the near-infrared (NIR) sensor and then
sorted.
HIGHEST QUALITY LEVELS
What sets apart the NIR sensor used by
Steinert is its hyperspectral imaging (HSI) tech-
nology, which allows the tiniest of differences
in the NIR spectrum to be detected. This
enables items such as PET bottles to be distin-
guished from PET trays, even if the material
has already been shredded, and without using
additional hardware. This is particularly useful
when sorting plastic flakes.
For very high levels of purity during sorting, as
the primary stage to re-granulation, the design
of the UniSort Finealyse is also optimised for
flake sorting. A high-speed belt with a direct-
ed air stream stabilises even the smallest of
objects for the best possible quality levels.
Minimal excessive sorting is then needed to
check and determine quality levels.
TACKLING BLACK PLASTICS
Since 2014, HSI technology in the UniSort
Black has enabled the detection and therefore
positive separation of black and dark plastics.
This cleans light fractions with less compressed
air, while dark fractions are recovered cost-
effectively.
Two years later, with the unveiling of the
UniSort BlackEye flake-sorting machine and
the addition of the mid-infrared (MIR) range to
the HSI spectrum, black polyolefins can finally
be purely sorted into their constituent parts,
such as polyethylene (PE) and polypropylene
(PP), as well as polystyrene (PS) and acryloni-
trile butadiene styrene (ABS) copolymers. This
development has been key to replacing more
polymer granulates with new types of recy-
clates.
DIFFERENT PRESENTATIONS
Steinert is presenting these solutions on its
own Stand E24 in Hall 9.0 at the K 2022 trade
fair in Düsseldorf, Germany and in a central
part of the event, the Circular Economy Forum.
Firstly, Steinert will be on Stand CE01, belong-
ing to the VDMA, demonstrating how sorting
can be positioned within the entire plastics val-
ue-added chain. Secondly, as a member of the
R-Cycle-Community, Steinert will be part of
Stand CE07 to show how sharing information
can be optimised across the industry using a
product pass and how the plastics industry can
become more sustainable.
Optimised for flake sorting, the UniSort
Finealyse and UniSort BlackEye feature a
high-speed belt for optimum quality with
minimal excessive sorting.
36_steinert.indd 36 12-09-2022 14:40