Our latest issue
Subscribe
Page 24 from: Our latest issue
The strength of experience In 75 years, Lefort has become one of the most renowned man- ufacturers of balers, shears and shredders for the scrap metal recycling industry. Fully dedicat- ed to these products, the com- pany has rapi...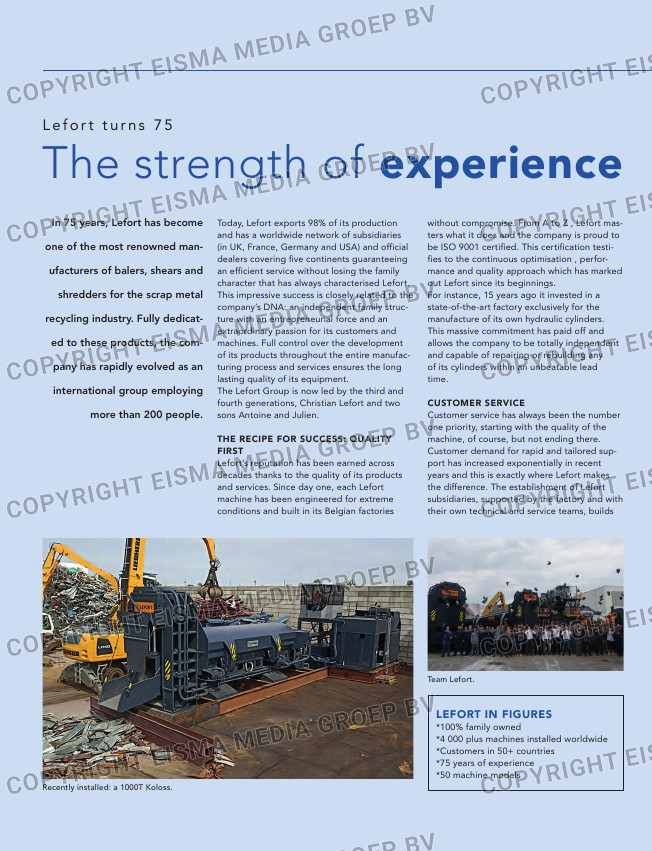 The strength of experience
In 75 years, Lefort has become
one of the most renowned man-
ufacturers of balers, shears and
shredders for the scrap metal
recycling industry. Fully dedicat-
ed to these products, the com-
pany has rapidly evolved as an
international group employing
more than 200 people.
Today, Lefort exports 98% of its production
and has a worldwide network of subsidiaries
(in UK, France, Germany and USA) and official
dealers covering five continents guaranteeing
an efficient service without losing the family
character that has always characterised Lefort.
This impressive success is closely related to the
company's DNA: an independent family struc-
ture with an entrepreneurial force and an
extraordinary passion for its customers and
machines. Full control over the development
of its products throughout the entire manufac-
turing process and services ensures the long
lasting quality of its equipment.
The Lefort Group is now led by the third and
fourth generations, Christian Lefort and two
sons Antoine and Julien.
THE RECIPE FOR SUCCESS: QUALITY
FIRST
Lefort's reputation has been earned across
decades thanks to the quality of its products
and services. Since day one, each Lefort
machine has been engineered for extreme
conditions and built in its Belgian factories
without compromise. From A to Z , Lefort mas-
ters what it does and the company is proud to
be ISO 9001 certified. This certification testi-
fies to the continuous optimisation , perfor-
mance and quality approach which has marked
out Lefort since its beginnings.
For instance, 15 years ago it invested in a
state-of-the-art factory exclusively for the
manufacture of its own hydraulic cylinders.
This massive commitment has paid off and
allows the company to be totally independent
and capable of repairing or rebuilding any
of its cylinders within an unbeatable lead
time.
CUSTOMER SERVICE
Customer service has always been the number
one priority, starting with the quality of the
machine, of course, but not ending there.
Customer demand for rapid and tailored sup-
port has increased exponentially in recent
years and this is exactly where Lefort makes
the difference. The establishment of Lefort
subsidiaries, supported by the factory and with
their own technical and service teams, builds
close relationships with customers by offering
quick and professional service such as blades
changes, on-site repair/retrofit works, mainte-
nance, settings and so on.
Thanks to recent multi-million investment,
Lefort has the largest stock of spare parts
which can be dispatched immediately all over
the world.
LARGEST AND MOST VERSATILE
Selecting the right machine depends not only
on the type, rate and volume of scrap metal
being processed but also where the machine
will work. Thanks to a very large range of
machines, Lefort can accommodate any opera-
tion from the smallest to the largest scrap yard
facilities. Ranging from 500 tonnes to more
than 2 000T in stationary, mobile, portable or
on tracks (patented) versions, Lefort can offer
the right tool for the right job. A great exam-
ple is the recently delivered Trax 1250. For this
project, Lefort pushed all the technical bound-
aries by engineering a 1 250T of cutting force
shear – on tracks.
HEAVY DUTY KOLOSS
Modernised in 2021, the Koloss heavy-duty
shears (weighing up to 550 tonnes) are
extremely robust and productive machines
capable of baling and shearing very large
quantities of scrap metal.
Lefort offers two different types of compres-
sion box: the side compression (BL) or the
wrap-around (TS), available in 8m and 10m
versions.
Accompanied by Lefort product experts and
engineers, each customer can configure their
ideal machine according to the products to be
processed at their desired production. The
engine and the hydraulic system are config-
ured to optimise performance while guaran-
teeing flexibility of use without over-stressing
the machine.Recently installed: a 1000T Koloss.
Team Lefort.
Inside the spare parts logistics centre at the
company's HQ in Gosselies, Belgium.
LEFORT IN FIGURES
*100% family owned
*4 000 plus machines installed worldwide
*Customers in 50+ countries
*75 years of experience
*50 machine models
L e f o r t t u r n s 7 5
24-25_lefort.indd 24 12-09-2022 14:39