Our latest issue
Subscribe
Page 14 from: Our latest issue
14 RECYCLING THE CLOUD: SINGAPORE FACILITY GIVES SECOND LIFE TO MEGA SERVERS Microsoft has opened a plant to tackle the growing stream of e-scrap from data centres. The Circular Center in Singapore provides services for the reuse of com...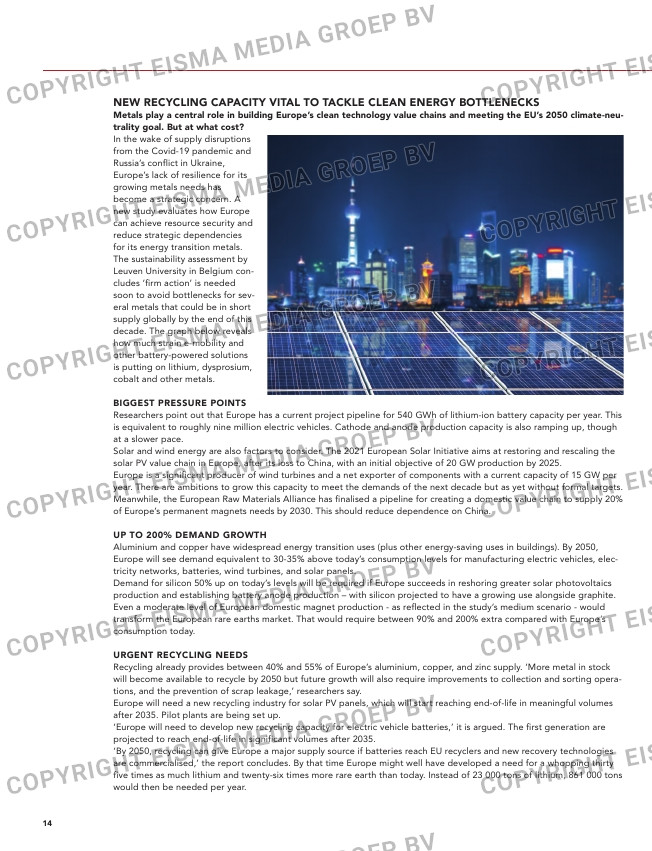 14
RECYCLING THE CLOUD: SINGAPORE FACILITY GIVES
SECOND LIFE TO MEGA SERVERS
Microsoft has opened a plant to tackle the growing stream of e-scrap
from data centres. The Circular Center in Singapore provides services
for the reuse of computer components in schools, for job training, and
much more.
Microsoft aims to reuse 90% of its cloud com-
puting hardware assets by 2025. The launch
of this first facility in Asia is claimed to be an
important step towards that goal, while also
reducing Microsoft's carbon footprint and
creating jobs.
Microsoft Cloud is powered by millions of
servers in hundreds of data centres around
the world and demand for cloud services is
growing exponentially. At these facilities, decommissioned servers and
other types of hardware can be repurposed or dissembled by technicians
before the components and equipment move on to another phase of life.
Microsoft's Intelligent Disposition and Routing System (IDARS) uses AI and
machine learning to establish and execute a 'zero-waste plan' for every
piece of decommissioned hardware. IDARS also works to optimise routes
for these hardware assets and provide Circular Center operators with
instructions on how to dispose of each one.
Singapore, with strong government and private sector commitments and
agile policy environment, has already laid the foundations for an advanced
recycling infrastructure to take advantage of those opportunities. A
Microsoft Circular Center in Singapore is in line with this approach, says the
tech multinational.
Microsoft's first Circular Center opened in Amsterdam in 2020. Since its
inception, the company has reused or recycled 83% of all decommissioned
assets. Plans are underway to expand the programme in Washington,
Chicago, Sydney and in other locations.
RAPID JAPANESE SOLUTION TO MATCH EV GROWTH
Japanese start-up Emulsion Flow Technologies (ETF) says its innovative
extraction process for recovering battery metals is '100 times faster'
than traditional solutions.
The new method is claimed to retrieve cobalt, nickel and other battery met-
als with 99.99% purity which means they can be used directly to make new
batteries, according to ETF's chief technology officer Hirochika Naganawa.
His team is currently working on commercialising the process, which is being
seen as a potential game-changer for the booming e-mobility industry.
Naganawa explains that an emulsion, a frothy blend of oil and water, is vital
to the breakthrough. A watery solution on tiny droplets of oil carries away
cobalt, nickel and the other metals. Uniformly shaped droplets coalesce
quickly, allowing the metals to be collected.
Conventional methods using emulsions typically rely on a three-step process
of mixing, settling and separating the liquids. EFT's approach requires only
one step, making it more cost-efficient. An added benefit is that the smart recycling system is linked to the Internet-of-Things enabling a
24-hour automatic operation, notably reducing staffing costs.
Naganawa says it was a 'lucky accident' that came up with a solution for lithium-ion batteries. His research, kicked off at the Japan Atomic
Energy Agency, was initially focussed on separating specific elements from spent nuclear fuel.
ETF's R&D efforts won 80 million Yen (around EUR 600 000) in funding from Real Tech Fund operated by Real Tech Holdings. Now the com-
pany is pursuing rare earth metals in lithium-ion batteries and magnets, citing expected supply shortages around 2025.
NEW RECYCLING CAPACITY VITAL TO TACKLE CLEAN ENERGY BOTTLENECKS
Metals play a central role in building Europe's clean technology value chains and meeting the EU's 2050 climate-neu-
trality goal. But at what cost?
In the wake of supply disruptions
from the Covid-19 pandemic and
Russia's conflict in Ukraine,
Europe's lack of resilience for its
growing metals needs has
become a strategic concern. A
new study evaluates how Europe
can achieve resource security and
reduce strategic dependencies
for its energy transition metals.
The sustainability assessment by
Leuven University in Belgium con-
cludes 'firm action' is needed
soon to avoid bottlenecks for sev-
eral metals that could be in short
supply globally by the end of this
decade. The graph below reveals
how much strain e-mobility and
other battery-powered solutions
is putting on lithium, dysprosium,
cobalt and other metals.
BIGGEST PRESSURE POINTS
Researchers point out that Europe has a current project pipeline for 540 GWh of lithium-ion battery capacity per year. This
is equivalent to roughly nine million electric vehicles. Cathode and anode production capacity is also ramping up, though
at a slower pace.
Solar and wind energy are also factors to consider. The 2021 European Solar Initiative aims at restoring and rescaling the
solar PV value chain in Europe, after its loss to China, with an initial objective of 20 GW production by 2025.
Europe is a significant producer of wind turbines and a net exporter of components with a current capacity of 15 GW per
year. There are ambitions to grow this capacity to meet the demands of the next decade but as yet without formal targets.
Meanwhile, the European Raw Materials Alliance has finalised a pipeline for creating a domestic value chain to supply 20%
of Europe's permanent magnets needs by 2030. This should reduce dependence on China.
UP TO 200% DEMAND GROWTH
Aluminium and copper have widespread energy transition uses (plus other energy-saving uses in buildings). By 2050,
Europe will see demand equivalent to 30-35% above today's consumption levels for manufacturing electric vehicles, elec-
tricity networks, batteries, wind turbines, and solar panels.
Demand for silicon 50% up on today's levels will be required if Europe succeeds in reshoring greater solar photovoltaics
production and establishing battery anode production – with silicon projected to have a growing use alongside graphite.
Even a moderate level of European domestic magnet production – as reflected in the study's medium scenario – would
transform the European rare earths market. That would require between 90% and 200% extra compared with Europe's
consumption today.
URGENT RECYCLING NEEDS
Recycling already provides between 40% and 55% of Europe's aluminium, copper, and zinc supply. 'More metal in stock
will become available to recycle by 2050 but future growth will also require improvements to collection and sorting opera-
tions, and the prevention of scrap leakage,' researchers say.
Europe will need a new recycling industry for solar PV panels, which will start reaching end-of-life in meaningful volumes
after 2035. Pilot plants are being set up.
'Europe will need to develop new recycling capacity for electric vehicle batteries,' it is argued. The first generation are
projected to reach end-of-life in significant volumes after 2035.
'By 2050, recycling can give Europe a major supply source if batteries reach EU recyclers and new recovery technologies
are commercialised,' the report concludes. By that time Europe might well have developed a need for a whopping thirty
five times as much lithium and twenty-six times more rare earth than today. Instead of 23 000 tons of lithium, 861 000 tons
would then be needed per year.
10-11-12-13-14-15_trendsupdates.indd 14 12-09-2022 14:36