New issue out now!
Subscribe
Page 9 from: New issue out now!
COVER STORY 9recyclinginternational.com | May/June | 2020 ' U n c h a r t e d t e r r i t o r y f o r a l l o f u s ' ' D e v a s t a t i n g i m p a c t o n s u p p l y, l o g i s t i c s a n d s a l e s ' ' P r...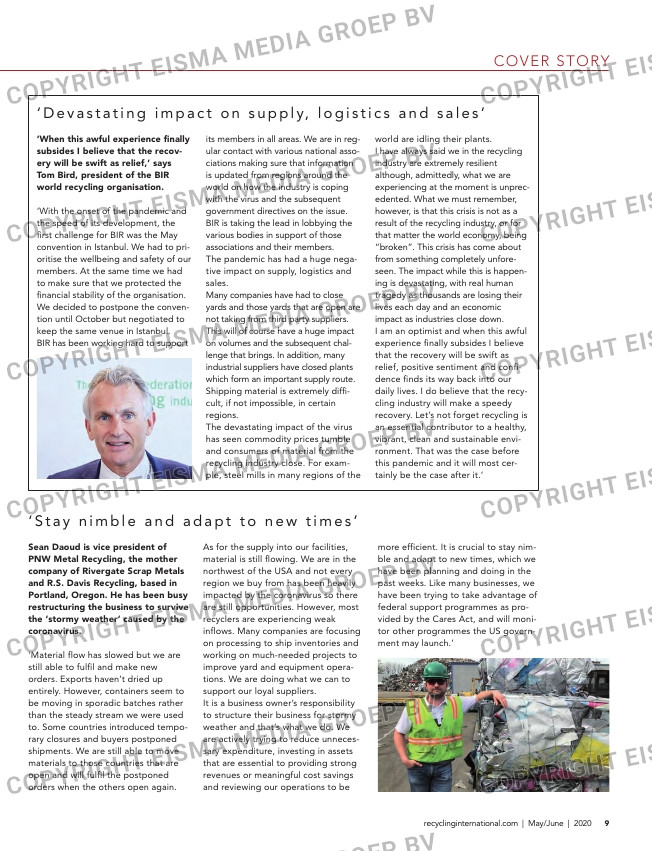 COVER STORY
9recyclinginternational.com | May/June | 2020
' U n c h a r t e d t e r r i t o r y f o r a l l o f u s ' ' D e v a s t a t i n g i m p a c t o n s u p p l y, l o g i s t i c s a n d s a l e s '
' P ro u d t o h e l p t h o s e i n n e e d '
aration between all personnel and cus-
tomers at all times; the wearing of dis-
posable plastic gloves as well as fre-
quent hand washing is encouraged;
the public dock is limited to three cus-
tomers at a time; the steel yard is limit-
ed to five customers at a time.
The world has shut down; there is no
open or free movement of scrap and
that is scary. This doesn't feel like the
economic crisis in 2008. This is
uncharted territory for all of us.
I think and believe that we will be OK
and that the business will survive this.
We are making all of the necessary
financial decisions to ensure our long-
term survivability. Some of those deci-
sions are painful; some are not. But
the uncertainty and pressure of 'how
long' is what hurts the most. It's just a
really scary and difficult time right
now.'
'When this awful experience finally
subsides I believe that the recov-
ery will be swift as relief,' says
Tom bird, president of the bIr
world recycling organisation.
'With the onset of the pandemic and
the speed of its development, the
first challenge for BIR was the May
convention in Istanbul. We had to pri-
oritise the wellbeing and safety of our
members. At the same time we had
to make sure that we protected the
financial stability of the organisation.
We decided to postpone the conven-
tion until October but negotiated to
keep the same venue in Istanbul.
BIR has been working hard to support
its members in all areas. We are in reg-
ular contact with various national asso-
ciations making sure that information
is updated from regions around the
world on how the industry is coping
with the virus and the subsequent
government directives on the issue.
BIR is taking the lead in lobbying the
various bodies in support of those
associations and their members.
The pandemic has had a huge nega-
tive impact on supply, logistics and
sales.
Many companies have had to close
yards and those yards that are open are
not taking from third party suppliers.
This will of course have a huge impact
on volumes and the subsequent chal-
lenge that brings. In addition, many
industrial suppliers have closed plants
which form an important supply route.
Shipping material is extremely diffi-
cult, if not impossible, in certain
regions.
The devastating impact of the virus
has seen commodity prices tumble
and consumers of material from the
recycling industry close. For exam-
ple, steel mills in many regions of the
world are idling their plants.
I have always said we in the recycling
industry are extremely resilient
although, admittedly, what we are
experiencing at the moment is unprec-
edented. What we must remember,
however, is that this crisis is not as a
result of the recycling industry, or for
that matter the world economy, being
"broken". This crisis has come about
from something completely unfore-
seen. The impact while this is happen-
ing is devastating, with real human
tragedy as thousands are losing their
lives each day and an economic
impact as industries close down.
I am an optimist and when this awful
experience finally subsides I believe
that the recovery will be swift as
relief, positive sentiment and confi-
dence finds its way back into our
daily lives. I do believe that the recy-
cling industry will make a speedy
recovery. Let's not forget recycling is
an essential contributor to a healthy,
vibrant, clean and sustainable envi-
ronment. That was the case before
this pandemic and it will most cer-
tainly be the case after it.'
' S t a y n i m b l e a n d a d a p t t o n e w t i m e s '
Sean daoud is vice president of
pnW Metal recycling, the mother
company of rivergate Scrap Metals
and r.S. davis recycling, based in
portland, oregon. He has been busy
restructuring the business to survive
the 'stormy weather' caused by the
coronavirus.
'Material flow has slowed but we are
still able to fulfil and make new
orders. Exports haven't dried up
entirely. However, containers seem to
be moving in sporadic batches rather
than the steady stream we were used
to. Some countries introduced tempo-
rary closures and buyers postponed
shipments. We are still able to move
materials to those countries that are
open and will fulfil the postponed
orders when the others open again.
As for the supply into our facilities,
material is still flowing. We are in the
northwest of the USA and not every
region we buy from has been heavily
impacted by the coronavirus so there
are still opportunities. However, most
recyclers are experiencing weak
inflows. Many companies are focusing
on processing to ship inventories and
working on much-needed projects to
improve yard and equipment opera-
tions. We are doing what we can to
support our loyal suppliers.
It is a business owner's responsibility
to structure their business for stormy
weather and that's what we do. We
are actively trying to reduce unneces-
sary expenditure, investing in assets
that are essential to providing strong
revenues or meaningful cost savings
and reviewing our operations to be
more efficient. It is crucial to stay nim-
ble and adapt to new times, which we
have been planning and doing in the
past weeks. Like many businesses, we
have been trying to take advantage of
federal support programmes as pro-
vided by the Cares Act, and will moni-
tor other programmes the US govern-
ment may launch.'
06-07-08-09-10-11_corona.indd 9 15-04-20 14:12