New issue out now!
Subscribe
Page 83 from: New issue out now!
beck's 83recyclinginternational.com | May/June | 2020 Fotobijschrift KaderKop ?? The meaning of life in Corona times These are strange and dark times, with the coronavirus leav- ing its deadly mark across the world. Here in...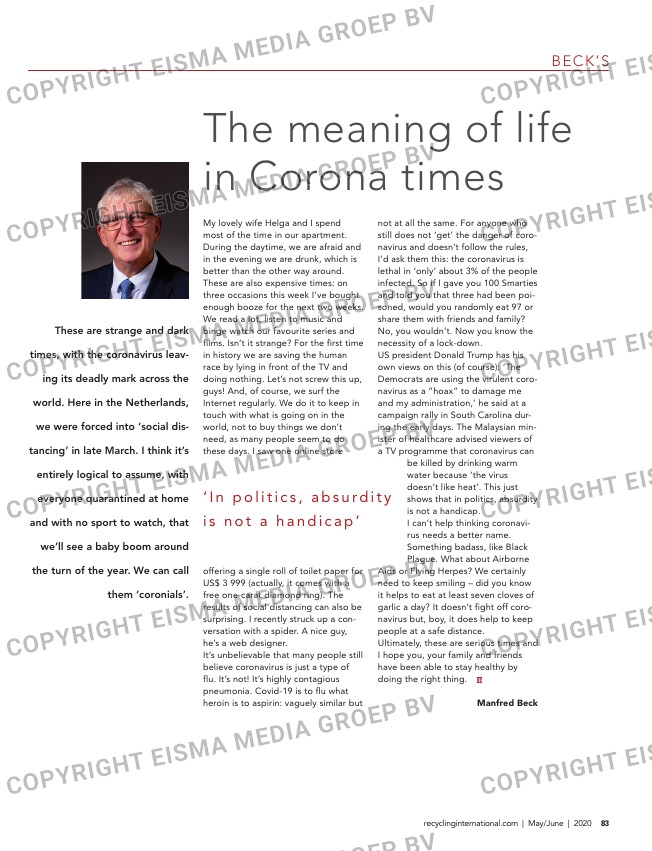 beck's
83recyclinginternational.com | May/June | 2020
Fotobijschrift
KaderKop
??
The meaning of life
in Corona times
These are strange and dark
times, with the coronavirus leav-
ing its deadly mark across the
world. Here in the Netherlands,
we were forced into 'social dis-
tancing' in late March. I think it's
entirely logical to assume, with
everyone quarantined at home
and with no sport to watch, that
we'll see a baby boom around
the turn of the year. We can call
them 'coronials'.
My lovely wife Helga and I spend
most of the time in our apartment.
During the daytime, we are afraid and
in the evening we are drunk, which is
better than the other way around.
These are also expensive times: on
three occasions this week I've bought
enough booze for the next two weeks.
We read a lot, listen to music and
binge watch our favourite series and
films. Isn't it strange? For the first time
in history we are saving the human
race by lying in front of the TV and
doing nothing. Let's not screw this up,
guys! And, of course, we surf the
Internet regularly. We do it to keep in
touch with what is going on in the
world, not to buy things we don't
need, as many people seem to do
these days. I saw one online store
offering a single roll of toilet paper for
US$ 3 999 (actually, it comes with a
free one-carat diamond ring). The
results of social distancing can also be
surprising. I recently struck up a con-
versation with a spider. A nice guy,
he's a web designer.
It's unbelievable that many people still
believe coronavirus is just a type of
flu. It's not! It's highly contagious
pneumonia. Covid-19 is to flu what
heroin is to aspirin: vaguely similar but
not at all the same. For anyone who
still does not 'get' the danger of coro-
navirus and doesn't follow the rules,
I'd ask them this: the coronavirus is
lethal in 'only' about 3% of the people
infected. So if I gave you 100 Smarties
and told you that three had been poi-
soned, would you randomly eat 97 or
share them with friends and family?
No, you wouldn't. Now you know the
necessity of a lock-down.
US president Donald Trump has his
own views on this (of course): 'The
Democrats are using the virulent coro-
navirus as a "hoax" to damage me
and my administration,' he said at a
campaign rally in South Carolina dur-
ing the early days. The Malaysian min-
ister of healthcare advised viewers of
a TV programme that coronavirus can
be killed by drinking warm
water because 'the virus
doesn't like heat'. This just
shows that in politics, absurdity
is not a handicap.
I can't help thinking coronavi-
rus needs a better name.
Something badass, like Black
Plague. What about Airborne
Aids or Flying Herpes? We certainly
need to keep smiling – did you know
it helps to eat at least seven cloves of
garlic a day? It doesn't fight off coro-
navirus but, boy, it does help to keep
people at a safe distance.
Ultimately, these are serious times and
I hope you, your family and friends
have been able to stay healthy by
doing the right thing.
Manfred Beck
' I n p o l i t i c s , a b s u rd i t y
i s n o t a h a n d i c a p '
83_becks.indd 83 15-04-20 14:10