New issue out now!
Subscribe
Page 8 from: New issue out now!
8 ' U n c h a r t e d t e r r i t o r y f o r a l l o f u s ' ' P ro u d t o h e l p t h o s e i n n e e d ' 'The world has shut down; there is no open or free movement of scrap and that is scary,' says former ISr...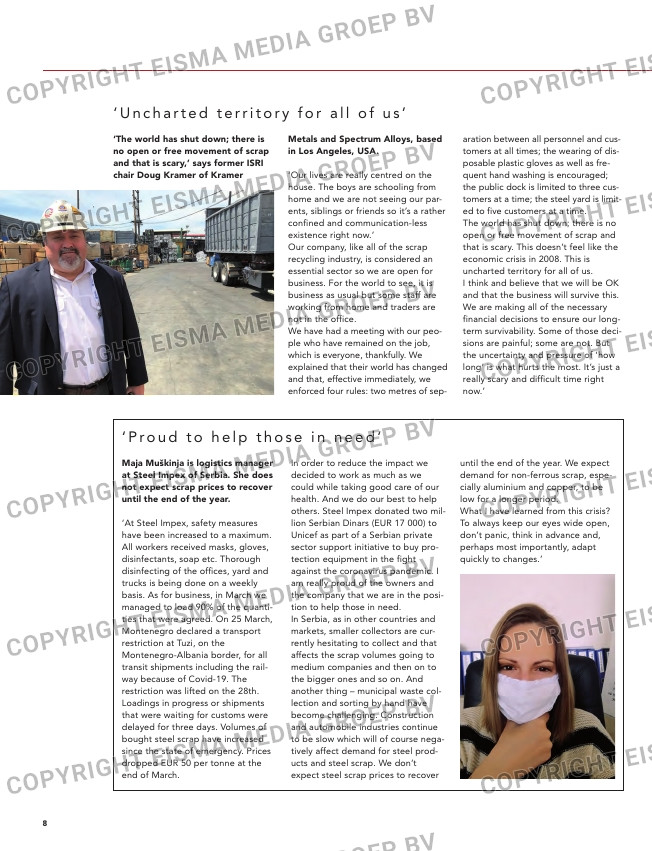 8
' U n c h a r t e d t e r r i t o r y f o r a l l o f u s '
' P ro u d t o h e l p t h o s e i n n e e d '
'The world has shut down; there is
no open or free movement of scrap
and that is scary,' says former ISrI
chair doug Kramer of Kramer
Metals and Spectrum Alloys, based
in Los Angeles, uSA.
'Our lives are really centred on the
house. The boys are schooling from
home and we are not seeing our par-
ents, siblings or friends so it's a rather
confined and communication-less
existence right now.'
Our company, like all of the scrap
recycling industry, is considered an
essential sector so we are open for
business. For the world to see, it is
business as usual but some staff are
working from home and traders are
not in the office.
We have had a meeting with our peo-
ple who have remained on the job,
which is everyone, thankfully. We
explained that their world has changed
and that, effective immediately, we
enforced four rules: two metres of sep-
aration between all personnel and cus-
tomers at all times; the wearing of dis-
posable plastic gloves as well as fre-
quent hand washing is encouraged;
the public dock is limited to three cus-
tomers at a time; the steel yard is limit-
ed to five customers at a time.
The world has shut down; there is no
open or free movement of scrap and
that is scary. This doesn't feel like the
economic crisis in 2008. This is
uncharted territory for all of us.
I think and believe that we will be OK
and that the business will survive this.
We are making all of the necessary
financial decisions to ensure our long-
term survivability. Some of those deci-
sions are painful; some are not. But
the uncertainty and pressure of 'how
long' is what hurts the most. It's just a
really scary and difficult time right
now.'
Maja Muškinja is logistics manager
at Steel Impex of Serbia. She does
not expect scrap prices to recover
until the end of the year.
'At Steel Impex, safety measures
have been increased to a maximum.
All workers received masks, gloves,
disinfectants, soap etc. Thorough
disinfecting of the offices, yard and
trucks is being done on a weekly
basis. As for business, in March we
managed to load 90% of the quanti-
ties that were agreed. On 25 March,
Montenegro declared a transport
restriction at Tuzi, on the
Montenegro-Albania border, for all
transit shipments including the rail-
way because of Covid-19. The
restriction was lifted on the 28th.
Loadings in progress or shipments
that were waiting for customs were
delayed for three days. Volumes of
bought steel scrap have increased
since the state of emergency. Prices
dropped EUR 50 per tonne at the
end of March.
In order to reduce the impact we
decided to work as much as we
could while taking good care of our
health. And we do our best to help
others. Steel Impex donated two mil-
lion Serbian Dinars (EUR 17 000) to
Unicef as part of a Serbian private
sector support initiative to buy pro-
tection equipment in the fight
against the coronavirus pandemic. I
am really proud of the owners and
the company that we are in the posi-
tion to help those in need.
In Serbia, as in other countries and
markets, smaller collectors are cur-
rently hesitating to collect and that
affects the scrap volumes going to
medium companies and then on to
the bigger ones and so on. And
another thing – municipal waste col-
lection and sorting by hand have
become challenging. Construction
and automobile industries continue
to be slow which will of course nega-
tively affect demand for steel prod-
ucts and steel scrap. We don't
expect steel scrap prices to recover
until the end of the year. We expect
demand for non-ferrous scrap, espe-
cially aluminium and copper, to be
low for a longer period.
What I have learned from this crisis?
To always keep our eyes wide open,
don't panic, think in advance and,
perhaps most importantly, adapt
quickly to changes.'
' S t a y n i m b l e a n d a d a p t t o n e w t i m e s '
Sean daoud is vice president of
pnW Metal recycling, the mother
company of rivergate Scrap Metals
and r.S. davis recycling, based in
portland, oregon. He has been busy
restructuring the business to survive
the 'stormy weather' caused by the
coronavirus.
'Material flow has slowed but we are
still able to fulfil and make new
orders. Exports haven't dried up
entirely. However, containers seem to
be moving in sporadic batches rather
than the steady stream we were used
to. Some countries introduced tempo-
rary closures and buyers postponed
shipments. We are still able to move
materials to those countries that are
open and will fulfil the postponed
orders when the others open again.
06-07-08-09-10-11_corona.indd 8 15-04-20 14:12