New issue out now!
Subscribe
Page 75 from: New issue out now!
paper tion and ample demand from contain- erboard mills. The impacts during April of the Covid-19 related business shutdowns across the country remained an unknown variable but some traders projected OCC shortag- es that could result i...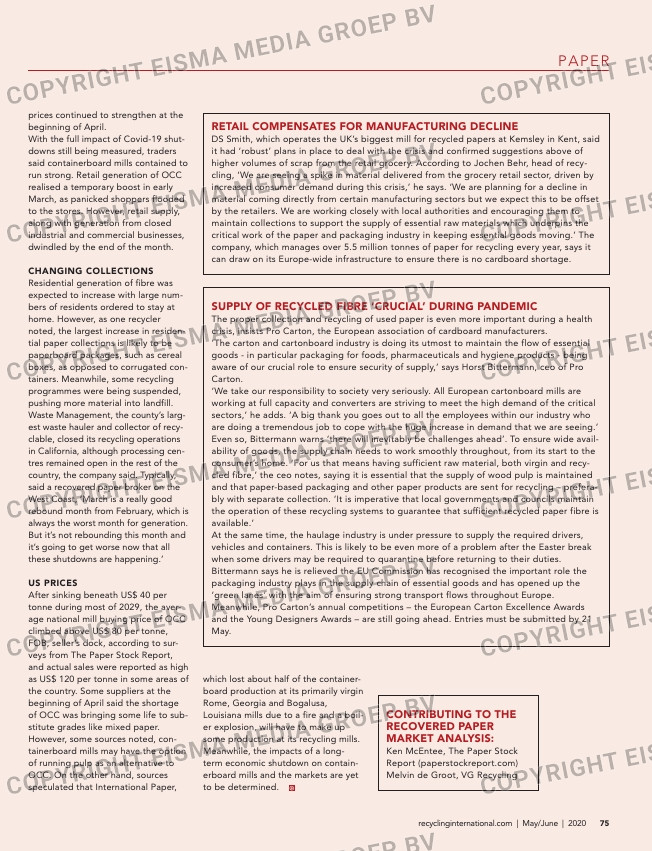 paper
tion and ample demand from contain-
erboard mills. The impacts during
April of the Covid-19 related business
shutdowns across the country
remained an unknown variable but
some traders projected OCC shortag-
es that could result in mill shutdowns
by the end of the month.
Before state governments began clos-
ing 'non-essential' businesses across
the country, demand for US container-
board was strong. February produc-
tion was up 10% compared to
February 2019, and production during
the first two months of 2020 was up 7
%, according to the American Forest
& Paper Association (AF&PA).
February 2020 production of contain-
erboard for export increased 55%
compared to the same month last
year and was up 46% year-to-date,
AF&PA said.
PANIC BUYING
Aside from Covid-19 itself, perhaps
the biggest news story at the outset
of the pandemic was the panic buying
of toilet paper that left retail shelves
empty for much of the month. This
also occurred in a number of other
countries including the UK. The situa-
tion may have been at least partially
responsible for an improvement in
prices for sorted office paper (SOP)
and other chemical deinking grades.
Generally, however, the toilet paper
shortages were in the at-home prod-
ucts, which are made in large part
with virgin fibre. Demand for away-
from-home products, which use more
recovered fibre, was expected fall off
because of the closures to businesses,
schools, hotels and institutional build-
ings. Regardless, SOP prices in mid-
March reached their highest marks
since the spring of 2019. Sources said
75recyclinginternational.com | May/June | 2020
CONTRIBUTING TO THE
RECOvEREd PAPER
mARkET ANALYSIS:
Ken McEntee, The Paper Stock
Report (paperstockreport.com)
Melvin de Groot, VG Recycling
SUPPLY Of RECYCLEd fIBRE 'CRUCIAL' dURING PANdEmIC
The proper collection and recycling of used paper is even more important during a health
crisis, insists Pro Carton, the European association of cardboard manufacturers.
'The carton and cartonboard industry is doing its utmost to maintain the flow of essential
goods – in particular packaging for foods, pharmaceuticals and hygiene products – being
aware of our crucial role to ensure security of supply,' says Horst Bittermann, ceo of Pro
Carton.
'We take our responsibility to society very seriously. All European cartonboard mills are
working at full capacity and converters are striving to meet the high demand of the critical
sectors,' he adds. 'A big thank you goes out to all the employees within our industry who
are doing a tremendous job to cope with the huge increase in demand that we are seeing.'
Even so, Bittermann warns 'there will inevitably be challenges ahead'. To ensure wide avail-
ability of goods, the supply chain needs to work smoothly throughout, from its start to the
consumer's home. 'For us that means having sufficient raw material, both virgin and recy-
cled fibre,' the ceo notes, saying it is essential that the supply of wood pulp is maintained
and that paper-based packaging and other paper products are sent for recycling – prefera-
bly with separate collection. 'It is imperative that local governments and councils maintain
the operation of these recycling systems to guarantee that sufficient recycled paper fibre is
available.'
At the same time, the haulage industry is under pressure to supply the required drivers,
vehicles and containers. This is likely to be even more of a problem after the Easter break
when some drivers may be required to quarantine before returning to their duties.
Bittermann says he is relieved the EU Commission has recognised the important role the
packaging industry plays in the supply chain of essential goods and has opened up the
'green lanes' with the aim of ensuring strong transport flows throughout Europe.
Meanwhile, Pro Carton's annual competitions – the European Carton Excellence Awards
and the Young Designers Awards – are still going ahead. Entries must be submitted by 21
May.
RETAIL COmPENSATES fOR mANUfACTURING dECLINE
DS Smith, which operates the UK's biggest mill for recycled papers at Kemsley in Kent, said
it had 'robust' plans in place to deal with the crisis and confirmed suggestions above of
higher volumes of scrap from the retail grocery. According to Jochen Behr, head of recy-
cling, 'We are seeing a spike in material delivered from the grocery retail sector, driven by
increased consumer demand during this crisis,' he says. 'We are planning for a decline in
material coming directly from certain manufacturing sectors but we expect this to be offset
by the retailers. We are working closely with local authorities and encouraging them to
maintain collections to support the supply of essential raw materials which underpins the
critical work of the paper and packaging industry in keeping essential goods moving.' The
company, which manages over 5.5 million tonnes of paper for recycling every year, says it
can draw on its Europe-wide infrastructure to ensure there is no cardboard shortage.
prices continued to strengthen at the
beginning of April.
With the full impact of Covid-19 shut-
downs still being measured, traders
said containerboard mills contained to
run strong. Retail generation of OCC
realised a temporary boost in early
March, as panicked shoppers flooded
to the stores. However, retail supply,
along with generation from closed
industrial and commercial businesses,
dwindled by the end of the month.
CHANGING COLLECTIONS
Residential generation of fibre was
expected to increase with large num-
bers of residents ordered to stay at
home. However, as one recycler
noted, the largest increase in residen-
tial paper collections is likely to be
paperboard packages, such as cereal
boxes, as opposed to corrugated con-
tainers. Meanwhile, some recycling
programmes were being suspended,
pushing more material into landfill.
Waste Management, the county's larg-
est waste hauler and collector of recy-
clable, closed its recycling operations
in California, although processing cen-
tres remained open in the rest of the
country, the company said. Typically,
said a recovered paper broker on the
West Coast, 'March is a really good
rebound month from February, which is
always the worst month for generation.
But it's not rebounding this month and
it's going to get worse now that all
these shutdowns are happening.'
US PRICES
After sinking beneath US$ 40 per
tonne during most of 2029, the aver-
age national mill buying price of OCC
climbed above US$ 80 per tonne,
FOB, seller's dock, according to sur-
veys from The Paper Stock Report,
and actual sales were reported as high
as US$ 120 per tonne in some areas of
the country. Some suppliers at the
beginning of April said the shortage
of OCC was bringing some life to sub-
stitute grades like mixed paper.
However, some sources noted, con-
tainerboard mills may have the option
of running pulp as an alternative to
OCC. On the other hand, sources
speculated that International Paper,
which lost about half of the container-
board production at its primarily virgin
Rome, Georgia and Bogalusa,
Louisiana mills due to a fire and a boil-
er explosion, will have to make up
some production at its recycling mills.
Meanwhile, the impacts of a long-
term economic shutdown on contain-
erboard mills and the markets are yet
to be determined.
74-75_mapaper.indd 75 15-04-20 15:34